CORSAIR OBSIDIAN SERIES 750D AIRFLOW EDITION FULL-TOWER ATX CASE
The Corsair Obsidian Series 750D Airflow Edition is a full-tower ATX case with a clean, elegant exterior and painstakingly-designed interior. The modular drive-cage design gives you more possibilities to configure your PC. You can have your desired cooling solution and components installed—fast and easy.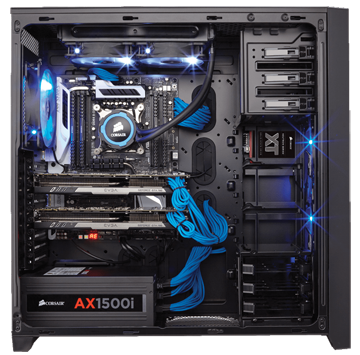 MINIMALIST STYLE, MAXIMUM POTENTIAL
The 750D Airflow has a clean, elegant exterior that dispenses arbitrary plastic add-ons in exchange for beautifully-brushed aluminum and solid steel. This rigid, rugged exterior surrounds a frame that has ample room for high-performance components and the sophisticated cooling you'll need if you're going to push those components to their limits.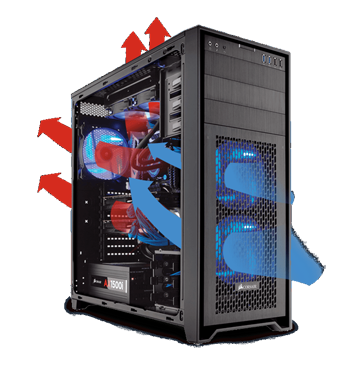 HIGH-AIRFLOW FRONT-MESH DESIGN
The front panel is what makes the 750D Airflow different than the original 750D. Dual 140mm front-intake fans and a low-resistance mesh panel provide quiet, efficient air cooling performance for GPUs and DRAM.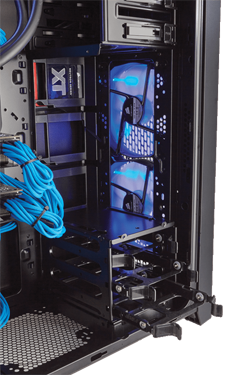 MODULAR DRIVE-CAGE SYSTEM
The tool-free drive bays can be moved and removed, so you can use only what you need for your particular storage requirements. In turn, you'll get increased space for components and better airflow potential.
FAST AND STRAIGHTFORWARD BUILDS
Smart design features and an optimized interior make this a true builder's PC case. That's because we believe building a system should be straightforward, trouble-free and most importantly, fun.