Thermaltake Level 10 GT ATX Full Tower Computer Case (VN10001W2N)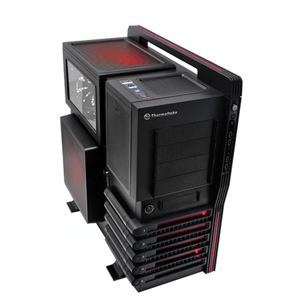 Following the high-profile launch of Level 10 Super Gaming Modular Case, the design collaboration between Thermaltake and BMW Group DesignworksUSA in 2009, Thermaltake looks to invigorate the PC enthusiasts with the latest Level 10 GT computer case.
The design language of the Level 10 GT expresses a passion for visual aesthetics deriving from demanding and immersive gameplay and multimedia entertainment enthusiasm. Modern games and entertainment applications also require highly advanced hardware configurations, which at the same time request more space and optimized ventilation than conventional hardware. The mightily elegant appearance of the Level 10 GT conveys strength and robustness and is thereby the manifestation of sheer power to achieve utmost success. With the unique ColorShift fans, an additional ambience is generated, completing and enhancing exactly this impression.