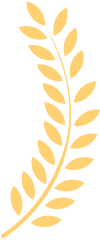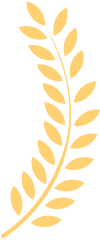 Best Sellers
In Corded Phones
RCA ML25260 Two-line Corded Wireless Speakerphone
Body Color: Black/Sliver
Additional Features: Two-line corded full duplex speakerphone. Wirelessly connects to two-line corded and corded/cordless telephones. DECT 6.0 technology. Call waiting/caller ID with 99 name/number directory. Expandable to ten Motorola two-line telephone devices with no additional phone jacks required. Ten one-touch speed dial buttons with three memory number redials. Do Not Disturb with voice mail waiting indicator. Backlit keypad and LCD blue display. Intercom with Page/Find. Desk or wall mountable.
Model #: ML25260
Item #: N82E16876206058
Return Policy: Standard Return Policy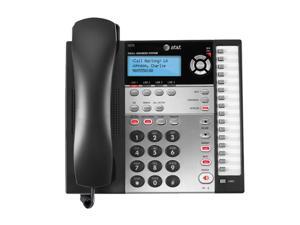 AT&T 1070 Corded 4-line telephone with base speakerphone, caller ID/call waiting
Additional Features: Chain Dialing Rapid Scroll Memory Loss Protection Auto Line Selection Hold Do Not Disturb Auto Redial Last 6 Number Redial Mute 2 Data Ports Power Failure Operation of all 4 Lines English/Spanish/French Setup Menu Flash Hearing Aid Compatible 4-Line Caller ID/Call Waiting Capability* 200 Name/Number Caller ID History New Call Indicator Visual Message Waiting Indicator Remove Button Display Dial
Speed Dial Memory: 32-Number Speed Dial
Caller ID Memory: 200 name and number caller ID history
Display Features: Large, Blue-Lighted Display
Model #: 1070
Item #: N82E16876113072
Return Policy: Standard Return Policy
$129.95

 
$106.99 

–

Save:

18%

Free Shipping
"For me, the cool backlit LCD, 2.5mm headset jack, message waiting indicator on all lines(if you have VM through the phone co. ), sturdy construction, and sound clarity are the largest pros, but there are so many additional features with this phone that this list can go on and on."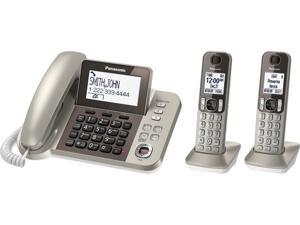 Panasonic KX-TGF352N Corded/Cordless System with 2 Cordless Handsets
Body Color: Champagne Gold
Additional Features: Easy-to-use base unit features three one-touch dial buttons and battery backup Block up to 250 numbers with one-touch Call Block on base unit and handsets Clearly hear calls from noisy places with Noise Reduction Receive alerts when the baby starts crying with built-in baby monitor Enjoy up to 13 hours of talk time, and key detector compatibility
Caller ID Memory: 50
Display: 3.4inch mono, 103x65pixels, 3Line+Softkey or, 2Line+Pict+Softkey
Model #: KX-TGF352N
Item #: N82E16876101507
Return Policy: Standard Return Policy
"This product is great. It works free voltage."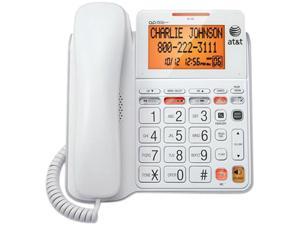 "The sound is clear and loud enough. The large back-lit display is easy to read. The large keypad buttons makes it easy to dial out without need my glasses. Great product at a great price."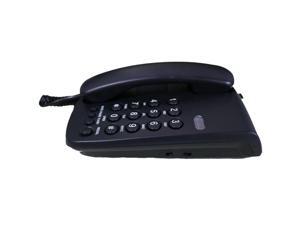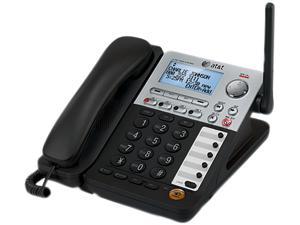 AT&T SB67148 Cordless Phones
Additional Features: ute Last 10 Number Redial Voicemail Waiting Indicator Remote Access Message Retrieval from Handset(s) Message Time/Day Stamp Call Screening Call Intercept
Phone Directory Memory: 100
Speed Dial Memory: 5
Caller ID Memory: 50
Model #: SB67148
Item #: N82E16876113148
Return Policy: Standard Return Policy
$129.95

 
$116.99 

–

Save:

10%

Free Shipping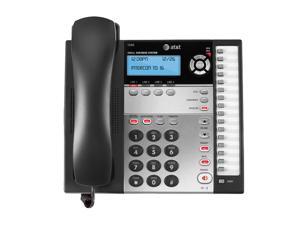 AT&T 1040 Corded 4-line telephone with base speakerphone
Body Color: Black
Additional Features: Multi lines features - 4 Lighted Line Indicators - Power Failure Operation on All 4 Lines - Line-Status Indicator - Auto Line Selection Basic phone features - Rapid Scroll - DSL Compatible (Splitters/Filters Not Included) - Receiver and Speakerphone Volume Control - Chain Dialing - Data Port - Hold - Mute - Auto Redial - Last 6 Number Redial - English/Spanish/French Setup Menu - Ringer Volume Control - Hearing Aid Compatible System features - Page, Intercom and Call Transfer between Stations - Expandable to 16 Stations with AT&T Models 1040, 1070 and 1080 - Power Failure Operation for all 4 lines(battery not included) - DSL Compatible (splitter/filters not included)
Speed Dial Memory: 32-Number Speed Dial Stores up to 32 phone numbers for easy dialing.
Display: 4-Line backlit...
Model #: 1040
Item #: N82E16876113071
Return Policy: Standard Return Policy
$99.95

 
$84.99 

–

Save:

15%

Free Shipping
"Works exactly as advertised"