Ever wanted to burn your own music collection discs to share with your friends and family or simply just clear out your hard drive? CD-ROM and DVD-ROM drives are capable only of reading data from optical discs. A burner, on the other hand, comes with the amazing capability to write data directly to optical discs for storage (e.g. storing image or music files).


Burners are classified as either CD burners or DVD burners. A CD burner can write up to 700MB onto a CD-R or CD-RW disc, while a DVD burner can write up to 4.7GB onto a single layer DVD disc or 8.5GB onto a double layer DVD disc (must be DVD Recordable or Rewriteable discs), and feature backwards compatibility with CD-R and CD-RW discs.
List of functions by optical drive type:




DVD or CD burners aren't very complex, although a rudimentary understanding of the specs including optical drive functionality, media formats as well as the burner speed, is important before purchasing one.
Functionality
As mentioned above, optical drives differ in terms of read/write functionality. As fewer CD-RW drives are being made available today, it is highly recommended a user opt for a CD-RW/DVD COMBO drive at the very least. If a large amount of data needs to be copied constantly, a DVD burner is the better option as single layer DVDs are able to hold seven times the data of a CD, and double that in a double/dual layer DVD.
Format
CD discs come in two forms: CD-R (recordable) and CD-RW (rewriteable); and DVD discs come in three forms: plus (+), dash (-) and DVD-RAM.
| | | |
| --- | --- | --- |
|   |   |   |
| DVD+R logo  |  DVD-R logo |  DVD-RAM logo |
The DVD plus (+) format, originally developed by the DVD Alliance, comes in three different forms: DVD+R (recordable), DVD+RW (rewriteable) and DVD+R DL (double layer). The DVD forum proprietary dash (-) format similarly has three forms: DVD-R (recordable), DVD-RW (rewriteable) and DVD-R DL (double layer). Most new DVD burners are capable of supporting both formats.
DVD-RAM, a form of rewriteable DVD disc, excels in terms of the number of times it can be reused. By comparison, DVD+RW and DVD-RW fall far short of the mark. A DVD-RAM is capable of being written and erased 100,000 times - far more than the 1000 times the DVD+RW and DVD-RW are capable of.
Note: DVD-RAM discs require burner compatibility. Most new DVD devices are capable of supporting DVD-RAM discs.
X Rating
Optical drive speed, as indicated by a drive's X rating, is a general way of describing the performance of an optical drive.
In CDs, the speed of 1X represents the data transfer rate of 150KB/s. Taking a 52X CD-ROM drive for example, 52X is the maximum data transfer rate, which is calculated as 52 x 150KB/s = 7800KB/s (7.8MB/s*).
Similarly for DVDs, the speed of 1X represents the data transfer rate of 1350KB/s. Taking a 16X DVD-ROM drive for example, 16X is the maximum data transfer rate, which is calculated as 16 x 1350KB/s = 21,600KB/s (21.6MB/s*).
Note: For the DVD-RAM format, 1X = 700KB/s (kilobytes per second).
* 1MB=1000KB
The table below shows the approximate time it takes to burn CD / DVD discs.
Currently the max writing speed of CD and DVD burners is 52X for CD media and 18X max for DVD media respectively.
Note: The max speed or X Rating of a CD/DVD burner refers to the max speed when writing to one of the many formats its supports, usually a single layer recordable format e.g. DVD+R. This X rating or burning speed does not apply to all other supported disc formats across the board and may be different for every format. This information is usually available in the product specs.
For example, a burner's write speeds may realistically look like this: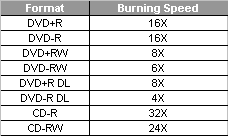 Interface
Like the internal hard drives optical drives also use either the SATA or parallel ATA (also known as IDE) to connect to the computer motherboard with the help of the corresponding cable type. The interface and cable type (IDE or SATA) is determined by your optical drive, but make sure both the motherboard and optical drive have matching interfaces.

DVD/CD-RW COMBO drives are currently quite affordable and are usually found for prices ranging between $25 and $30. If you require higher capacity data storage from your discs, you can opt for a DVD burner at an extra cost of between $10 and $20. For users on a budget, the DVD/CD-RW COMBO also represents great value and utility.
Note: Prices are for reference only.