A network switch is a wired networking device that joins computers or other devices in a network, and transfers data with each device in the network at full transmission speeds.

In a one computer home the computer can connect directly to the Internet through a DSL/Cable modem. When there is more than one computer, however, you may want to share an Internet connection or data between them and this is when a router comes in handy.
Routers for the home or small office are generally built with an internal 4 port switch that allows for the connection of up to four computers. To connect more computers it may be necessary to purchase a real network switch.

Before you determine whether or not to buy a switch for your network, here are some main specifications you may pay attention to.
Speed
Speed is one of the most important performance aspects of a network switch. Switches that are capable of 10 or 100 Mbps 10/100 Mbps) data transfer rates are currently very popular and are more than sufficient for typical home and office usage. 10/100/1000 Mbps switches provide higher data transfer rates, but a 10/100/1000 Mbps network adapter must also be used to take full advantage of the hardware.
Ports
The number of ports provided by the switch corresponds to the number of devices or computers that can be connected. Switches with 4 ports, 8 ports, 12 ports, 16 ports, 24 ports, 32 ports and 48 ports are most popular. Switches with 4 ports and 8 ports are excellent for use in homes with no more computers than the number of ports offered by the switch. Switches featuring over 8 ports are mainly designed for office and enterprise use.
A crossover cable is generally used to connect two switches via any normal port (i.e. not Internet or LAN). In high-level models one or two additional uplink ports to allow the switch to connect to another switch's regular port with a straight cable to expand the total number of ports in the network.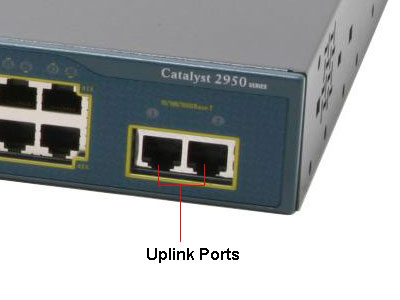 Some 10/100 Mbps switches will feature a 10/100/1000 Mbps uplink port. If this port is used to connect to a 10/100/1000 Mbps switch, the total bandwidth between the two switches will be increased to 1000Mbps.
Enterprise network switches often provide different features and functions required by network administrators for enhanced manageability and security.
Management support
Management functions allow network administrators to manually control several aspects of a switch's functions, such as the ability to enable/disable or ports, and to regulate port speed and to setup a VLAN. The switch management program can typically be accessed via serial line, telnet and http.
Simple Network Management Protocal (SNMP)
SNMP is the Simple Network Management Protocol, typically used by advanced business users. This lightweight protocol was made to monitor network devices and connections, to assist healthy network infrastructure operation. It reads and writes statistical and configuration information from devices by accessing MIBs (Management Information Base files). MIBs store real-time statistical and configuration data locally in a device's memory.
An NMS (Network Management System) uses GET to read a MIB, and SET to write to a MIB, which maintains configuration parameters.
Quality of Service (QoS)
Quality of Service (QoS) is a feature of routers and switches which prioritizes traffic so that more important traffic can pass first. The result is a performance improvement for critical network traffic. QoS equipment is useful with VoIP phones or in LANs with high volumes of local traffic.
Link Aggregation Control Protocol (LACP)
The Link Aggregation Control Protocol (LACP) is a computer networking term and is part of IEEE specification 802.3ad that can control the bundling of several physical ports together to form a single logical channel. LACP allows a network device to negotiate an automatic bundling of links by sending LACP packets to the peer (directly connected device that also implements LACP).
Virtual Router Redundancy Protocol (VRRP)
Without VRRP (Virtual Router Redundancy Protocol), a router becomes a single point of failure in a network with a statically configured default route. VRRP is a feature allowing a LAN with a failed default router to use another router as a replacement.
With VRRP a virtual IP address is specified as the default LAN gateway. The address is shared among the LAN routers, one being set as the master router, others as backups. When the master router is unavailable, one of the backups becomes the master. When the unavailable master become available again, it immediately, automatically returns to being the master.
VRRP improves on dynamic routing protocols such as RIP and OSPF in that it recovers more quickly from a failure.
VLAN (Visual LAN) is a logically-independent network on a switch, A physical switch can contains several VLANs. As VLANs are widely used in enterprise level networks, so VLAN support is typically found on high-level switches. The benefit of VLAN is the ability to divide users into many groups and in different VLANs for simpler, more effective administration and the ability to assign network bandwidth in one physical network.