Are you an E-Blast Insider?
ICY DOCK 2.5 Inch SATA/SAS HDD/SSD Full Metal Mobile Rack in 1 x 3.5 Inch Device Bay - ToughArmor MB991IK-B
In stock.
Ships from United States.
Fits a 2.5" SAS/SATA SSD/HDD in a 3.5" device bay
Support SAS 2.0 & SATA 6 Gb/s
Support SAS Dual channel
Heavy duty full metal construction
2-segment safeguard key lock
ToughArmor MB991IK-B 2.5" SAS/SATA Mobile Rack for 3.5"
Device Bays
Video
Overview
Introducing the Icy Dock ToughArmor MB991IK-B 2.5" SAS / SATA Mobile Rack solution for use in 3.5" device bays (Floppy bay). The main purpose is to provide a small form factor device built specifically for systems in a small real estate to work with, specifically for 2.5 SAS hard drives or SSDs. Because of the high performance and reliability factor of SAS drives, it is crucial for the storage solution to be just as sturdy as the drive being used. By using heavy duty metal construction, it is capable to withstand the harshest enterprise type environments. The drive is fully secured by our proven technologies such as, the Eagle-Hook lock system and metal two-segment safeguard key. Our full metal EZ Slide Mini Tray allows interchangeability of data between multiple systems with other compatible ToughArmor products. Suggested applications in Medical & Military systems, Media servers, and IPCs, approved by Tier 1 companies.
Efficient Space Use
The MB991IK-B is perfect for use in industrial PCs, SMB SFF servers, mobile DVR systems, or even home servers. These systems tend to use components that provide the needed features, in the smallest form factor available. The ability to house one SAS / SATA SSD or HDD in a single 3.5" bay makes it a valuable asset in specific applications such as, integration into an industrial imaging or medical device.
Full Metal Protection
Making sure that the material used is designed in a way where it can be relied upon for many years after its deployment. The MB991IK-B is capable of holding up in the harshest environments, with the heavy duty metal construction throughout the entire device. With the Full Metal design, the ToughArmor is perfect for industrial and medical devices that may require a flammability rating as the full metal material is considered to already comply with flammability requirements. So because of the high build quality and compatibility, it can be used various enterprise systems including: military and law enforcement deployment, as well as manufacturing conditions such as embedded control systems and factory automation systems.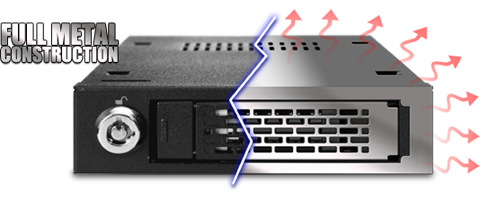 The full metal design also allows efficient heat dissipation transfer from the hard drives throughout the mobile rack. In addition, Multi-Flow Technology effectively routes air flow correctly for excellent passive cooling in key ventilation slots on the front, rear, top and bottom. Lastly, Anti-Vibration Technology and EMI Grounding are used to provide a stable environment for the hard drives or SSDs used to perform at its best.

Convenient Utility & Accessibility
The front of the ToughArmor includes a status LED when the drive is powered on, off and accessed. Active Power Technology (APT) allows the status LED to be on only when a hard drive is inserted into the enclosure. For drive security, the eagle-hook lock system on the tray makes sure your hard drives will not eject when not needed. Additionally, the two-segment key lock provides extra protection to theft of hard drives as well as safeguards any sensitive data.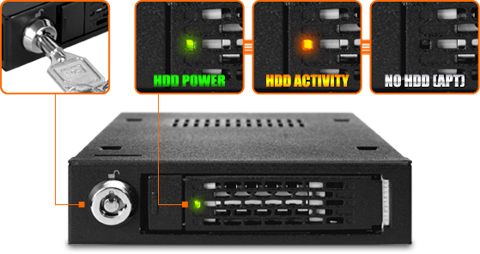 The EZ Slide Mini trays make drive interchangeability and maintenance completely hassle free, in case of a hard drive failure. With a simple swap of the hard drive, your overall down time is greatly reduced especially if this occurs when it is time sensitive. The trays are also designed to accommodate 7 to 15mm height hard drive and SSD, creating a 2.5" hot swap bay for any standard SAS / SATA hard drives and SSDs. While the tray is not installed to the MB991IK-B, the Anti-Dust Flap feature helps prevent dust from entering into the mobile rack.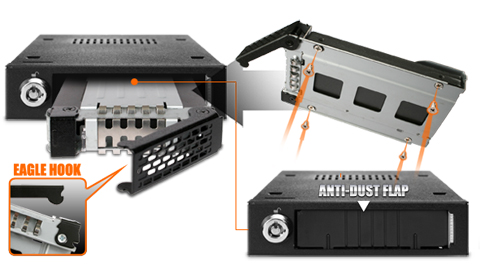 Key Features
Heavy duty full metal construction with suggested applications in Imaging, Medical, and Military systems, Media servers, and IPCs, approved & used by Tier 1 companies.
Fits 1 x 7mm to 15mm 2.5" SAS / SATA drives/ SSD's in a 3.5" floppy drive bay.
Full Metal construction, perfect for rugged applications and complies with flammability requirements.
Multi-Flow Technology - provides excellent passive cooling.
Anti-Vibration Technology - creates a safe environment for hard drives or SSDs.
Active Power Technology (APT) - individual led only powers up if there is drive installed in the drive bay.
EMI Grounding – protects hard drives from electrical damage.
Eagle-hook lock system & 2-segment safeguard key lock keeps drives secure within the enclosure.
Anti-Dust Flap prevents dust from entering when device not used.
Removable EZ Slide Mini Tray system for easy maintenance.
Supports SAS 2.0 / SATA 6Gbps and hot swap.
Single SATA 15 Pin to power entire device.
Specifications
| | |
| --- | --- |
| Model Number: | MB991IK-B |
| Color: | Matte Black |
| Host Interface: | 2 x 7-Pin SATA (For SAS Dual Channel) |
| Drive Fit: | Single 2.5" SAS or SATA I / II / III hard drive or SSD (7 - 15mm Height Drive) |
| Drive Bay: | 3.5" Floppy drive bay |
| Transfer Rate: | Up to 6 Gbps per channel. (depending on hard drive speed) |
| Power Input: | Single 15-pin SATA power port |
| Insert & Extract connection Via: | Direct SAS / SATA hard drive connection |
| | |
| Structure: | Full Metal |
| Drive Cooling: | Metal heat dispersion |
| LED Indication: | Device Power & Drive Activity |
| LED Color: | Green: Device Power; Amber: Drive Activity |
| Drive Security: | 2-Segment key lock |
| Dimensions (L x W x H): | 5.32 x 4.0 x 1.01" |
| Weight: | 0.88 lbs |
Comparison
MB991SK-B
MB991IK-B
MB992SK-B
MB994IPO-3SB
MB994SP-4SB-1
MB994SP-4S
MB994SK-1B
MB996SP-6SB
ToughArmor
ToughArmor
ToughArmor
ToughArmor
ToughArmor
ToughArmor
ToughArmor
ToughArmor
Number of 2.5" HDD/SSD Supported
1
1
2
2
4
4
4
6
Supports 2.5" SATA HDD/SSD
Supports 2.5" SAS HDD/SSD
Supports SATA 6Gbps
Supports SAS Dual Channel
Supports 1x Slim ODD Drive
7 - 9.5mm Drive Height
12.5 - 15mm Drive Height
Fits in 3.5" Floppy Bay
Fits in 5.25" Device Bay
Lock on Each Drive Tray
UL Listed
Full Metal Construction
Designed for Enterprise
Hot Swappable
Active Power Technology (APT)
Warranty & Returns
Warranty, Returns, And Additional Information
Return Policies*
Return for refund within: 30 days
Returns are subject to restocking fees and return shipping fees. Please click here to learn more about restocking fees and return shipping fees.

This item is covered by Newegg.com's International Order Return Policy
*Subject to applicable law
Manufacturer Contact Info
LOADING...