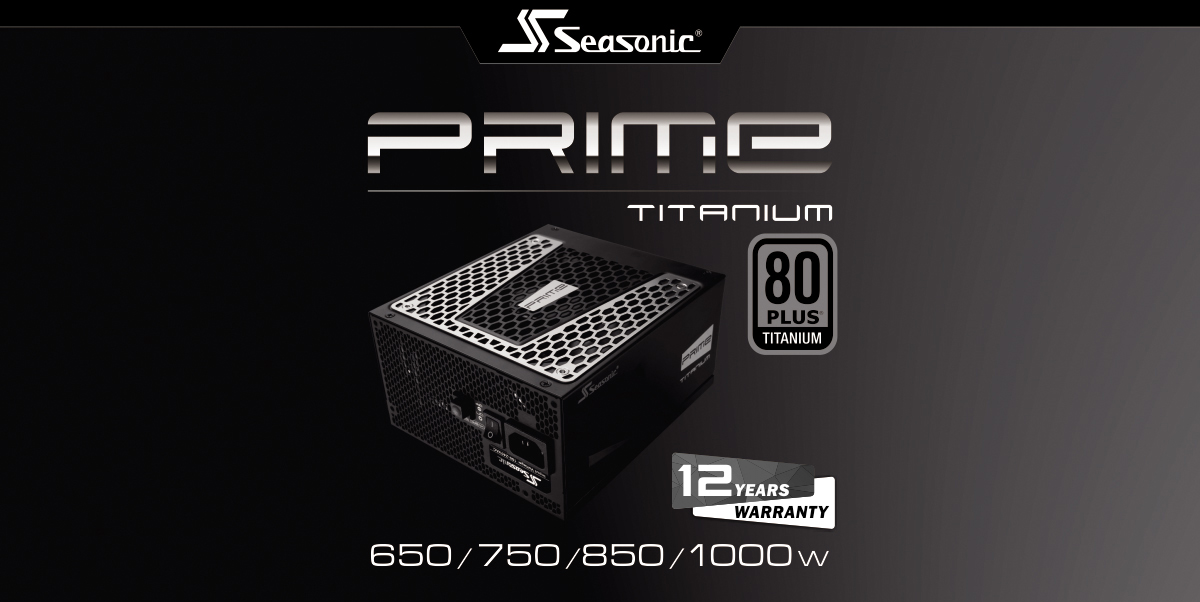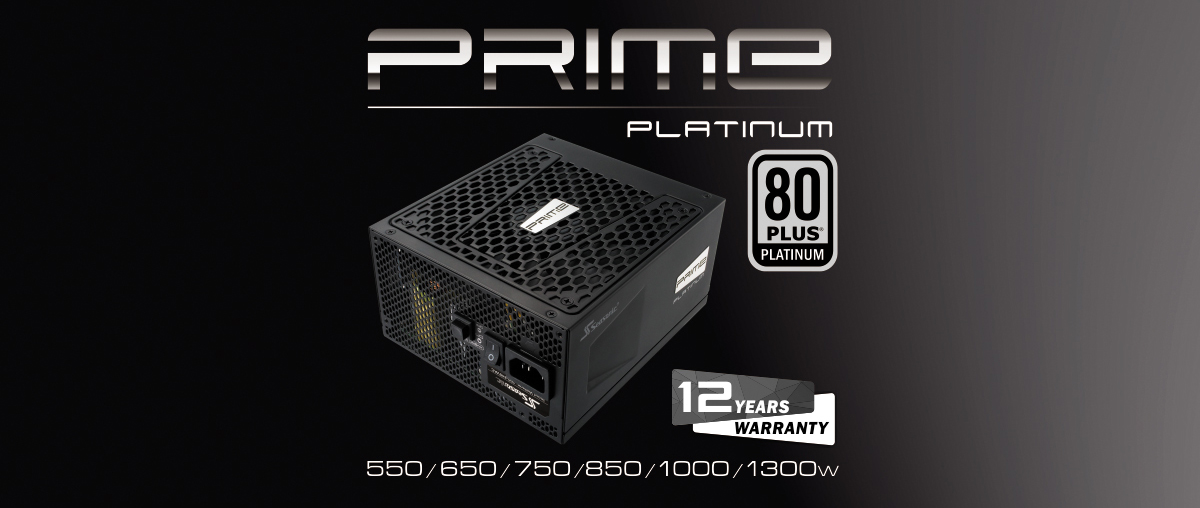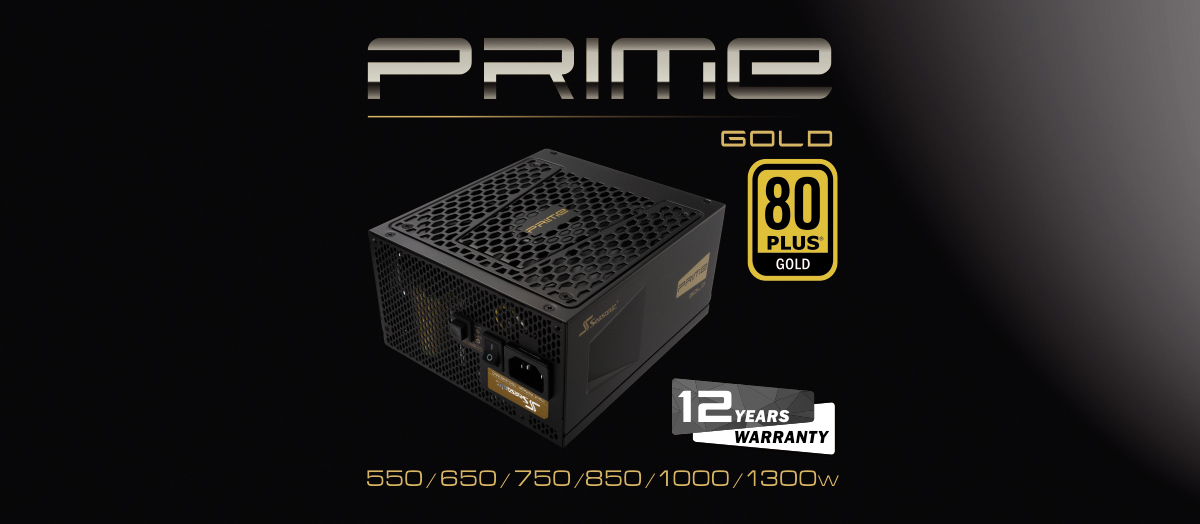 Seasonic PRIME Platinum
Power. Performance. PRIME.
Rated at 80 PLUS Platinum and built using premium quality components, the Seasonic PRIME Ultra series power supplies deliver robust, reliable power for all parts inside a desktop system. The output fluctuation is suppressed to the minimum for stable power delivery. The fully modular design allows you to use only the cables you need, to achieve maximized space, minimum clutter and better airflow inside the case. A thermally controlled fan is fitted with Fluid Dynamic Bearing, ensuring low noise operation as well as extended lifespan.
80 PLUS Platinum certified
Micro Tolerance Load Regulation (1 %)
Cable-free Connection Design
Premium Hybrid Fan Control?—Fanless until 40 % load
Multi-GPU setup
Gold plated connectors
Features
Ultra-High Efficiency, 80 PLUS Titanium Certified
The Seasonic PRIME Titanium 80 PLUS Titanium certified power supply is rated to achieve 94 % efficiency at 50 % system load.
Super-High Efficiency, 80 PLUS Platinum Certified
The Seasonic PRIME Platinum 80 PLUS' Platinum certified power supply is rated to achieve 92 % efficiency at 50 % system load.
High Efficiency, 80 PLUS Gold Certified
The Seasonic PRIME Gold 80 PLUS Gold certified power supply is rated to achieve 90 % efficiency at 50 % system load.
Fully Modular Cabling Design
It is a flexible solution that optimizes cable management and reduces clutter inside the computer case.
Micro Tolerance Load Regulation (MTLR)
Seasonic's latest design keeps the output voltage within a very tight range, achieving under 0.5 % load regulation. This impressive electrical performance and stability makes this power supply an ideal choice for high-performance systems.
Top-Quality 135mm Fluid Dynamic Bearing (FDB) Fan
The high-pressure oil between the FDB's drive shaft and bearing sleeve reduces friction and vibration to increase product lifetime and reliability. The 135 mm larger-sized fan allows for reduced fan rotation speed while maintaining optimal cooling.
Premium Hybrid Fan Control
Sea Sonic's vast experience in designing the most silent power supplies on the market was translated into the development of a state-of-the-art fan control to keep the overall fan noise at a lowest possible level for an undisturbed user experience. The industry's first, advanced three-phased thermal control finds perfect balance between silent and cooling through three operation stages: Fanless-, Silent- and Cooling Mode. Users can manually select between the Seasonic Standard Mode (fan control without Fanless Mode) and Hybrid Mode (fan control including Fanless Mode) settings with the help of a selector switch found on the back panel of the power supply.
Cable-free Connection Design
Seasonic's engineers have implemented a new design feature, where instead of cables, the back panel and PCB (Printed Circuit Board) are connected by a copper plate. This breakthrough solution not only lowers the chance of production errors during manual insertion but it also improves output power quality.
Super-Low Ripple Noise (under 20 mV)
Seasonic's continued commitment to excellent analog power supply design has resulted in the suppression or ripple noise to a level well below the current industry average of 20 mV.
Highly Reliable Aluminum Electrolytic Solid Capacitor
Top-grade, Japan-sourced components extend product life and ensure operation stability under extreme conditions.
Gold-Plated High Current Terminals
Reduces current transmission resistance and increases efficiency.
Multl-GPU Technologies Supported
8-Pin and 6-Pin PCI-E connectors support all GPU platforms.
Specifications / DC cable & Connectors