X570S PG Riptide
Supports AMD AM4 Socket Ryzen 2000, 3000, 4000 G-Series, 5000 and 5000 G-Series Desktop Processors
10 Phase, Digi Power, Dr. MOS
Supports DDR4 5000+ (OC)*
3 PCIe 4.0 x16 Slots, 3 PCIe 4.0 x1 Slots
1 M.2 Key-E for WiFi
Graphics Outputs: HDMI
7.1 CH HD Audio (Realtek ALC897 Audio Codec), Nahimic Audio
6 SATA3, 1 Hyper M.2 (PCIe Gen4 x4)
1 Hyper M.2 (PCIe Gen4 x4 & SATA3)**
3 USB 3.2 Gen2 (Front Type-C, Rear Type-A+C)
8 USB 3.2 Gen1 (4 Front, 4 Rear), 6 USB 2.0 (4 Front, 2 Rear)
Killer E3100G 2.5G LAN
* Actual support may vary by CPU.
** If M2_2 is occupied by a PCIE-type M.2 device, SATA3_5_6 will be disabled.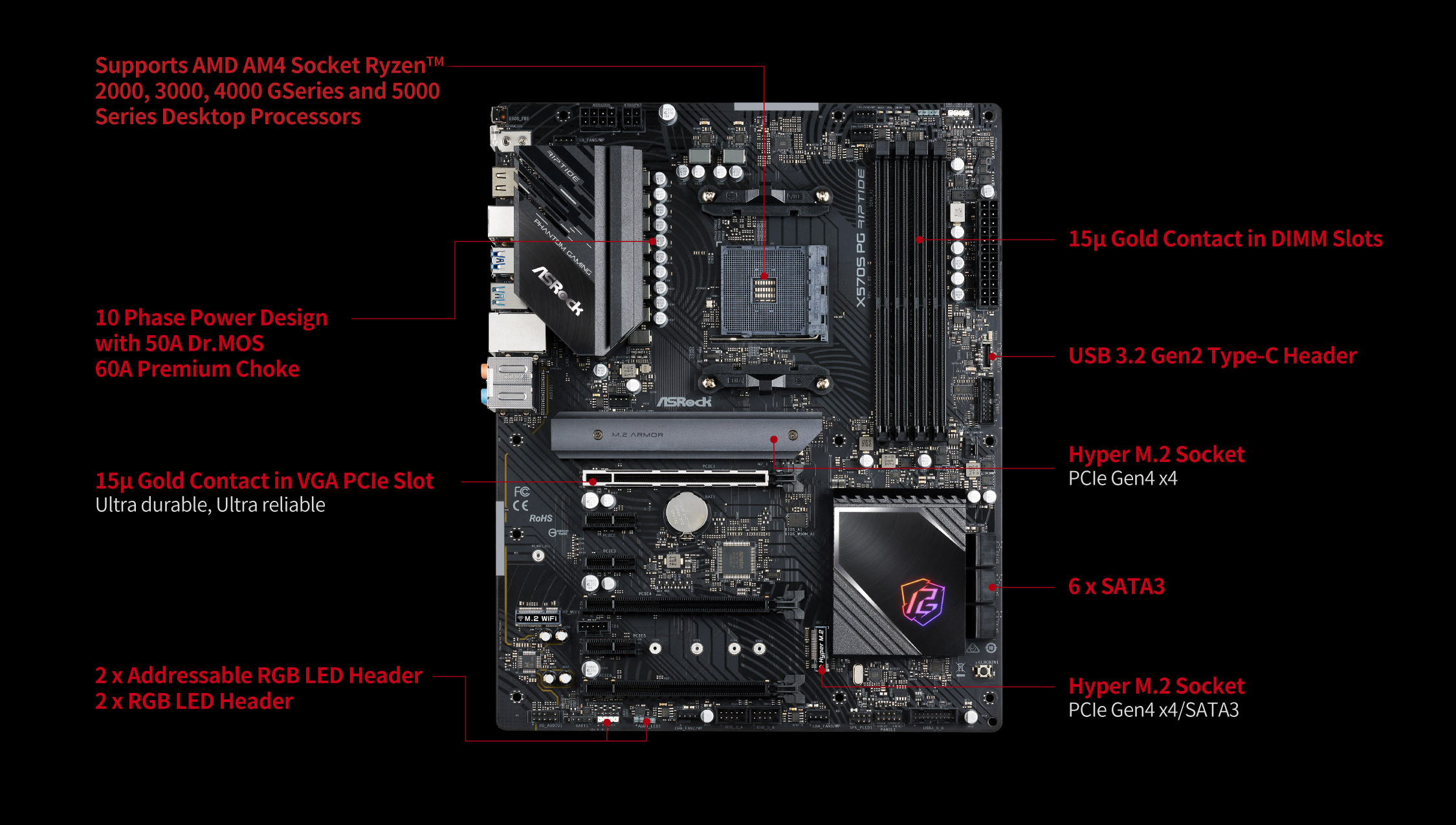 Riptide is named after a specific kind of water current with strong waves that occurs in the ocean, representing the philosophy of sea's double-side, calm and unlimited strength. Built around powerful gaming-related features, the Riptide has given a powerful smash and will immerse users in the sense of stability.
GAMING DESIGN RELOADED:
A Whole New Design Delivered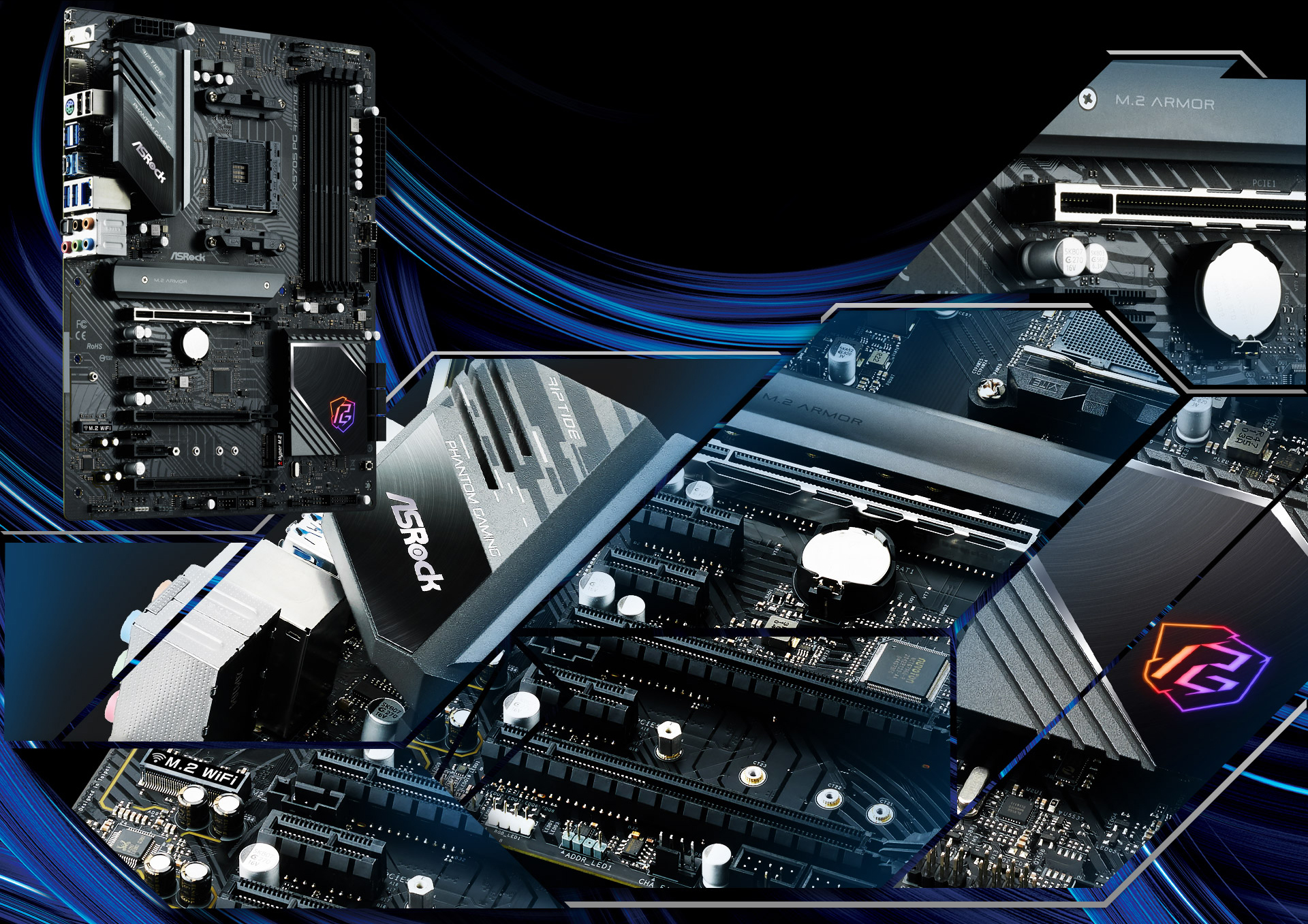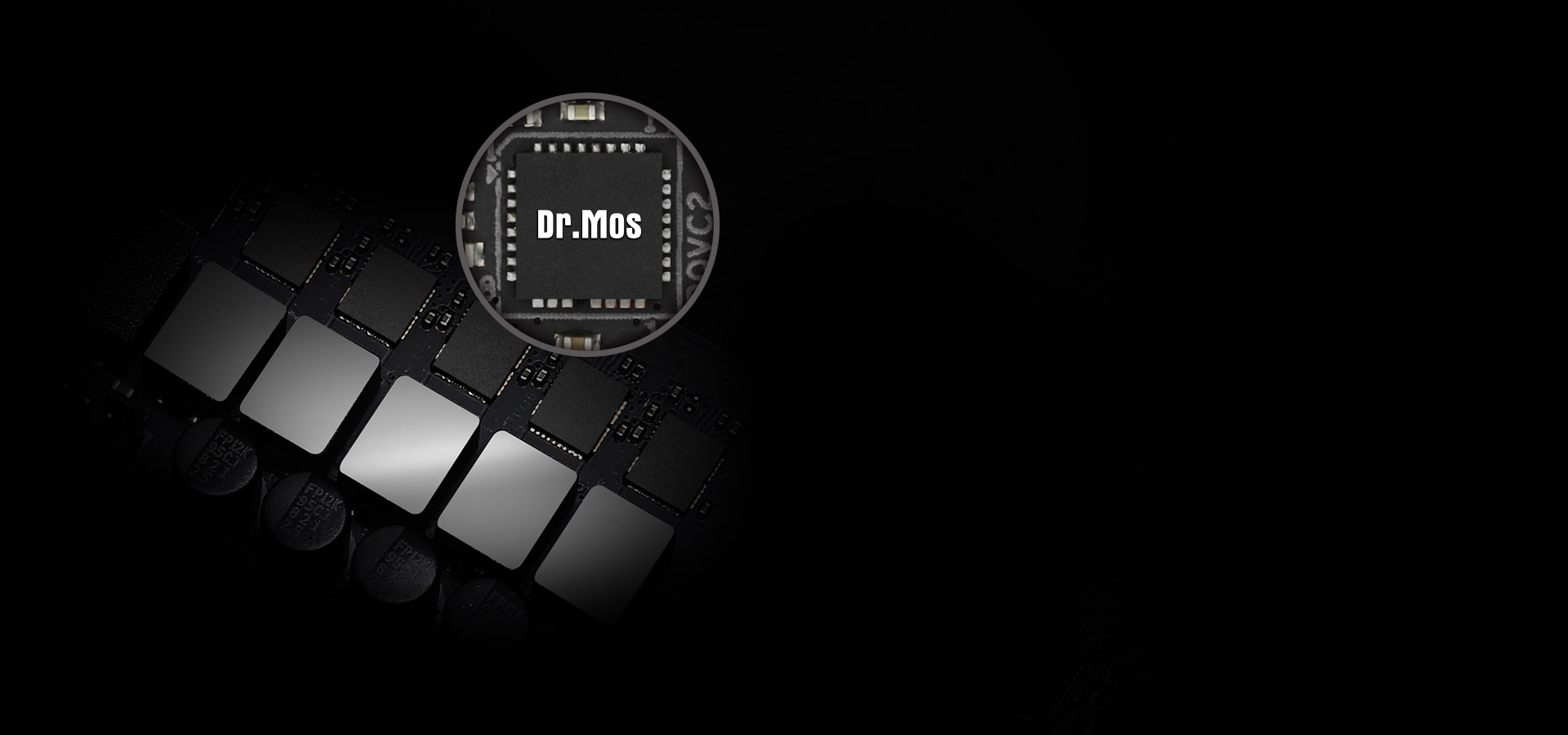 Dr. MOS
Dr.MOS is an integrated power stage solution which is optimized for synchronous buck-set down voltage applications! Compared to traditional discrete MOSFETs, it intelligently delivers higher current for each phase, thus providing improved thermal result and superior performance.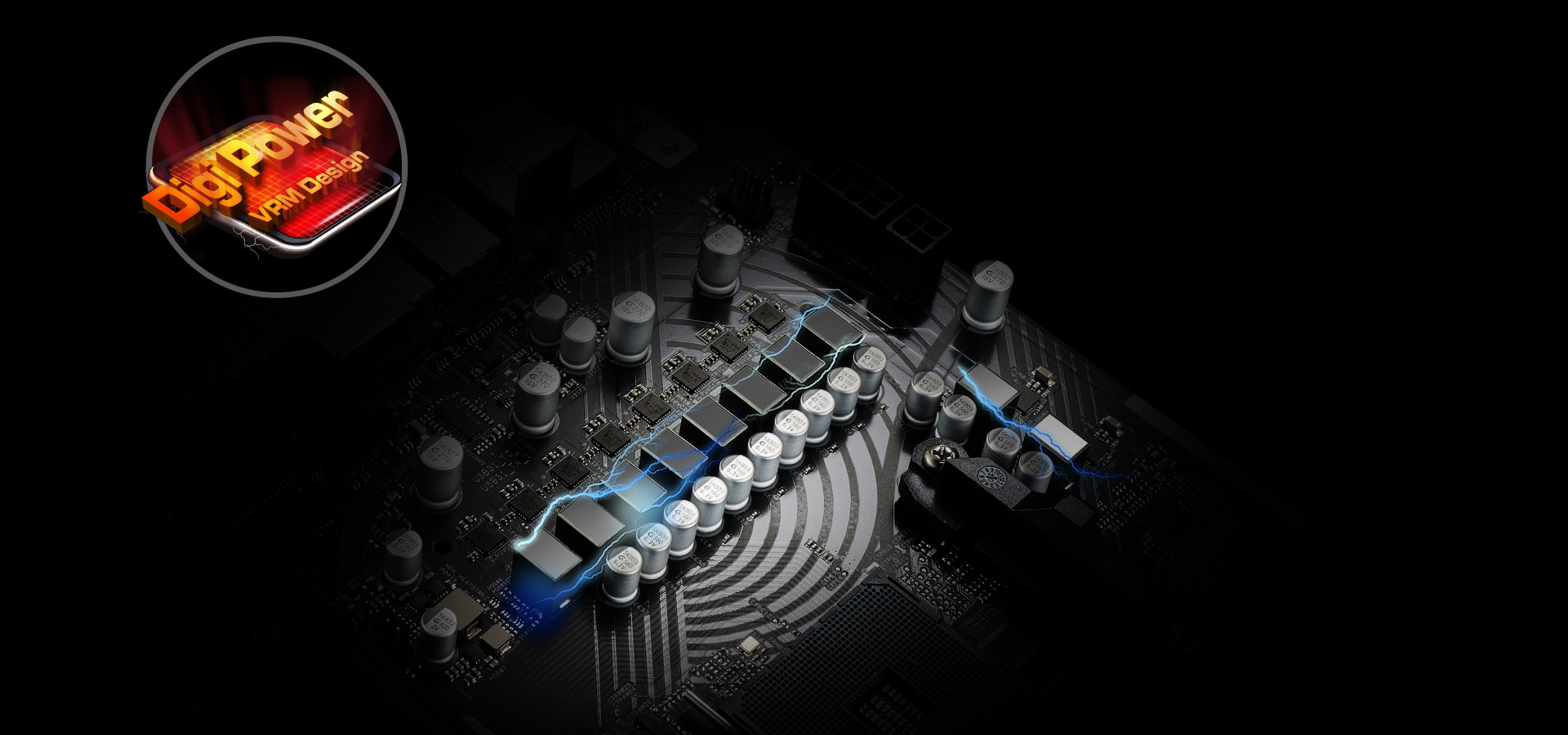 10 Power Phase Design
Featuring sturdy components and completely smooth power delivery to the CPU. Plus, it offers unmatched overclocking capabilities and enhanced performance with the lowest temperature for advanced gamers.
Killer Ethernet E3100
The Killer E3100 2.5 Gbps Ethernet controller is designed specially for competitive gamers and performance-hungry users. The enhanced detection and prioritization engine provides the ultimate networking experience for gaming and multimedia applications.
Intel Killer Prioritization Engine
The Intel Killer Prioritization Engine detects and optimally prioritizes over 1,000 different games, apps, and websites to deliver amazing online experiences, ensuring you get your lowest in-game latencies by prioritizing your gaming traffic above everything else.
AMD SMART ACCESS MEMORY
Conventional PC systems' processor can only access a fraction of graphics memory and limit system performance. With AMD Smart Access Memory, the data channel gets expanded to harness the full potential of GPU memory, removes the bottleneck and increases performance.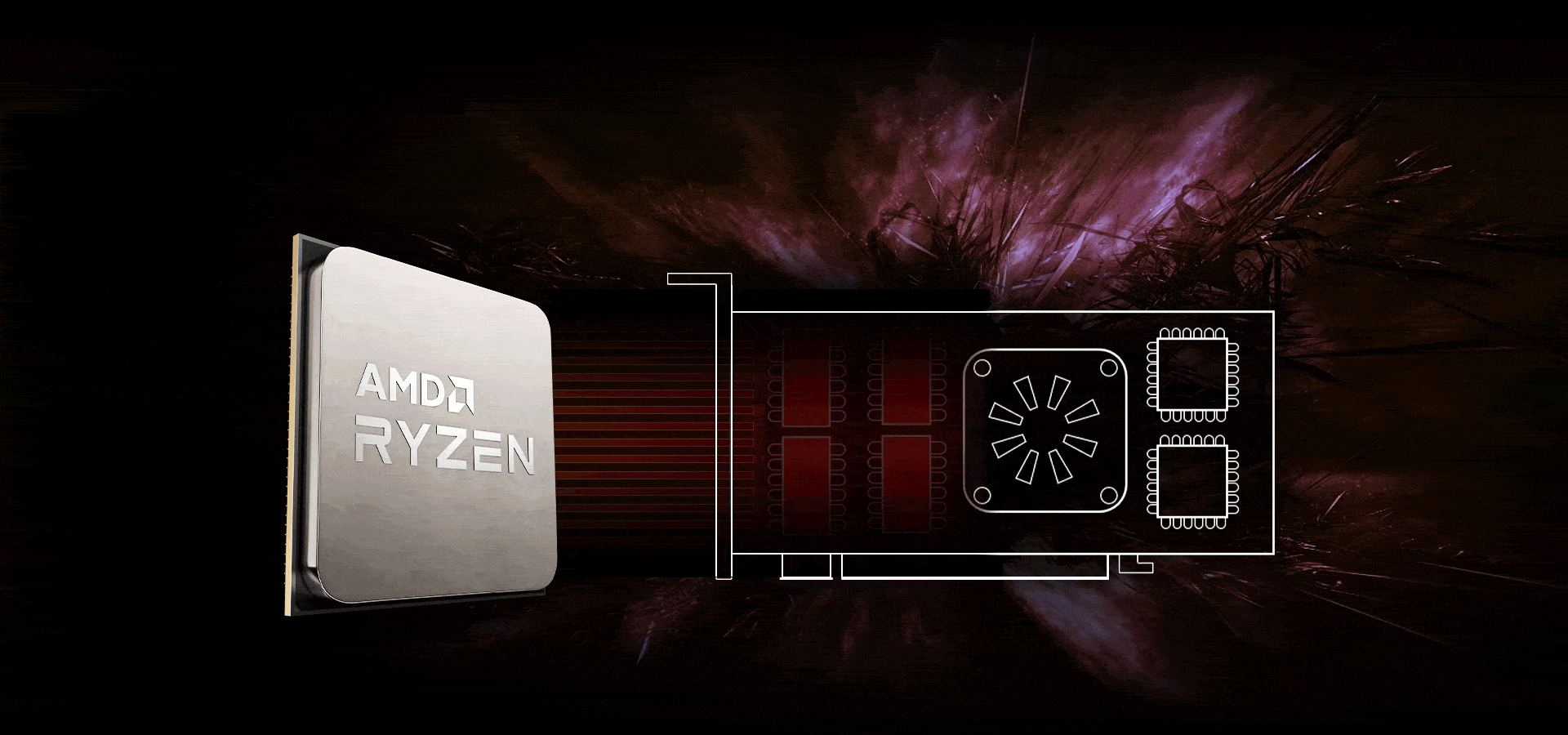 Dual Hyper M.2 For SSD
Supports the next generation PCI Express 4.0 M.2 SSDs, that are capable of performing twice the speed compared to previous 3rd generation, giving a lightning fast data transferring experience.
Lightning Gaming Ports
(Patent Pending)
Aimed for die hard gamers and enthusiasts! Lightning Gaming Ports are sourced from two different controller interfaces that assist gamers in connecting the high speed mice/keyboard with lower jitter and latency!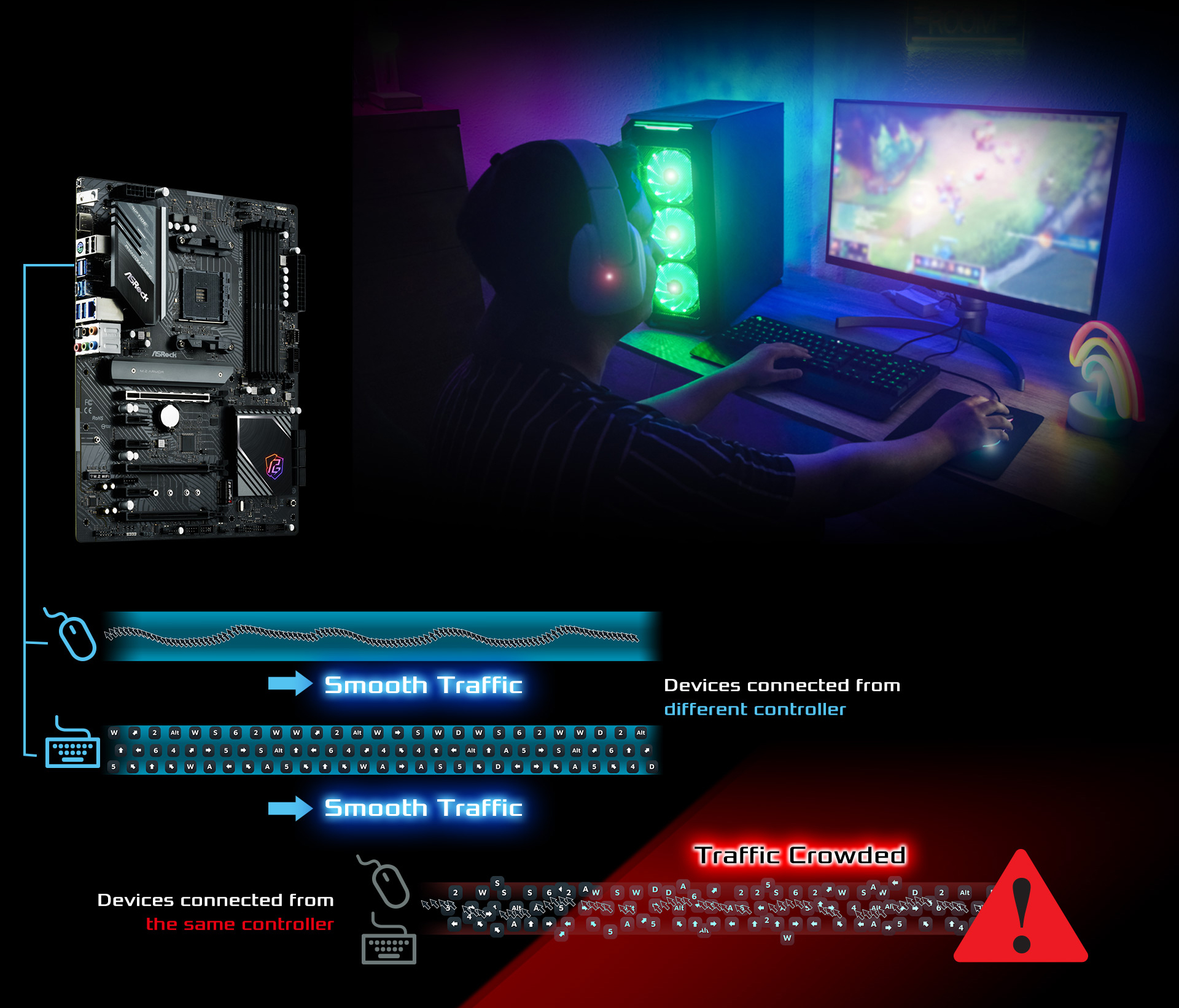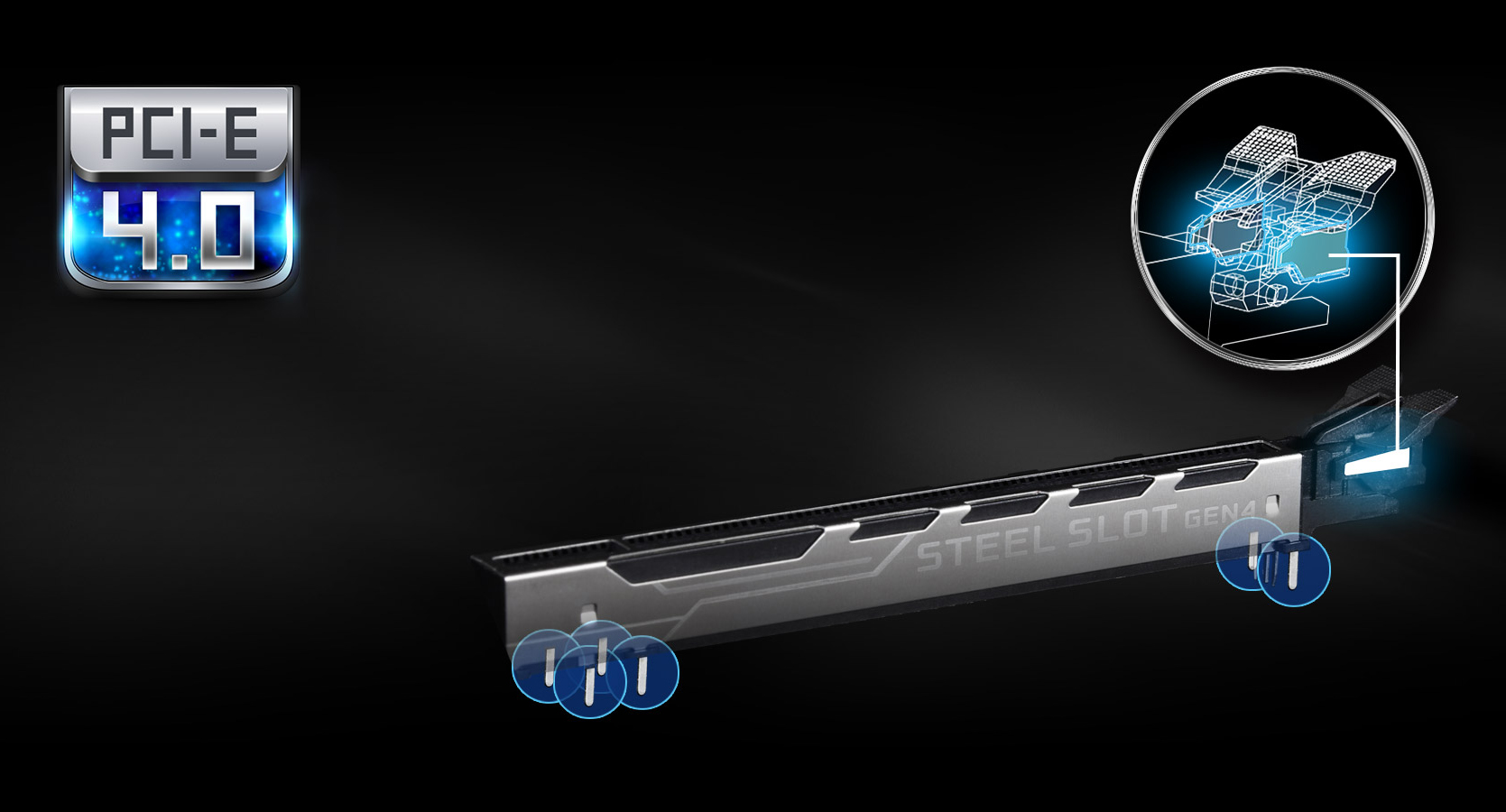 Reinforced Steel Slot [PCIe 4.0 Version]
The reinforced steel slot is capable of supporting PCI Express 4.0 standard. The various benefits include:
Extra anchor points
Stronger latch
Impressive signal stability
Make sure heavy graphics cards are well-installed.

ASRock Graphics Card Holder
(Patent Pending)
Install your heavy graphics card on the holder, and connect it to your motherboard and chassis with screws. Flexibly slide up and down to perfectly adjust the height required for your graphics card to be snapped in place.
RULE YOUR OWN LIGHTING WAY - POLYCHROME RGB
ASRock motherboards deliver stunning performance and superior aesthetics to rule your own colorful lighting way! ASRock offers a very comprehensive tool to control the built-in RGB LEDs or the connected LED strips, CPU fans, coolers, chassis and any RGB devices smoothly. Devices's RGB lighting can be synchronized across the Polychrome RGB Sync-certified accessories as well.

* The addressable RGB LED header supports WS2812B addressable RGB LED strip (5V/Data/GND), with a maximum power rating of 3A (5V), a max of 80 LEDs and length within 2 meters.
* The RGB LED header supports standard 5050 RGB LED strip (12V/G/R/B), with a maximum power rating of 3A (12V) and length within 2 meters.

Front USB 3.2 Gen2 Type-C
Front USB 3.2 Gen2 Type-C header delivers up to 10 Gbps data transfer rate and next generation reversible USB design to the front panel of computer case.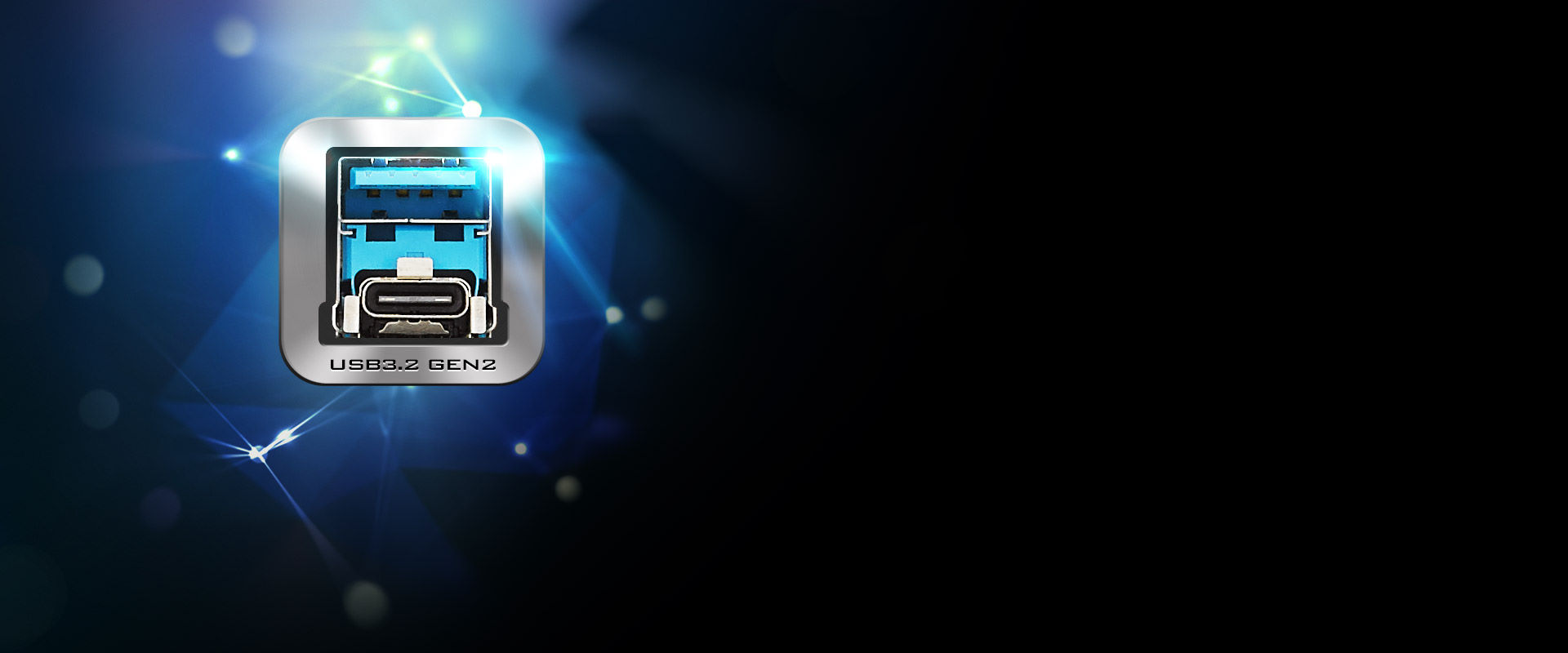 Dual USB 3.2 Gen2 (Type-A + Type-C)
This motherboard has a pair of onboard Type-A and Type-C USB 3.2 Gen2 ports built on the rear I/O for supporting next generation USB 3.2 Gen2 devices and to deliver up to 10 Gbps data transfer rates.


M.2 (KEY E) For WiFi
Besides the onboard LAN port, users may also choose 802.11ac wireless connections by M.2 (Key E) slot.
* Wi-Fi module is not included.

Thunderbolt 4 AIC Header
Thunderbolt 4 is no longer limited to certain chipset; ASRock skillfully implement the Thunderbolt 4 technology supporting Hot-Plug onto AMD motherboards. All you need is a Thunderbolt 4 AIC card!
* 1: Maximum three TB devices and one TB Monitor can be detected in one TB4 port. (Double in two ports)
* 2: USB Keyboard / Mouse on TB4 port cannot wake up the system from S3/S4.
* 3: TB monitor might not light up if "Above 4GB Decoding" option is disabled.
* 4: Does not support Thunderbolt graphics card box with AMD graphics card.
* 5: Only supports Cezanne, Vermeer, Matisse, Renoir processors.
Nahimic Audio
Whether you are using headphones, a headset, external or internal speakers, via USB, Wi-Fi, analog output or even HDMI, Nahimic Audio offers you the most engaging listening experience, vibrant and rich with details.

The Sound Tracker is a visual indicator that points out the directions from which predominant sounds are coming. Each sound is properly positioned in 360° on a radar for a full immersion during the game.

Post Status Checker
An easy troubleshooting tool that shows the CPU / DRAM / VGA / BOOT operation every time you start up the system. Post Status Checker is an fast and easy way to identify the source of the problem.

HDMI 4k @60Hz
Supports the most recent HDMI 4K 60Hz graphics output specification. With the larger bandwidth and increased frame rate, the motion on your screen becomes more fluid and less blurry.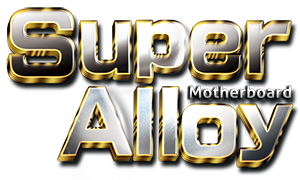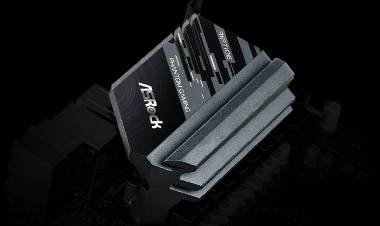 XXL Aluminum Alloy Heatsink
Extra large aluminum alloy heat sinks effectively take away heat from the MOSFET and chipset so that your whole system may perform more stable.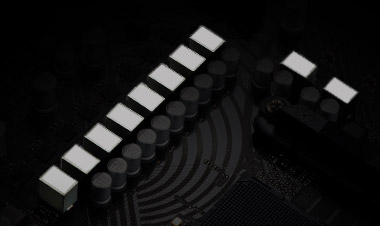 Premium 60A Power Choke
Compared to traditional chokes, ASRock's premium 60A power chokes effectively make the saturation current up to three times better, thus providing enhanced and improved Vcore voltage to the motherboard.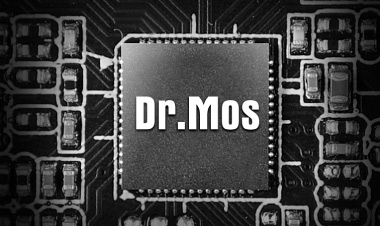 Dr. MOS
Dr.MOS is the integrated power stage solution which is optimized for synchronous buck-set down voltage applications! Intelligently delivering higher current and driving up to 50A continuous current for each phase, thus providing improved thermal result and superior performance.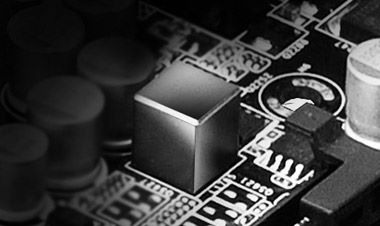 Premium Memory Alloy Choke
Specifically designed for memory power delivery, these new alloy chokes feature a highly magnetic and heat resistant design, thus delivering more stable and reliable power to the motherboard and memory modules.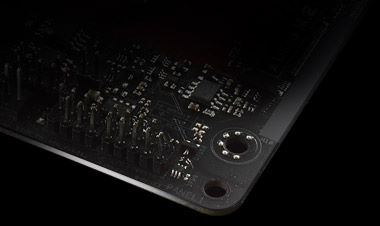 Matte Black PCB
A new mysterious matte black and copper color scheme to match the prestigious components on ASRock's high-end motherboards.
High Density Glass Fabric PCB
High Density Glass Fabric PCB design that reduces the gaps between the PCB layers to protect the motherboard against electrical shorts caused by humidity.
2oz Copper PCB
Using only carefully selected copper materials for PCB layers, 2oz Copper PCB delivers lower temperature and higher energy efficiency for overclocking.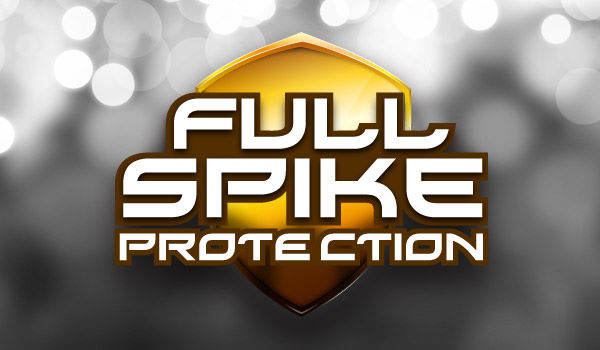 Full Spike Protection
Some sensitive digital components on the motherboard are vulnerable to power surges, the excessive current may cause your system to malfunction immediately. ASRock Full Spike Protection includes various technologies to prevent your motherboard's components from being damaged by these unexpected voltage spikes.
Live Update & APP Shop
ASRock Live Update & APP Shop is designed for your convenience. We provide various apps and support software for users to download. You can also easily optimize your system and keep your motherboard up to date with ASRock Live Update & APP Shop.