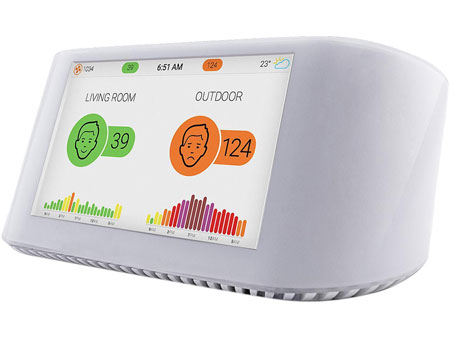 World's Smartest Air Quality Monitor
You can acquire the latest air quality report and take action with the versatile AirVisual Pro. The humanized If This Then That (IFTTT) applet allows you to connect AirVisual Pro with your home smart devices for personalized quality needs.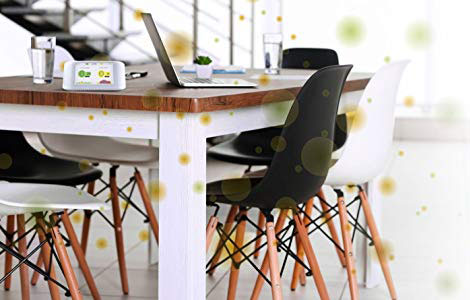 See the invisible
Instantly see invisible threats from dangerous microscopic fine particles (PM2.5). The AirVisual Pro's cutting-edge technology empowers you to conveniently monitor your air anytime, anywhere.
World's largest air quality data network
Access the most accurate and comprehensive global air quality data available through a simple widget or API.
The AirVisual Pro empowers you to: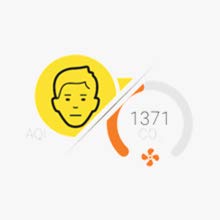 Monitor
Take your AirVisual Pro with you and monitor invisible threats to your health.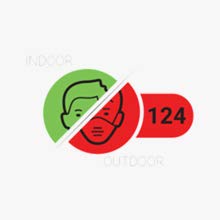 Compare
Compare your Indoor Air Quality with your outdoor air. Discover local air pollution sources.
Foresee
Know before you go with 72-hour pollution & weather forecasts - it's a new era in health planning!
Take Action
Smart technology provides personalized alerts, tips & advice. Breathe the cleanest air possible.
PM 2.5
PM2.5 are tiny particles that damage your throat and lungs. This pollutant is particularly dangerous as its small size allows particles to directly enter your bloodstream from your lungs.

CO2
High CO2 levels mean you need fresh air. Stagnant air has less oxygen, and more bacteria, mold, and other harmful fumes.

Temperature
Make sure your environment is comfortable, as well as healthy.

Humidity
Dry air contributes to irritated sinuses, sore throat, itchy eye and skin aging. Meanwhile, overly humid environments can bring about biological air pollutants such as dust mites and mold.

Indoor & Outdoor Data
See your indoor air quality next to outdoor readings from the nearest official monitoring station.

Forecast
Plan ahead to minimize pollution exposure and discomfort outdoors. We'll keep you informed with air quality and weather data up to 3 days in advance.

Alerts
Receive notifications when air quality fails to meet standards. Smart integration allows you to control smart home devices with action-based rules.
Advice
We take all of your air quality data into account so you don't have to. The AirVisual Pro learns from your indoor and outdoor environments to provide you the most productive and cost effective recommendations.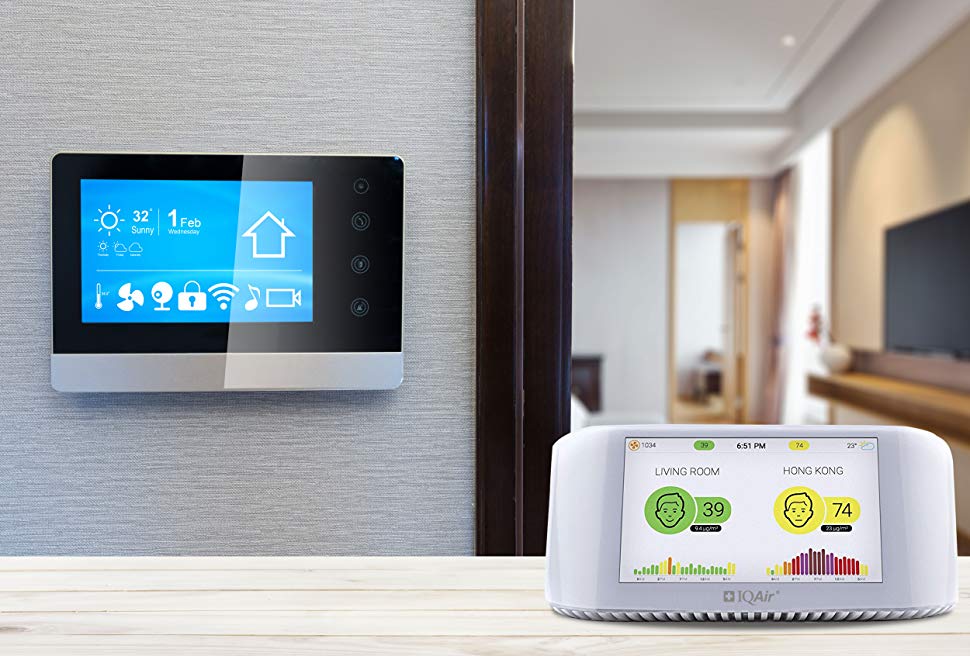 If This, Then That (IFTTT)
No programming skills? No problem! Save time, save money, and save your breath with AirVisual Pro and If This Then That (IFTTT) compatibility.
Link your AirVisual Pro to all your connected home technology, or set up alerts about air quality changes for your smartphone, and bring the power of clean air into your 21st-century lifestyle.
Using a simple string of commands, your AirVisual Pro communicates with Smart Home devices to maximize clean air while minimizing home HVAC costs. Here are just a few ways you can use AirVisual Pro + IFTTT applets (or create your own!):
Reduce PM2.5 Levels: Run your home air purification system to lower concentrations of indoor pollutants (compatible with the IQAir NanoMax, PerfectHome, and PerfectHome Plus systems).
Be Air Smart: Run your HVAC system based on air quality readings, saving you energy costs and reducing your carbon footprint.
Connect to WiFi: Have your AirVisual turn on your HVAC system when your smartphone is in proximity to your home WiFi network so that you have fresh, clean air as soon as you get home (and aren't running it all the time while you're out, saving electricity costs).
Disperse Dangerous CO2: Run your HVAC fan or open an air exchanger when CO2 levels are high.