Enhanced Night Vision with Matrix IR
If security after dark is just as important to you as daytime surveillance, LaView's Matrix IR line is your premium option. Invest in heightened round-the-clock protection with Matrix IR cameras, designed for brighter, clearer, longer-lasting night vision.
Matrix IR – Special Features
Each camera features a precisely sculpted 4mm lens flanked by two Matrix IR LEDs that provide 100 feet of ultra-illuminated night vision. With Matrix IR, you get 20% brighter night vision without any distracting glow effects, and the cameras use 21% less energy for a prolonged recording lifespan!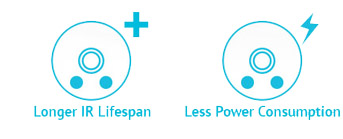 Effortless Install with Power Over Ethernet
Power and data combined through ONE single cable means less wiring for you, and NO need for external switches!
Motion Detection
Recording & Alerts
Motion-triggered recording saves precious hard drive space, while capturing the footage you need. Advanced options allow you to customize recording zones and schedules, and receive alerts!
Easy Remote Viewing
FREE Mobile App
Use LaView Net to scan the code on your NVR, and you're all set to view real time and playback from anywhere in the world!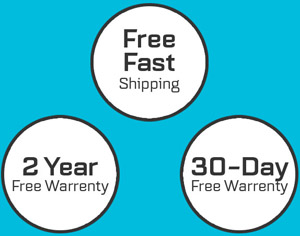 Buy with Confidence
Our warrents this product and parts against defects in material for 2 years from the date of original purchase. Warrant does not cover service or replacements made necessary by any external cause.
Surveillance for your Home
1. Doors and Windows
Providing up to 100 ft of night vision, the bullet cameras ensures that you see anyone who enters your home - and the prominent design deters intruders!
2. Backyards and Balconies
Easily installed outdoor bullet cameras protect you from intruders trying to sneak in through the back! Precipitation won't affect the IP66 weather-resistant casing.
3. Bedrooms
The first place burglars target, bedrooms can be discreetly protected with sleek dome cameras. Motion detection allows you to trigger recording upon entry.
4. Hallways and Stairs
Passageways connecting rooms have the most traffic - dome cameras blend easily into your home decor, and your 2TB drive ensures you have enough space to record it all.
Surveillance for your Business
5. Offices and Conference Rooms
Elegant dome cameras resemble ceiling lights for aesthetic security in your meeting rooms. In time-sensitive situations, Smart Search helps you target the footage you need.
6. Cubicles
Increase employee productivity by mounting workplace domes - the covered lens is non-distracting, but the 98' field of view ensures your team is always working hard!
7. Entrances and Exits
With people constantly coming in and out, you want to make sure all your doors are covered by assertive bullet cameras - ours have night vision the length of a tennis court!
8. Warehouses
Warehouses are large areas with minimal heating and AC, but cost-efficient bullet cameras are quick to install and can func¬tion from -40' C to 140* C.