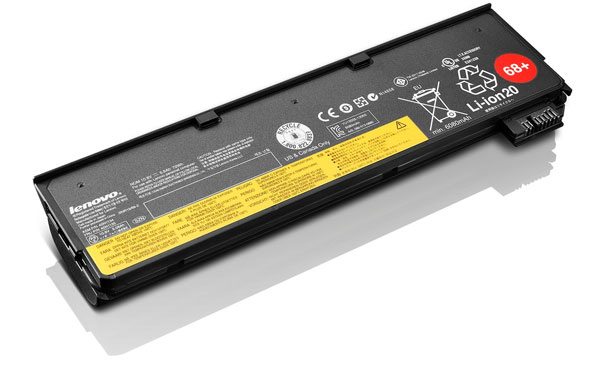 Lenovo ThinkPad Battery 68+, Model # 0C52862
The ThinkPad Battery 68+ (6 Cell) battery is a great replacement for aging/worn out battery, or can be used as a spare battery. Utilizing Lithium-Ion (Li-Ion) technology, this genuine battery holds 72Wh power that helps your stay unplugged longer* be it work or play. It features over-discharge protection to extend the battery life span. And a safeguard chip is built in to authenticate the battery itself with Lenovo systems.
*Battery life varies due to many factors. These include: applications, battery conditioning, features, screen brightness, power management and other customer preferences.
Compatible with X240, X250, X260, X270, W550, W550s, P50s, L450, L460, L470, T440, T440s, T450s, T450, T460, T460p, T470p, T550 and T560
Over-discharge protection
Safeguarded with a chip to authenticate itself with Lenovo systems.