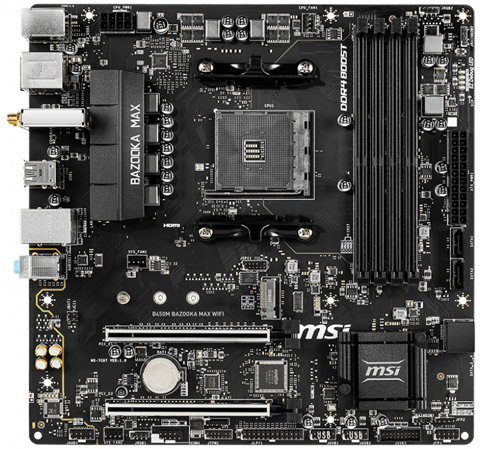 MSI B450M BAZOOKA MAX WIFI
Powered by AMD B450 chipset, this board fully supports the 1st/2nd/3rd Gen AMD Ryzen processors up to Ryzen 9 series. This micro ATX board is manufactured with premium quality components, advanced circuitry, classy heatsinks, and a plethora of ports and slots to meet your current needs and future upgrade. It also incorporates a suite of performance-enhancing features like Core Boost, DDR4 Boost and Audio Boost, making the B450M BAZOOKA MAX WIFI a great foundation for your next gaming build.
Supports 1st, 2nd and 3rd Gen AMD Ryzen / Ryzen with Radeon Vega Graphics and 2nd Gen AMD Ryzen with Radeon Graphics / Athlon with Radeon Vega Graphics Desktop Processors for Socket AM4
Supports DDR4 Memory, up to 4133(OC) MHz
Lightning Fast Game experience: 1x TURBO M.2, Store MI technology
Core Boost: With premium layout and fully digital power design to support more cores and provide better performance.
DDR4 Boost: Advanced technology to deliver pure data signals for the best gaming performance and stability
MULTI-GPU: With PCI-E STEEL ARMOR slot. Supports 2-Way AMD Crossfire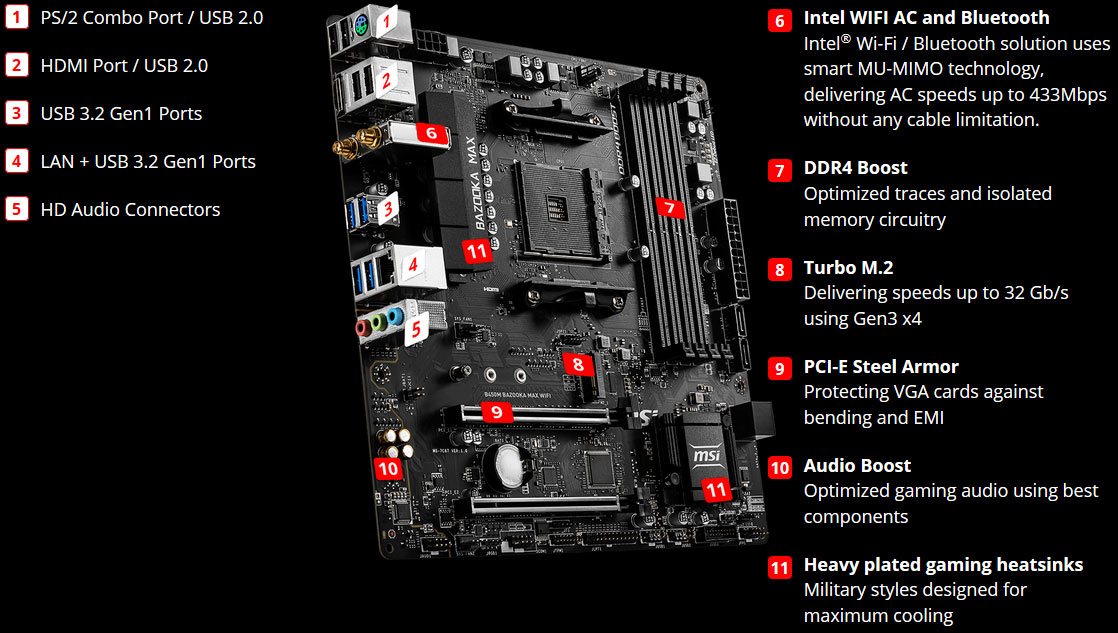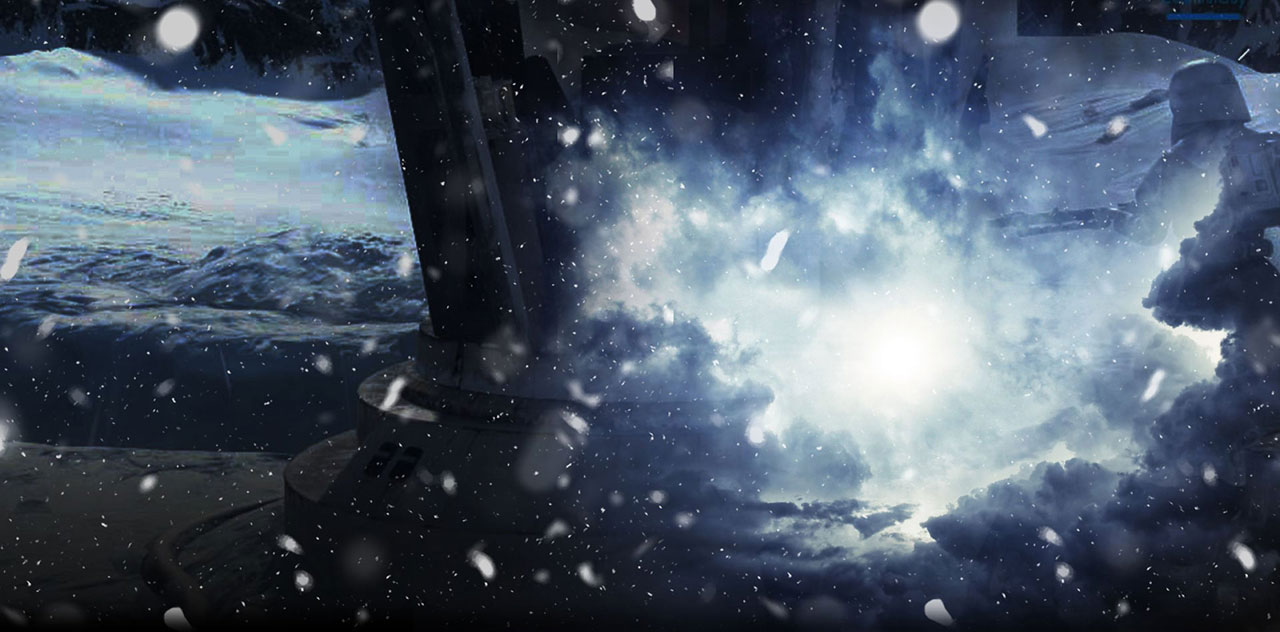 STAY COOL FOR ULTIMATE GAMING PERFORMANCE
Cooling your PC is essential for reliable performance. MSI motherboards feature excellent power design with solid and heavy heatsink. We've made sure to include enough fan headers with full control to allow you to cool your system any way you want.
FULLY CONTROLLABLE FAN HEADERS
MSI motherboards let you manage speeds and temperatures for all your system and CPU fans, giving you full control to set up a cool & silent system. The fan headers are conveniently placed with the most popular CPU coolers in mind.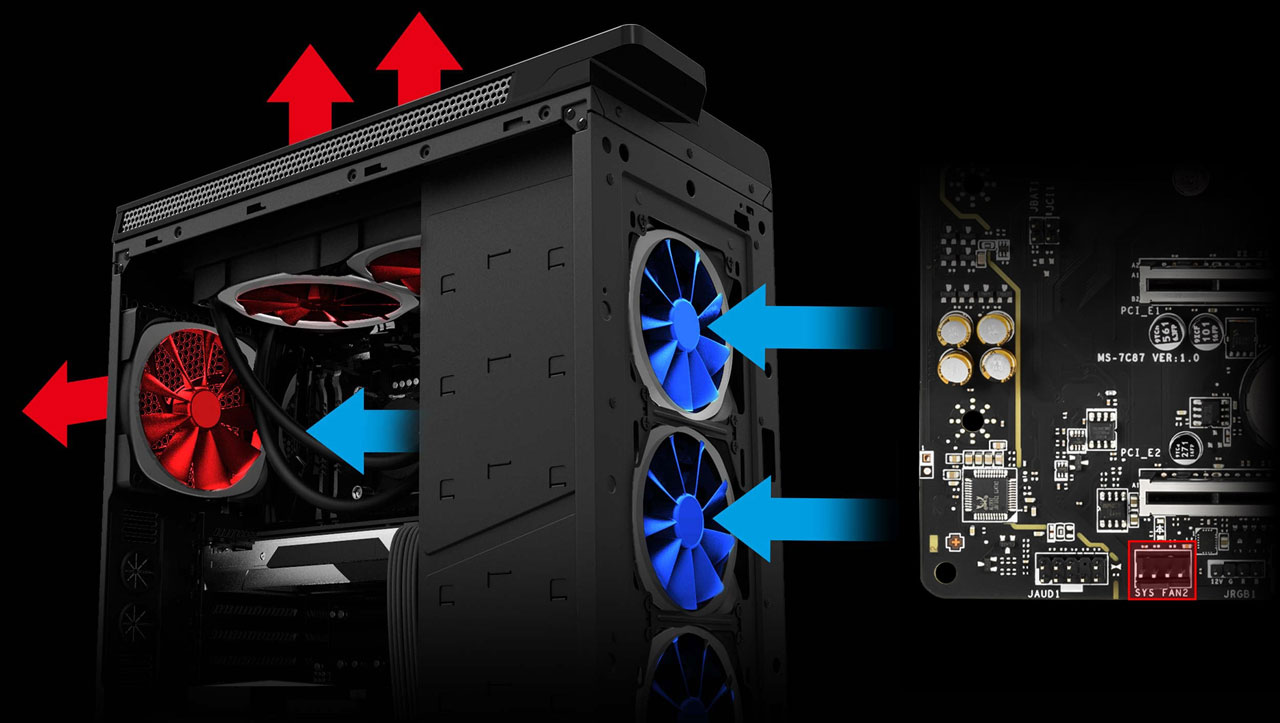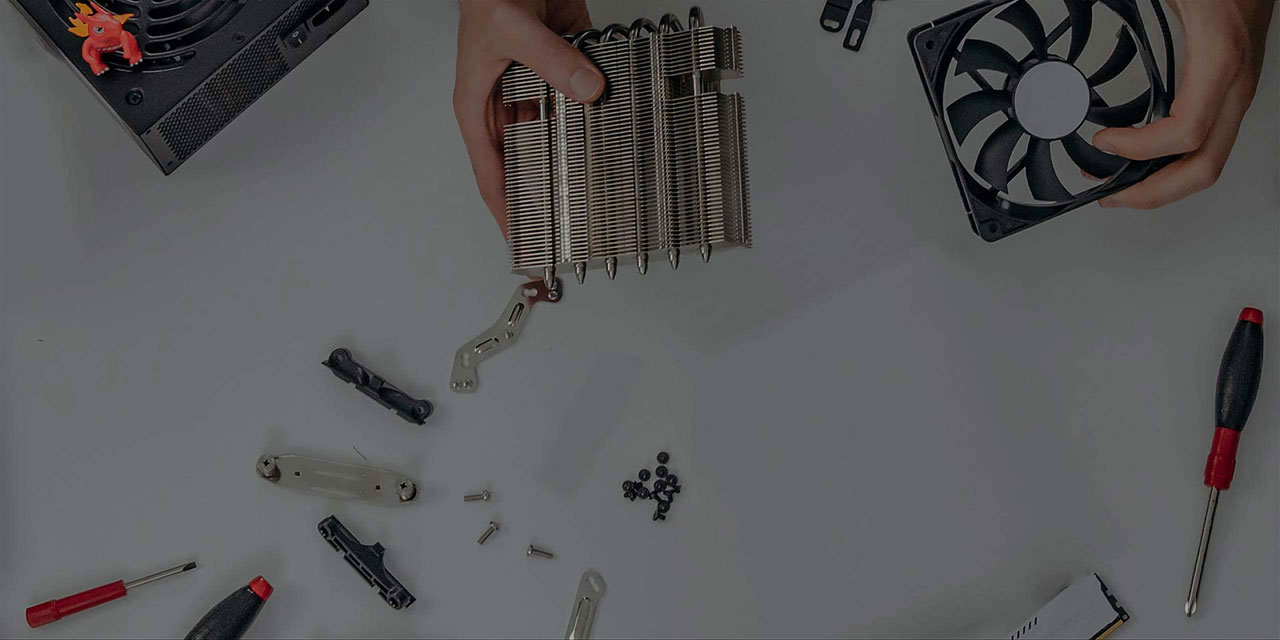 USER FRIENDLY DESIGN
MSI motherboards feature tons of convenient and smart design for DIY users. Countless system tuning and troubleshooting tools are at your disposal to push your system to new heights and satisfy even the most demanding tweaker. Makes it so easy to install your own motherboard and gaming rig without any issue.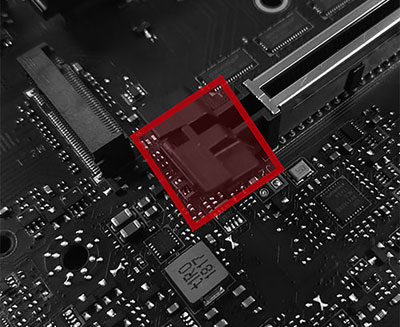 XL CLIP
An enlarged PCI-E clip makes it easier to remove and swap your PCI devices.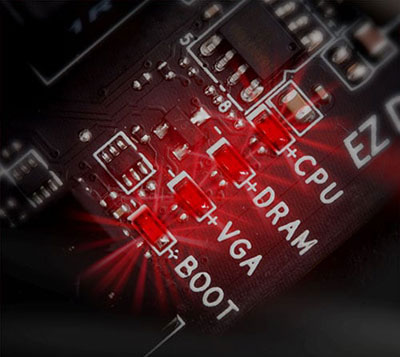 EZ DEBUG LED
Run into trouble? Onboard LEDs for key components will indicate the source of the problem so you know exactly where to look to get up and running again.
keep out zone
MSI motherboard circuitry ensures the case standoff keep out zones are pure and clean, preventing any component contact or damage to the motherboard.
* Please make sure to remove the unnecessary mounting stand-off when installing the motherboard into the case.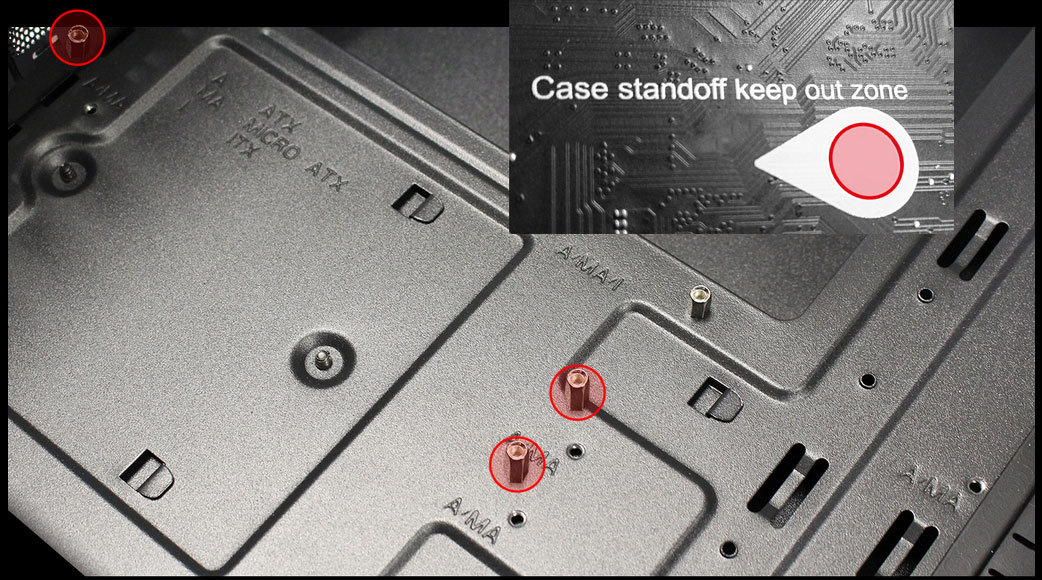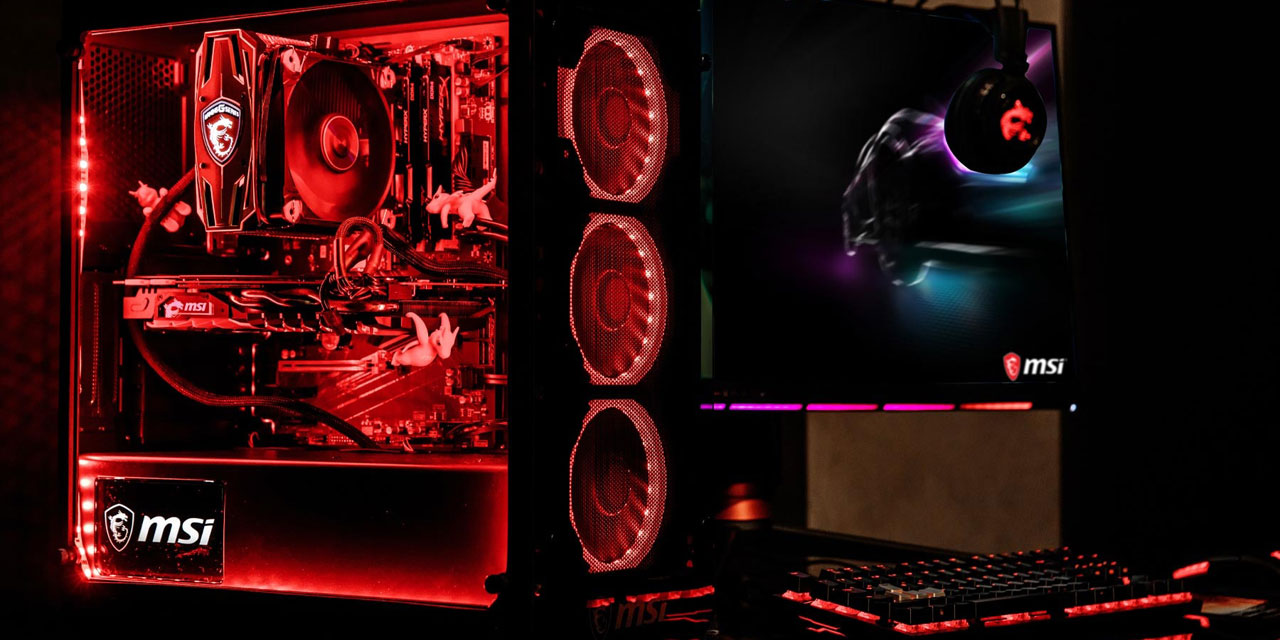 MAXIMUM COMPATIBILITY
MAXIMUM COMPATIBILITY Every MSI motherboards are certified by strict mechanic that feature convenient pin-header keep out zone, friendly SATA & USB location for compatibility with the widest range of components and devices, so DIY user can pick and choose the components they want. More than that, we offer a dedicated Qualified Vendor List (QVL) for the most critical part - memory. Combining with MSI DDR4 Boost technology, we provide the maximum compatibility, so you confirm and choose any gaming rig as you want.
Ryzen processors support
MSI AM4 motherboards perfectly support AMD Ryzen processors. Combining MSI Core Boost, you can release maximum performance no matter what CPU you use.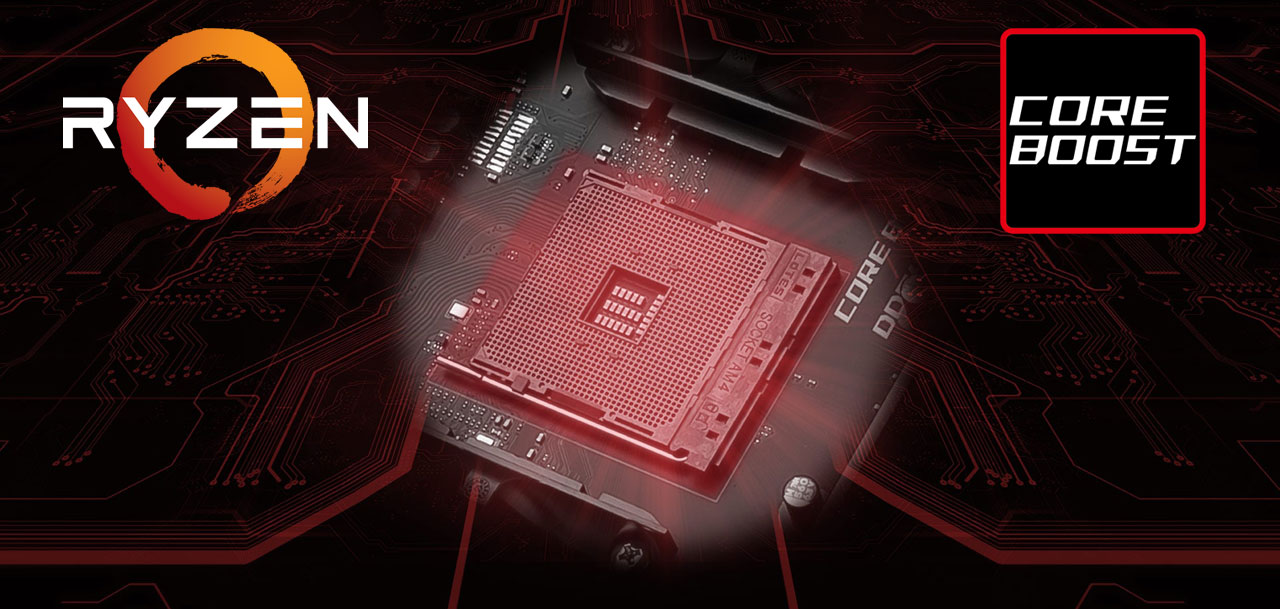 EXTREME STABILITY & COMPATIBILITY TESTING
MSI conducts thorough memory testing with the most popular memory brands under extreme conditions to ensure your system runs stable no matter what. Our memory partners include brands like Corsair, Crucial, Kingston, G.Skill and many more to optimize memory modules, configurations and even improve overclocking.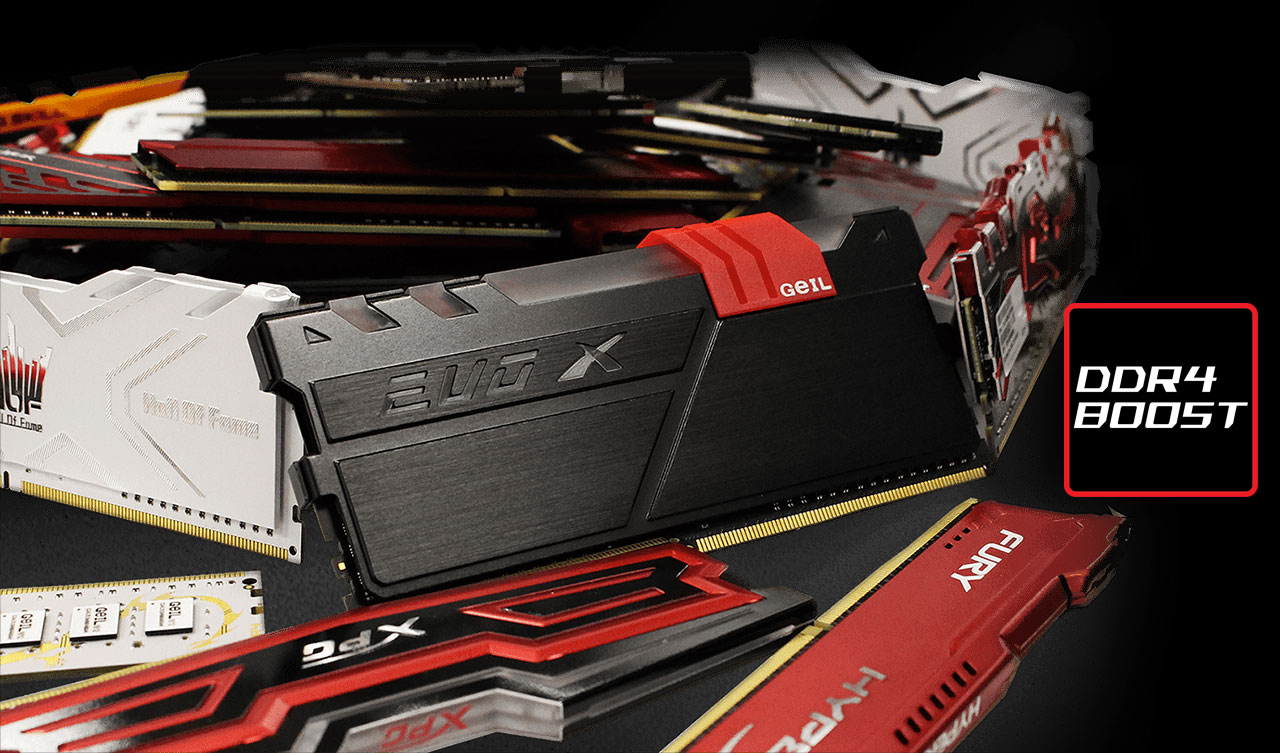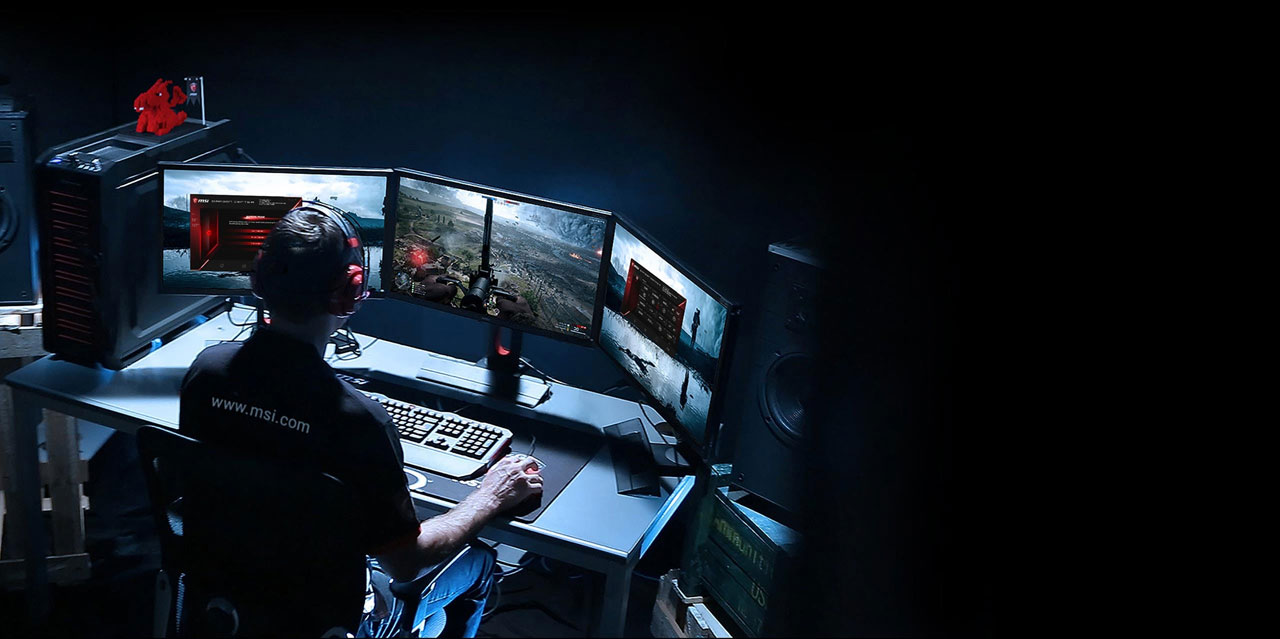 PERFORMANCE ENHANCING APPS
Complete your high performance experience with an array of performance enhancing software from MSI. From a loaded yet easy-to-use BIOS to potent live system tools, get the most out of your motherboard at any moment.
CLICK BIOS 5
Get more from a loaded BIOS designed for ease of use. Fine-tune the motherboard for gaming performance, efficiency, or overclocking world records!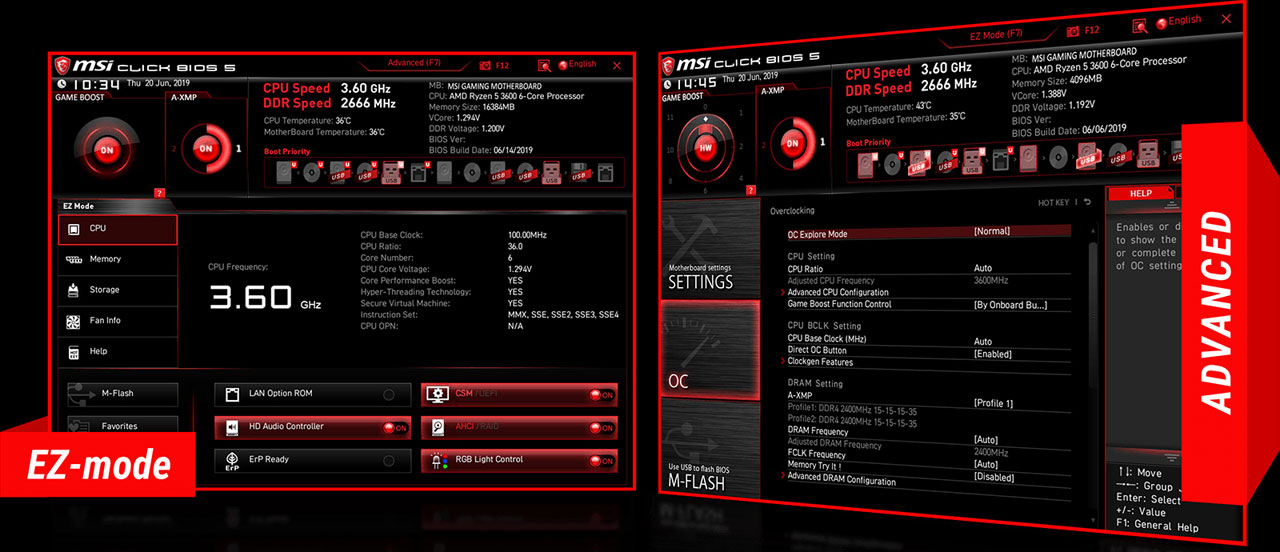 DRAGON CENTER
MSI Dragon Center unifies a suite of MSI software utilities into a single centralized application. Take control of advanced motherboards features and unleash endless possibilities.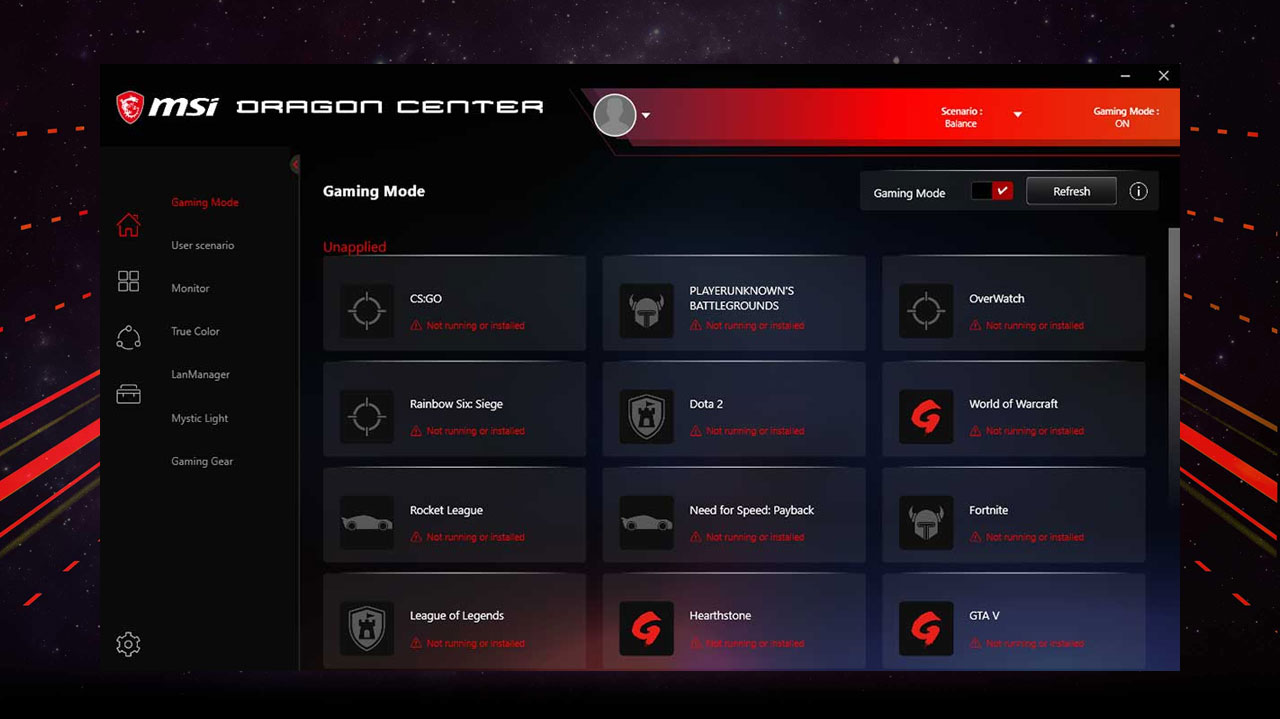 MSI APP PLAYER
Developed under an exclusive partnership with BlueStacks, the MSI APP Player brings seamless mobile gaming experiences to PCs. Leverage the advantages of mouse and keyboard controls, better graphics, and multi-tasking for mobile gaming supremacy.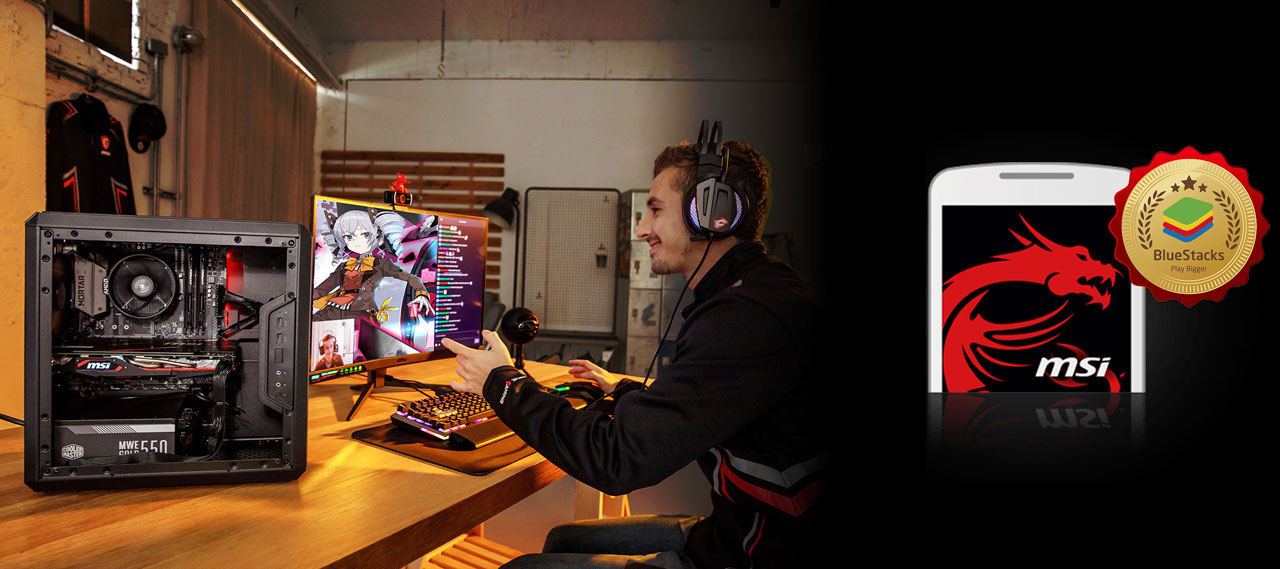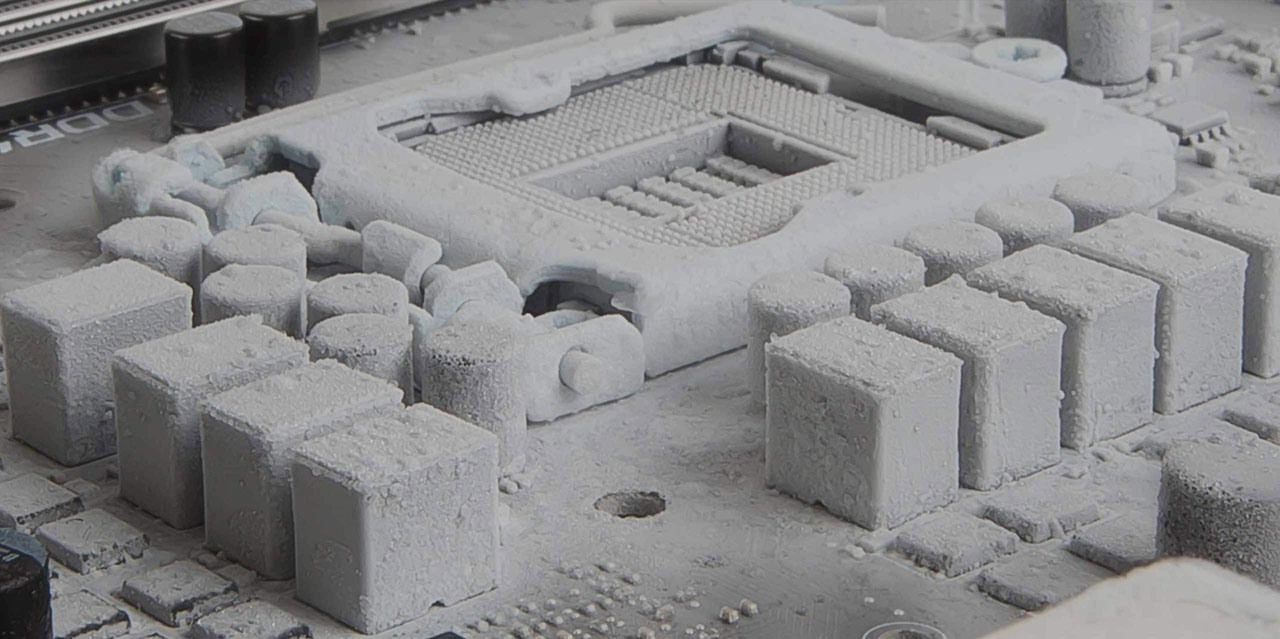 TAILORED FOR E-SPORTS ENTHUSIASTS
High-quality materials and intelligent fan optimization helps to cool all necessary components, which is critical to ensuring that the system is stable and always delivering the best performance.
CORE BOOST
Core Boost is the latest advancement of MSI's motherboard CPU power delivery system. A reserved zone of premium power delivery components on an optimized circuit design results in a highly efficient power system capable of precise current output to the CPU.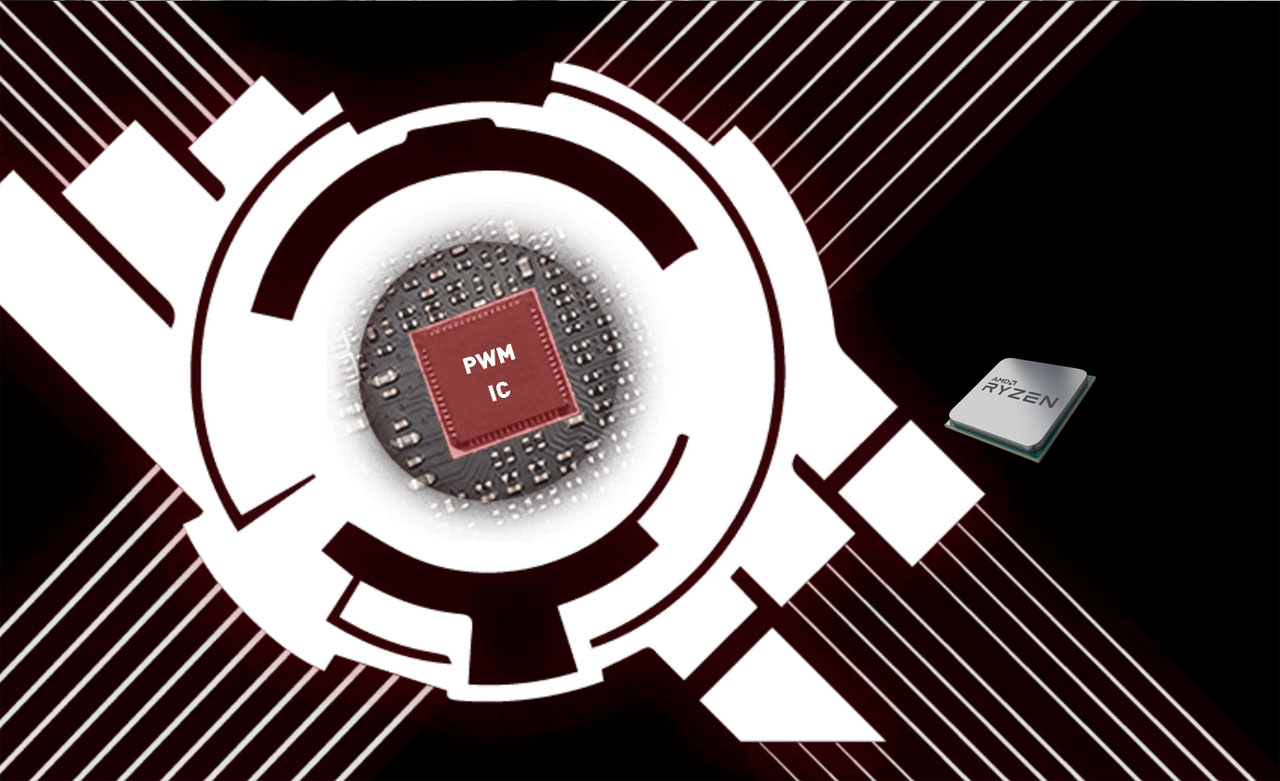 1-SECOND OVERCLOCKING!
Need more power from your CPU and memory to get more FPS? MSI Game Boost enables one-second overclocking, giving you the performance boost you need. Simply turn the dial or use the Gaming App and your PC gets another adrenalin shot!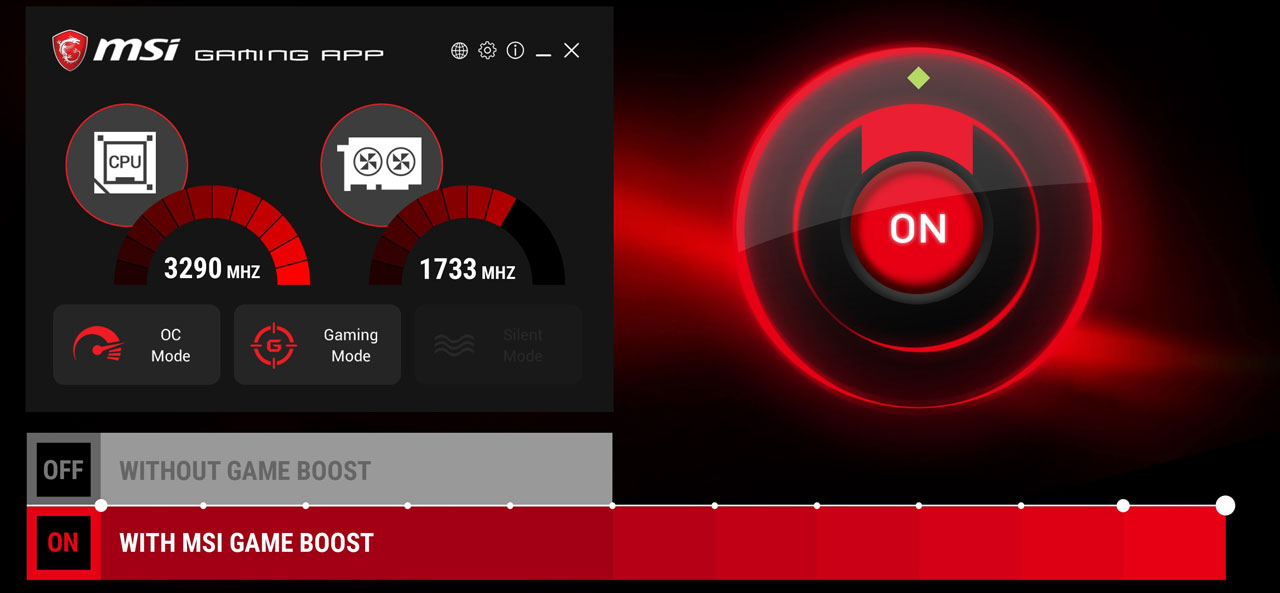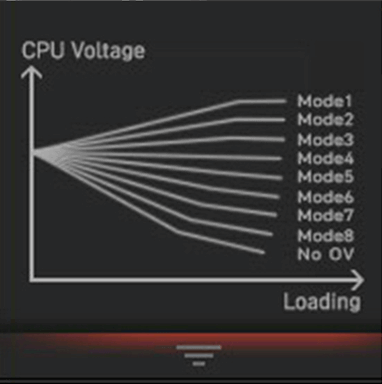 LOAD-LINE CALIBRATION
What you set, is what you get. LLC makes sure your CPU voltage remains 100% stable under any load. This greatly improves stability when demanding more CPU performance.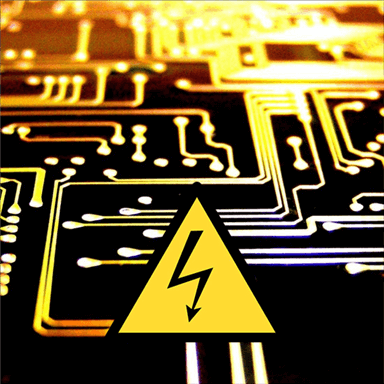 OVERVOLTAGE PROTECTION
Prevents potential short-circuit damage to the CPU and other critical components.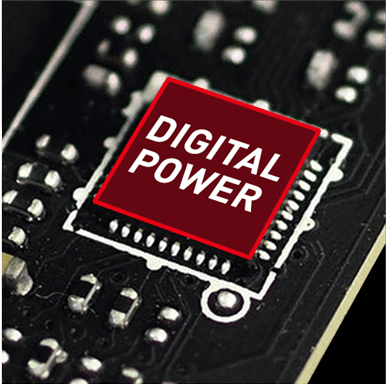 DIGITALL POWER DESIGN
A fully digital power design allows for faster and undistorted current delivery to the CPU at pin-point precision. Creating the perfect conditions for CPU overclocking.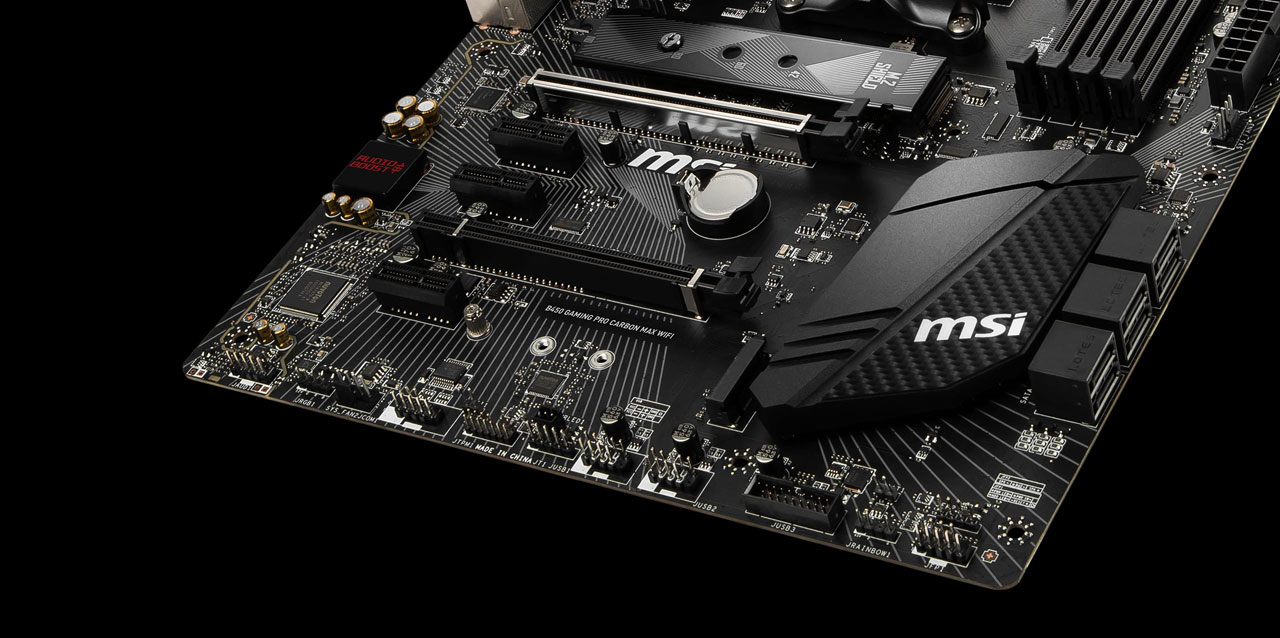 Fast and Future-ready Storage
MSI motherboards support all the latest storage standards, which allows users to connect any ultra-fast storage device. Start games faster, load levels faster and have a real advantage over your enemies.

AMD StoreMI
All MSI X470 & B450 motherboards are shipped with StoreMI, the new AMD SSD technology to improve storage performance. This tool helps create a virtual SSD by blending capacity storage, treats flash as primary storage and optimizes data access with monitoring continuously. All these functions can enhance read/write speed for active data and provide fast boot times and application startup.
Lower Cost
More Performance
More Usable Capacity
Use any SSD you want
* Performance and price are vary with different model and platform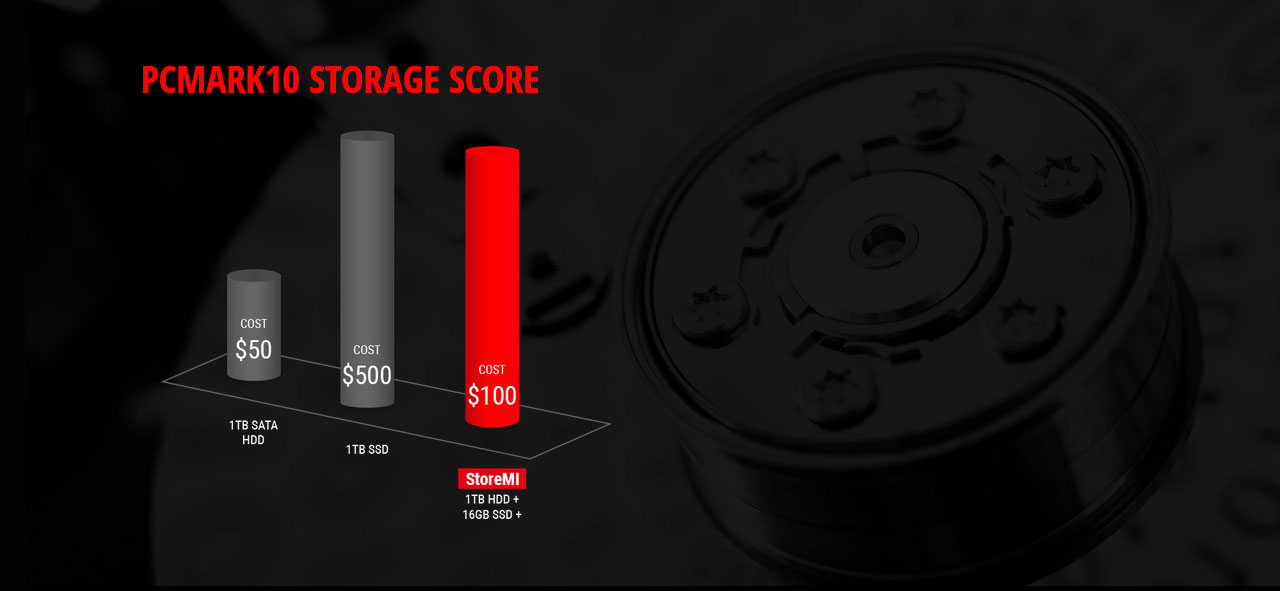 EASY RAID SETUP WITH M.2 GENIE
Looking to go all out in terms of raw data speed and put multiple SSDs in RAID 0? Setting this up can prove to be quite the challenge. That's why we created M.2 Genie, a brilliant feature to make setting up RAID 0 for M.2 and U.2 much easier and less time consuming.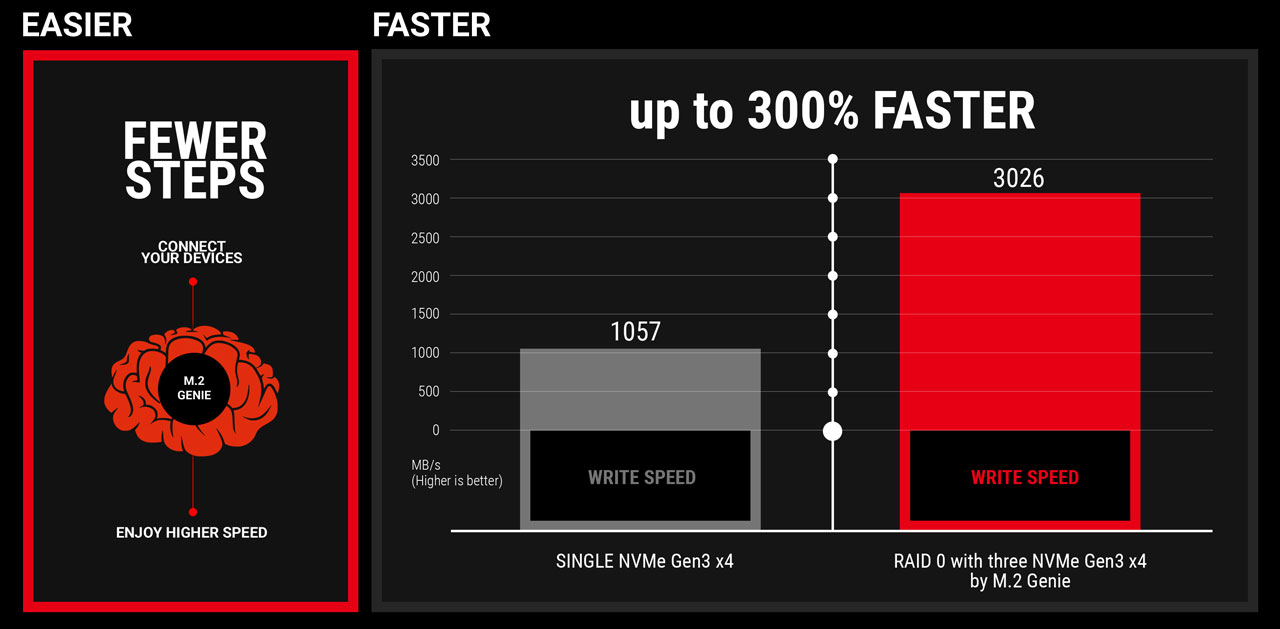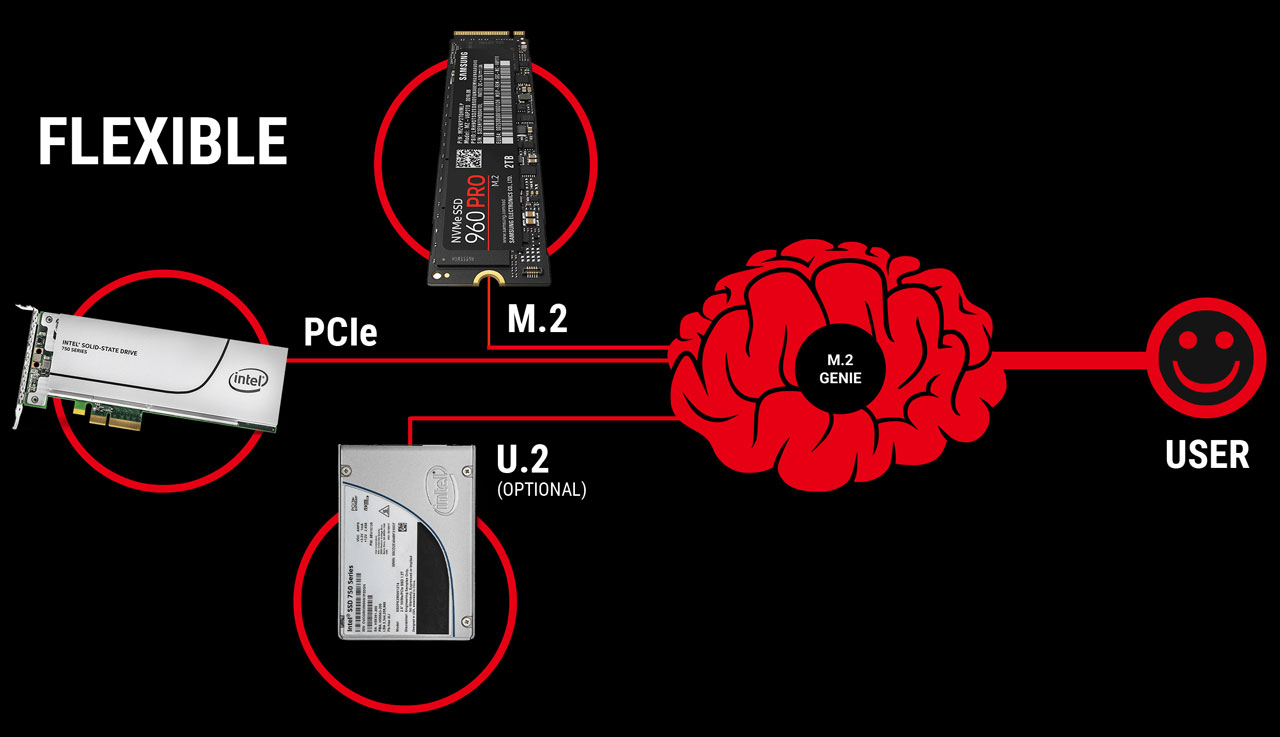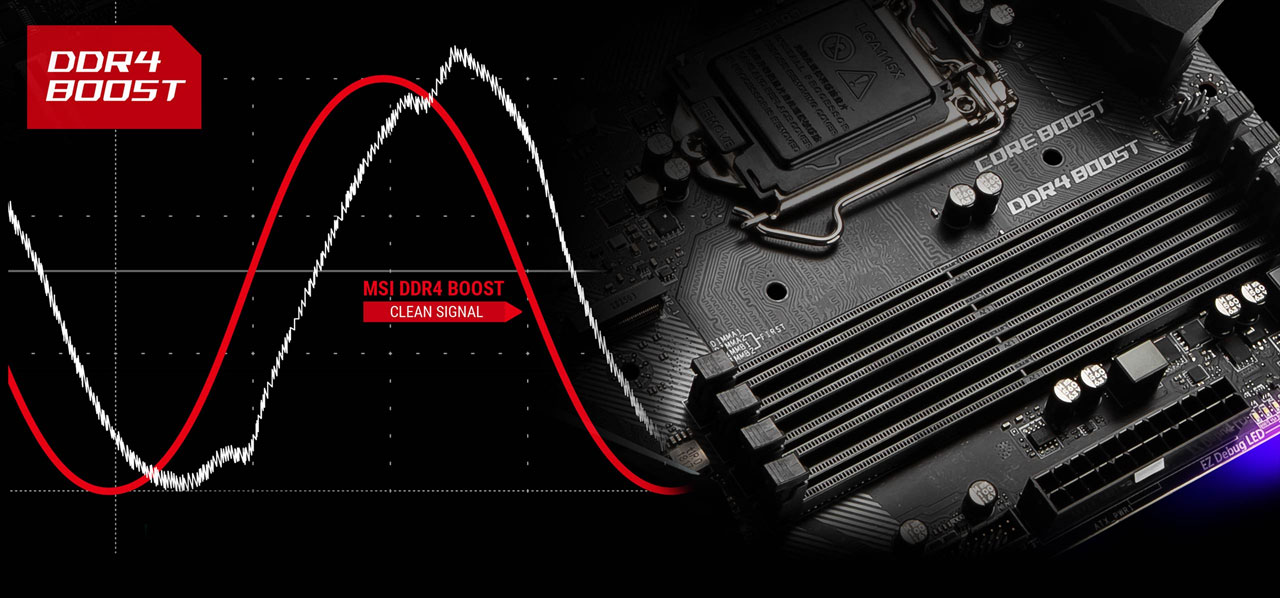 UNMATCHED MEMORY PERFORMANCE
Optimized layout design and a fully isolated memory circuitry ensures perfect stability and performance. you never have to worry about your system crashing during games with MSI DDR4 BOOST.
EASY A-XMP
Enable A-XMP with ease using a single option in the BIOS to gain performance and create a perfectly stable system.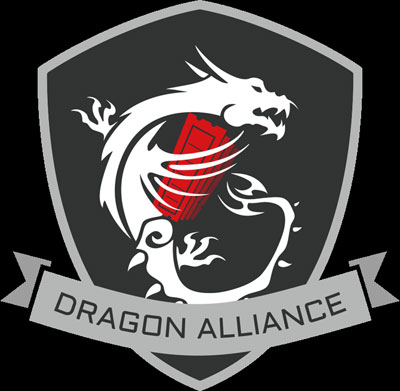 For higher memory speed: DDR 4 boost 2
Besides optimized PCB design, MSI OC lab has also co-worked with world-known memory brands, pushing memory speed to a peak. MSI AM4 motherboards are going to free the selected memories' performance with stability.
Dragon alliance—These selected DDR modules passed critical tests. They are highly compatible with MSI AM4 motherboards.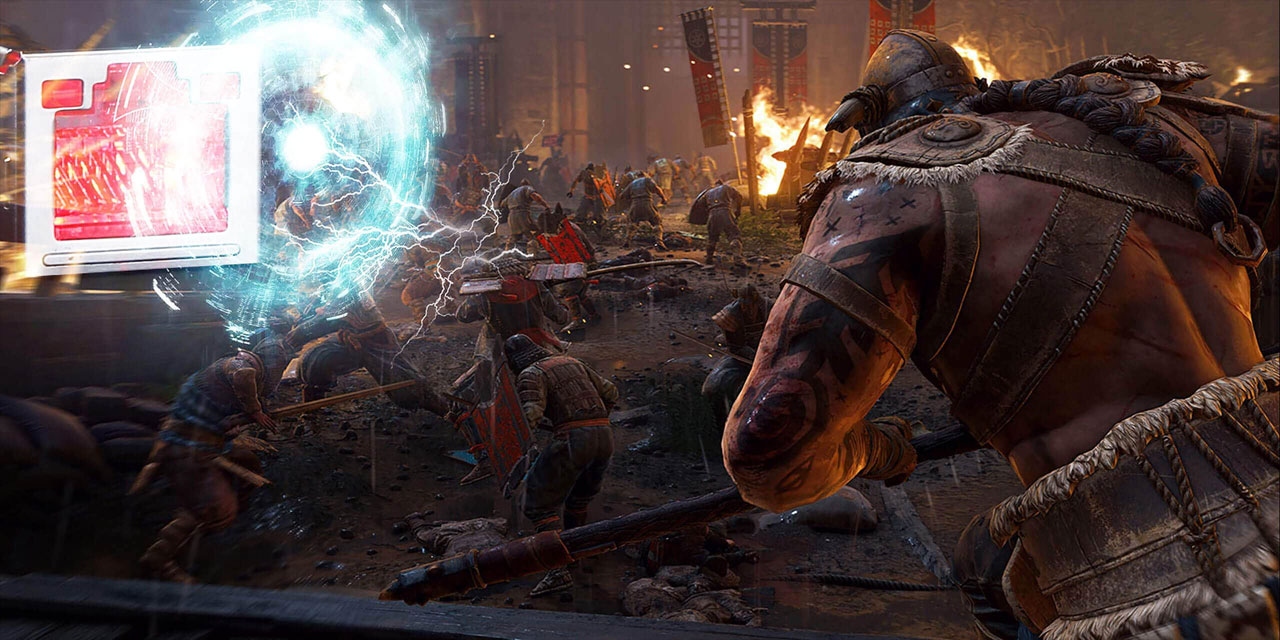 DOMINATE THE GAME WITH THE LOWEST LATENCY
Get ready to crush your enemies on the battlefield with MSI GAMING LAN. Built with high quality components, MSI GAMING LAN is tuned to deliver the best online gaming experience without lag.
INTEL WI-FI AC & BLUETOOTH
This Intel Wi-Fi / Bluetooth solution uses smart MU-MIMO technology, delivering AC speeds up to 433Mbps without any cable limitation.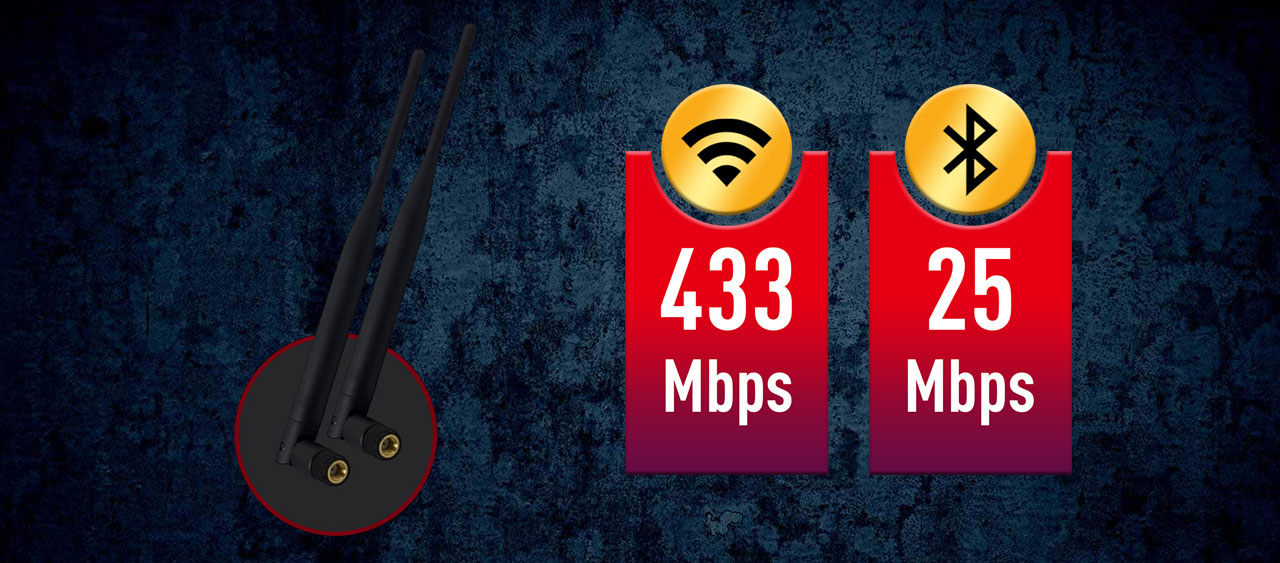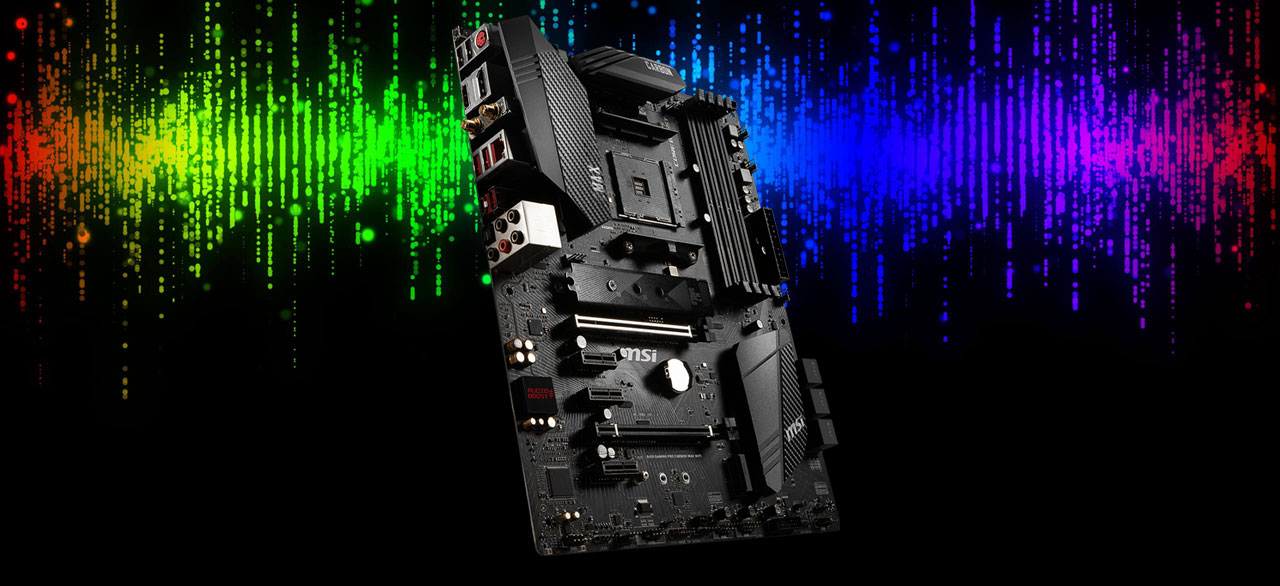 SOUND THAT PULLS YOU INTO THE GAME
Deliver the highest sound quality through the use of premium quality audio components and get the most immersive sound experience when gaming. MSI motherboards let you enjoy breathtaking, gaming-changing sound.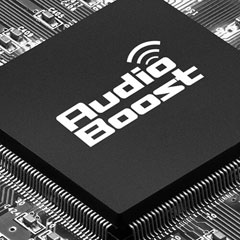 Dedicated High Defition Audio Processor
Make sure you enjoy the purest sound quality in both stereo and surround sound.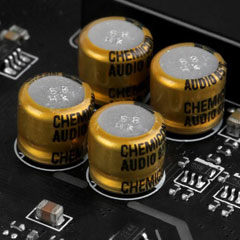 High Quality Audio Capacitor
A high fidelity sound experience with exceptional acoustics and realism for studio level headphones is ensured.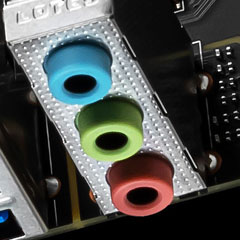 Golden Audio Jacks with S/PDIF
Keep your sound perfect by transmit your audio with pure digital signal.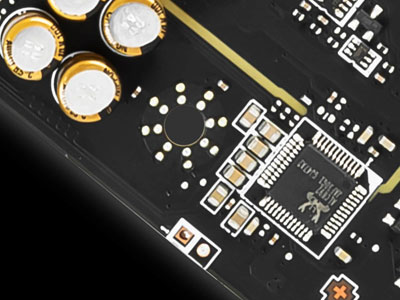 ISOLATED AUDIO DESIGN
Like a dedicated sound card, audio components and circuits have been laid on a reserved motherboard section and electrically isolated.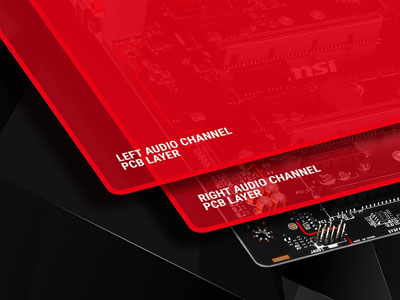 SEPARATED AUDIO LAYERS FOR CLEAN LEFT & RIGHT CHANNELS
Audio circuits laid on separate layers in the PCB ensure equally pristine sounding audio for both left and right audio channels.
DE-POP PROTECTION
A de-pop filter eliminates loud popping noises that occur when devices are plugged/unplugged or when the PC is turned on/off.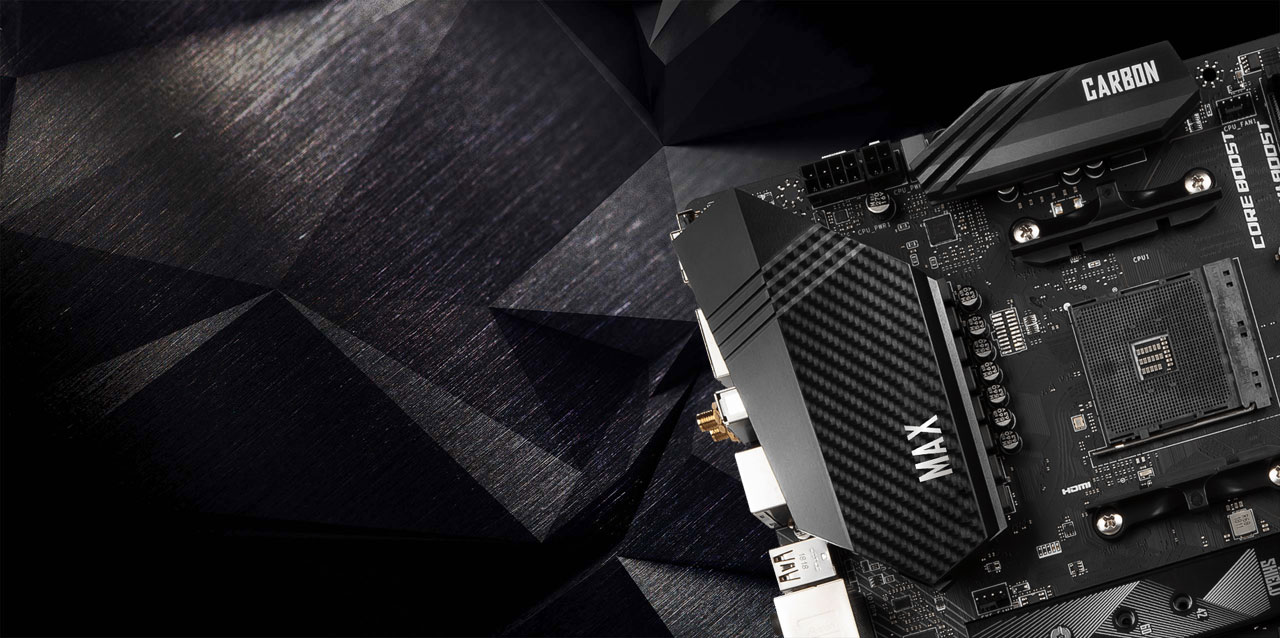 BUILT ON EVERLASTING QUALITY
Using only the finest quality components and integrating the latest technological innovations delivers the best possible professional experience. Rigorous quality testing under the most extreme conditions ensures a super reliable, long-lasting and high performance motherboard.
ULTIMATE MOTHERBOARD PROTECTION
Double ESD protection doubles up the grounding layer around the mounting holes, preventing static discharge surges from damaging the motherboard.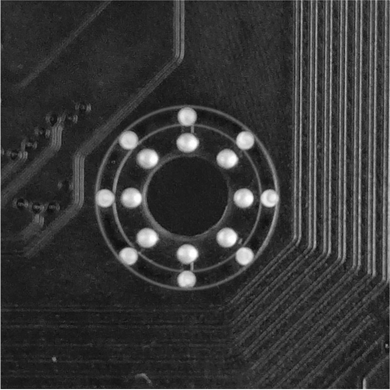 MSI
DOUBLE ESD PROTECTION - BEST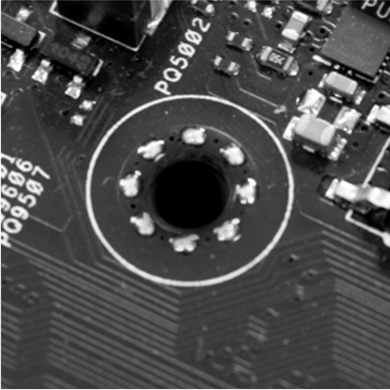 BRAND B
SINGLE ESD PROTECTION - AVERAGE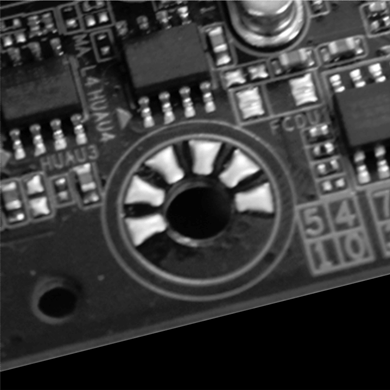 BRAND G
SEMI ESD PROTECTION - POOR
FORTIFY YOUR SYSTEM WITH PCI-E STEEL ARMOR
MSI PCI Express Steel Armor slots are secured to the motherboard with extra solder points and support the weight of heavy graphics cards. When every advantage in games counts, Steel Armor shields the point of contact from electromagnetic interference.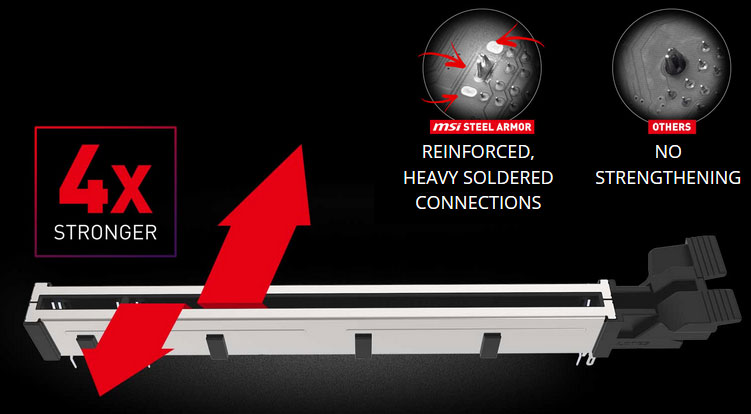 SUPER STABLE GAMING WITH THE HIGHEST QUALITY COMPONENTS
MSI uses high quality components rated for reliable operation even under extreme conditions.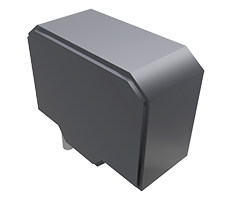 TITANIUM CHOKE II
Ti choke II has 30% improved power delivery efficiency compared to its predecessor, allowing for improved overclocking stability.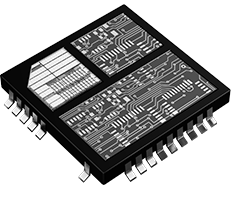 DRMOS
DrMOS is a next-gen 3-in-1 Mosfet package capable of delivering more power at precise timings with fewer components.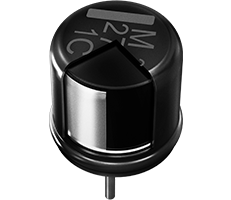 SOLID CAP
Japanese made Solid CAPs are built for high-reliability motherboards with their aluminum core design. These capacitors have low Equivalent Series Resistance (ESR) and are rated to work for more than 10-years.