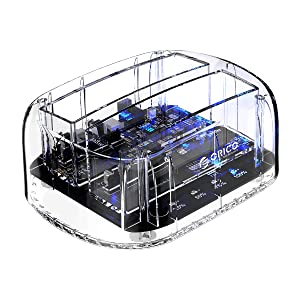 ORICO Dual-Bay Hard Drive Docking Station, USB 3.1 Gen1 10Gbps Type-C to SATA HDD SSD Docking Station

Offline Clone / Duplicator Function External Hard Drive Enclosure, Support UASP (2 x 12TB)

Feature:

Compatible with 2.5 / 3.5 inch HDD SSD Hard Disks
24TB (2 x 12TB) Capacity with Plug and Play
Offline Clone Function
Type-C interface, Data Transfer up to 5 Gbps
Featured Transparent color, shows Internal structure
360° Open-type design, better heat dissipation function
Compatible with Windows / VISTA/ Linux / Mac OS
LED light indicates progress status
Output Interface: USB 3.1, Type-C / Material: PC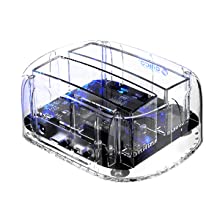 Dual Bay Transparent Docking Station for 2.5 / 3.5 inch HDD SSD
Support up to 24 TB Capacity (two 12TB) 2.5 inch / 3.5 inch SATA I II III HDD SSD hard drives simultaneously with Dual bay docking station, support UASP Protocol.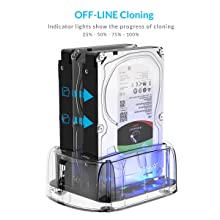 Stand Alone Duplicating / Offline Clone
Support hard disk cloner and duplicator with LED indicator, high speed 1 to 1 clone copies source HDD to target HDD without connect to computer.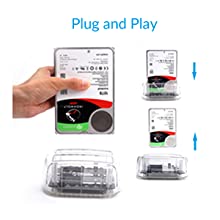 Plug and Play
Portable Tool-free installation. Transfer data without the hassle of drivers or installations with the latest swapping/plug and play technology.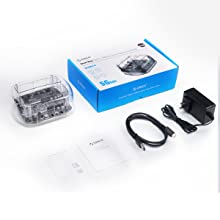 What's in the box
1 x ORICO 3.5" Type-C Hard Drive Enclosure
1 x 12V Power Adapter
1 x USB 3.0 Cable
1 x Silicone thermal pad
1 x User Manual
---
The Type-C Dual-bay HDD docking station provides an easy way to add or swap SATA 2.5"/3.5" HDD/SSD to your computer, Supports Capacity up to 24TB (2 x 12TB) Drives. It can access both disks simultaneously. It is simple and easy to expand the storage capacity of your HDD/SSD even data backup.
Offline Clone Function: hen cloning a hard drive, make sure that the USB cable is disconnected from any computer - Simply connect both hard drives, press the 'Clone' button until the LED light starts to Blue / Red flash when the cloning process begins, lights are on after finishing clone.
Intuitive LED Lighting System: The LED indicator is blue after powered on. The light will turn Blue and Red flash when it is reading and writing data. Four blue LED lights clearly track your data's progress during offline cloning from 25% to 50%, 75% and finally 100%.
UASP Superspeed: We've included the JMS561U chip in it. This external hard drive enclosure supports UASP, which means dependable, high-quality data transfers to and from your external hard drive at speeds up to 5 Gbps!
Non-slip Protect: There are raised silicone points on bottom to Non-slip Protect when placed the hard drive docking station.
Auto-Sleep Function: Equipped with 12V3A DC Power Adapter. The power supply is highly efficient, ensure the data stable and safe. Entering sleep mode without operation in 10 minutes, protect the use life of hard drive enclosure. It conserves energy and prevents overheating.
Supported System: Windows XP/ VISTA/ Windows 7/ 8 /8.1/ 10/ Linux/ Mac 9.1/10.2 or higher.
---
Specification:

Material: PC
Color: Transparent
Supported Disk: 2.5/3.5-inch HDD and SSD
Output Interface: USB 3.1, Type-C
Power Supply: 12V/3A
Capacity: 24 TB Max
Dimension: 148*113.8*60mm
How to use Hard Drive Offline Clone Function:

1. Please backup files in the target hard drive before cloning. Any files in target hard drive will be overwritten when offline cloning occurs.
2. Before the hard drive dock station connecting to power, please Insert the source disk to the Source and the target disk to the Target position. The target disk capacity must be larger than source disk capacity
3. Please confirm that the location of the source disk and the target disk are not misplaced before starting, to avoid the source disk data will be lost. (Source and Target position are Marked on product)
4. Make sure that the USB cable is disconnected from your computer. Then Connect power supply and switch on power.
5. Move the PC/CLONE switch on the back of the hard drive station to the CLONE side.
6. Please turn on the "Start" button.
7. A Blue LED will flash on 25% indicating that the cloning process has begun.
8. The cloning process is complete when ALL the lights turn solid Blue (25%-100%).
9. Finally press the power switch to the OFF position and eject your drives.