JBL Studio SUB 250P, 10" Powered Subwoofer
Flawless JBL bass. Undistorted JBL luxury
Part of the groundbreaking 10-piece JBL Studio 2 loudspeaker series, the JBL Studio SUB 250P powered subwoofer is engineered to add faultless, deep-penetrating bass into whatever music, movie, portable device, or game console you're listening to at any given moment. With a hair-raising 10" PolyPlas low-frequency transducer powered by a 200-watt Class-D high-efficiency amplifier, along with a rear-firing Slipstream bass port that goes beyond anything, your ears will be confounded by the richness and rawness of tight, fast attack bass with flawless harmonic overtones and natural note decay. Combine the superb performance with signature touches like luxurious gloss black paneling, solid cabinet construction with soft-rounded edges and no visible fasteners, you'll admit the Studio SUB 250P is another masterpiece that looks and sounds every inch the JBL champion.
JBL Studio 2 Loudspeaker Series - The Design
10" PolyPlas Low-Frequency Transducer for Tight, Extended Bass Response
Imagine a low-frequency transducer powered by an advanced, energy-saving built-in amplifier. Envision flawless JBL bass beguiling your eardrums – bass so tight that every note is held to its proper duration, and with all the right harmonic overtones. Picture this, and now listen to the Studio SUB 250P's 10" PolyPlas transducer. Hear any difference between your imagination and reality? You definitely won't.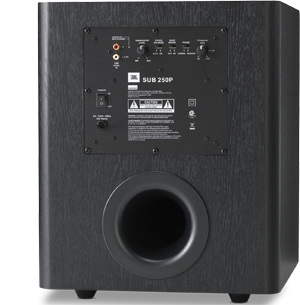 200-Watt Class-D High-Efficiency Amplifier with Unobtrusive Rear-Mounted Inputs and Controls
Not only is the SUB 250P's 200-watt amplifier a powerhouse in the realm of home entertainment, but it's also one of the smartest. Its Class-D energy rating allows the amplifier to cool itself naturally – saving it from danger of burnout – and saving you from a higher electric bill. Its rear-mounted inputs and controls allow for discrete, easy set-up and integration with other loudspeakers in the Studio 2 Series.
Sophisticated, 21st Century Visual Design Features That Can't Fail to Seduce
The JBL way is to make it look as good as it sounds. And with the Studio SUB 250P, JBL has made no exception. With its 21st century elegance – including a solid cabinet construction with no visible fasteners, softly rounded edges, a gloss black top panel, and a customized soft-touch paint scheme – the Studio SUB 250P is something that seduces your eye as much as your ear.