These laptops have normal wear and tear on the body. They may have minor plastic cracks on the body but nothing major.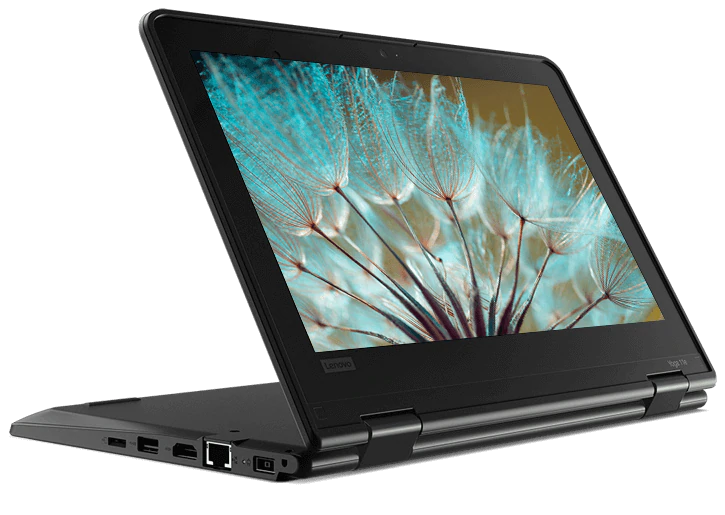 ThinkPad Yoga 11e (3rd Gen)
ThinkPad Yoga 11e empowers student learning in school and at home. The 11.6" touchscreen works with a 360-degree hinge and two cameras to enable flexible ways to create and collaborate. Core components are inside a light yet durable casing built to withstand daily bumps and scratches. Up to 12 hours* of battery life easily gets through any school day without the need to recharge.
Tough enough to handle whatever comes its way
ThinkPad laptops are tested against 12 military-grade requirements and pass more than 200 durability tests. Additionally, the ports and 360-degree hinges are reinforced with rubber bumpers to protect against damage to corners. The keyboard is water-resistant and houses mechanically-anchored keys to prevent restless little fingers from prying them off. The Corning Gorilla Glass display is both impact- and scratch-resistant. Should an accident occur, this tough device is built to withstand bumps and drops from up to 3 feet / 90 cm—about the height of a school desk.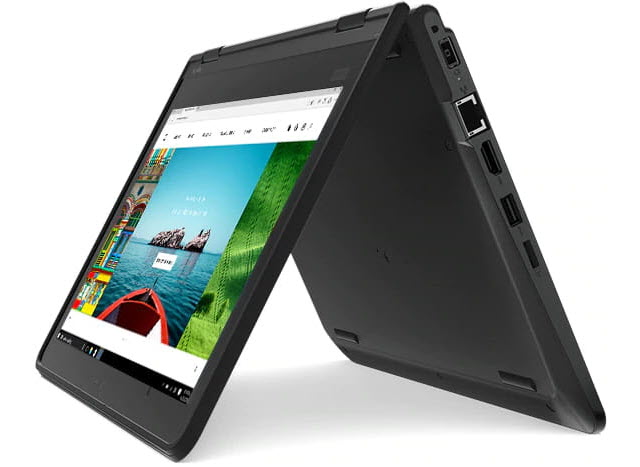 Bends over backwards, for true flexibility
The ThinkPad Yoga 11e laptop features a 360-degree hinge, so students can accommodate whatever they're doing. Open it the full 360 degrees to interact with learning apps or browse—it's even easier with the 10-point multi-touch HD display. Position it as a tent to watch videos. Or use it as a laptop for taking tests or writing papers with the full-sized keyboard. It's as flexible as a student's imagination.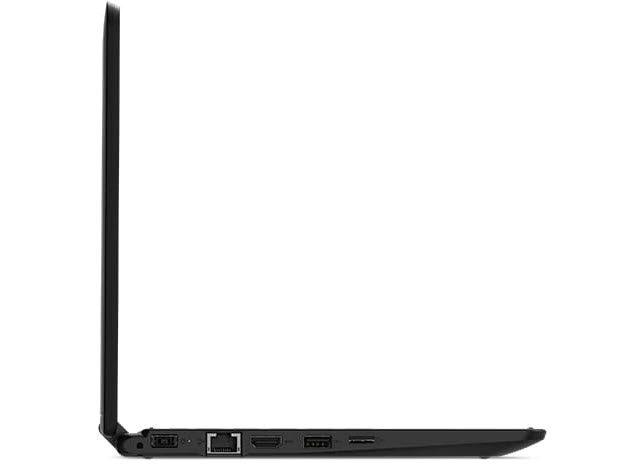 Easier to carry than many text books
Starting at 1.54 kg / 3.4 lbs, the new ThinkPad Yoga 11e laptop is light enough so students can get on with their day without feeling bogged down.
Encourages creativity
With its optional ThinkPad Pen Pro, the ThinkPad Yoga 11e helps unleash the imagination. Students can write, sketch, annotate documents, take notes, and more. Since it's housed on-board, there's no worry about misplacing or leaving it behind. It recharges while stored, so it never runs out of ink!
The world at your fingertips
In addition to a standard webcam, the ThinkPad Yoga 11e laptop includes the option of a world-facing camera that boasts 1080 pixels. This rear-facing webcam lets students capture their surroundings in video and photos and then share online. Great for collaborating and creating.
Leave the power cord at home
Backpack, textbooks, notebooks, pencils, and more—students have enough to worry about. No need to add a power cord to that list. With up to 12 hours* of battery life, the ThinkPad Yoga 11e will last for a full day of classes and more. Bring it home, charge it up overnight, and forget the cord all over again the next day!
Note:
* All battery life claims are approximate and based on results using both the MobileMark 2014 battery-life benchmark tests on the low-power FHD display panel. Actual battery life will vary and depends on many factors such as product configuration and usage, software use, wireless functionality, power management settings, and screen brightness. The maximum capacity of the battery will decrease with time and use.