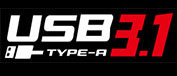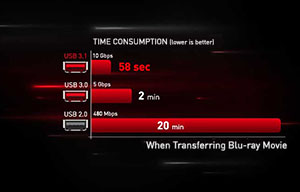 MSI USB 3.1 2X FASTER
USB 3.1 allows for speeds up to 10 Gbps, doubling the speed compared to USB 3.0 and 20x faster than legacy USB 2.0. 3.1 is even faster than SATAIII! Transferring your favorite games, music and movies over USB has never been faster.
Feature
-2x faster than USB 3.0
-20x faster than USB 2.0
-Up to 10Gbps data transfer bandwidth
-Boost transfer rate between your PC and external storage devices.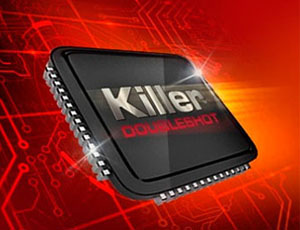 KILLER™ DOUBLESHOT PRO
Killer™ DoubleShot Pro combines Killer Ethernet and WiFi adapters, built for superior online traffic speeds and low latency. Advanced Stream Detect™ automatically classifies and prioritizes the latency-sensitive applications for online games.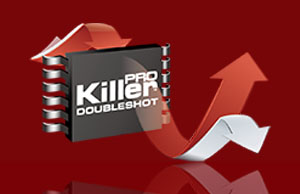 Through the detection and prioritization of gaming traffic you can finally fully utilize your network without fear of being kicked from an on-line game because of high ping. This enables trye multi-tasking without manually enabling or disabling applications, updates and installations. Killer networking actually allows you to see your PC 24 hours a day.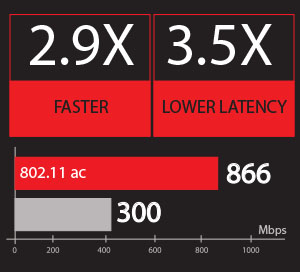 LOWEST LATENCY, FASTEST SPEEDS
Enjoy the best possible online gaming experience. Wireless AC Killer has 2.9x times faster data throughout compared to traditional Wireless-N solutions. The biggest adcantage is lower latency when gaming. Killer Wi-Fi has up to 3.5x times lower latency than other Wi-Fi solutions.
TEAM UP KILLER LAN WITH KILLER WIFI
Introducing world's first Killer LAN & Wireless gaming connection on a motherboard, the X99A GAMING 9 ACK offers unmatched gaming performance. Smart teaming combines both LAN & Wireless for the best possible gaming experience. The Killer Network Manager decides which apps runs on which connection for gaming traffic optimization. Truly unique is using Killer LAN and Killer WiFi combined for insane networking speeds.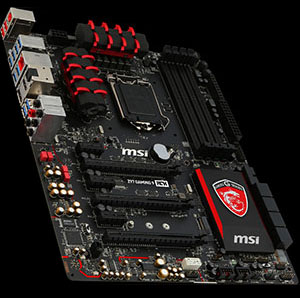 WORLD'S BEST ONBOARD HI-FI GAMING AUDIO
Haaving superior sound quality while gaming is the decisive factor between a kill or be killed. The MSI Z947A GAMING 9 ACK motherboard comes with a premium hi-gi sound card, delivering studio-grade audio quaity, onboard! This high-end dedicated onboard sound card delivers 120dB SNR 192 kHz/32-bit of purest sound quality and delivers a breathtaking, never heard before gaming sound experience that gives you the upper hand on your opponent.
Xtreme Audio DAC is not just a selection of the best hi-fi components but chosen, set up and tuned by professionals for a breathtaking clear, warmer, and more balanced sound output, reaching up to professional studio-grade quality. Experience the thrill of game changing sound quality with Xtreme Audio DAC.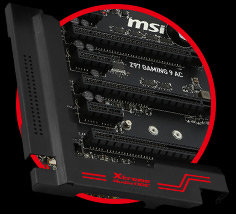 DRAGON ARMOR
Much like the design of the I/O Cover, this awesome looking piece of protective shield helps to keep the audio signal pure, preventing the interference from other components. This is extremely important when demanding high quality sound.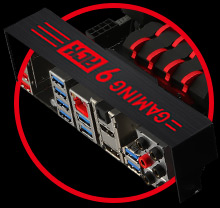 PROTECTED I/O COVER
A black design I/O Cover with GAMING 9 imprinted doesn't only look cool, but it also protects against Electro Magnetic Interference. Making sure whatever device you connect, you will always receive a pure signal.
REWARD YOUR EARS WITH TRUE QUALITY
Get ready for ear-drum shattering sound, with MSI Audio Boost 2! With Audio Boost 2 we're delivering the highest audio quality with the use of Creative Sound Blaster Cinema 2 so you can enjoy crystal clear sound and music through 8-channel HD Audio.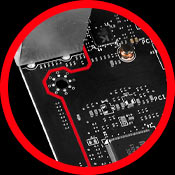 ISOLATED AUDIO PCB
With traditional onboard audio the signal is distorted by electromagnetic signals from the rest of the PCB. Audio Boost 2 acts like a dedicated soundcard by physically isolated the audio circuitry which is separated by a red LED path. Less interference gives you a more clear audio signal.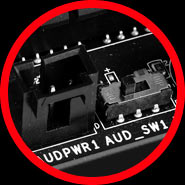 DIRECT AUDIO POWER
Enjoy a heavy caliber audio experience with Direct Audio Power. A dedicated power input to Audio Boost 2 allows for a more powerful and stable power delivery, resulting in a more explosive and pure sound experience.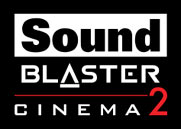 CREATIVE SOUND BLASTER CINEMA 2
Thanks to Creative Sound Blaster Cinema 2, you're getting amazing surround sound with just stereo headphones or speakers. Creative Sound Blaster Cinema 2 enables you to clearly hear specific sounds in gaming enviroments. Hear your enemies perfectly, make your ears a decisive tool to finish on top.
EMI SHIELDING
To shield the audio core from EMI (Electromagnetic Interference) caused by other add-in cards the audio chip is protected by a high-grade EMI cover with backlight illumination.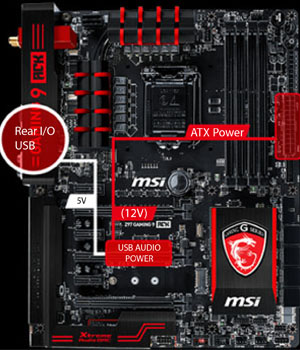 USB AUDIO POWER
When connecting multiple USB devices, most motherboards will be unable to deliver a strong 5V power signal to all USB ports. This is highly noticeable with high-quality external USB DACs where sound quality degrades as the motherboards is unable to deliver a perfect USB signal.
Only MSI USB Audio Power continuously delivers a stable 5V to the USB ports on motherboards, making sure you can continue to enjoy the crystal clear audio standard you expect.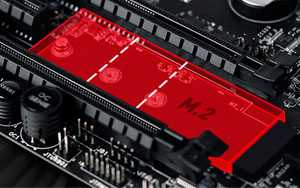 PUSH YOU SSD EVEN HARDER WITH TURBO M.2
Delivering speeds up to 32Gb/s using Gen3x4, Turbo M.2 is more than 5 times faster than a regular SATAIII connection! Enjoy a blazing fast system boot up and insanely fast loading of applications and games with MSI motherboards.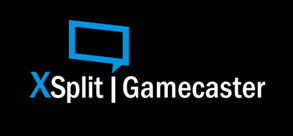 WANT TO SHOW OFF YOUR SKILLS OR JUST MAKE FUN GAMING VIDEOS FOR YOUR FRIENDS?
XSplit Gamecaster & Broadcaster V2 lets you easily record your gaming moments and broadcast your live gameplay sessions to Twitch, youTube, UStream and more.
It's simple, easy to use and ideal for sharing your gameplay with friends, family or the world- Or for capturing those perfect gaming moments, just for the heck of it.
So what are you waiting for? Join the revolution and start streaming and recording with XSplit Gamecaster today.