Are you an E-Blast Insider?
Get Educated
Make informed decisions with expert advice. Learn More

Shop without retyping payment details. Secure shopping made faster.
Check out with PayPal.
ASUS Z97-E/USB3.1 LGA 1150 Intel Z97 HDMI SATA 6Gb/s USB 3.1 USB 3.0 ATX Intel Motherboard
Limited time offer, ends 09/22 By Bill's markerplace
In stock.
Ships from China.
Most customers receive within 4-17 days.
5X Protection. 1000+ compatible devices. 7000+ validation hours.
USB 3.1 onboard with ASUS USB 3.1 Boost, super speed data transfer up to 10Gb/s
Onboard M.2 and SATA Express with 10Gbit/s transfer speeds
Crystal Sound 2 and Intel Gigabit Ethernet
Fan Xpert 3
Media-acclaimed UEFI BIOS with new EZ Tuning Wizard
ASUS Z97-E/USB3.1 Motherboard
Proven quality, enduring trust with the latest 10Gbit/s USB 3.1, SATA Express and M.2 transfer speed — 2X faster than USB 3.0!
Proven quality - 5X Protection. 1000+ compatible devices. 7000+ validation hours.
The latest USB 3.1 onboard with ASUS USB 3.1 Boost, super speed data transfer up to 10Gb/s
Onboard M.2 and SATA Express with 10Gbit/s transfer speeds
Crystal Sound 2 and Intel Gigabit Ethernet — a game-winning combo!
Fan Xpert 3 - Advanced fan controls for ultimate cooling and quietness
Media-acclaimed UEFI BIOS with new EZ Tuning Wizard
1.USB Ports
2.VGA Port
3.DVI-D Port
4.HDMI
5.USB 3.0 Ports
6.LAN
7.Audio
8.PCI Express 3.0/2.0

9.Crystal Sound 2

LED-lit Audio Shielding
Dedicated audio PCB layers
Audio amplifier
Premium Japan-made audio capacitors
Unique de-pop circuit

10.SATA 6Gb/s Ports
11.Intel® Z97 Chipset

12.SATA Express
13.10Gb/s M.2 Socket 3
14.Front USB 3.0 Header
15.Support 22mm CPU Intel LGA 1150 Socket
16.DDR3 3200(O.C.) support
17.DIGI+ VRM & EPU




Proven quality. Enduring trust.
Strict compatibility and validation
Hardware safeguards to ensure long-term durability.
Including CPUs, memory modules, graphics cards and more.
Extensive testing for extreme reliability, compatibility and safety.
We are the world's biggest motherboard manufacturer, and renowned our design thinking that revolves around users – just like you. Our engineers employ exacting standards to guarantee quality throughout the product's life, choosing the finest components for real-world protection. Our motherboards are proven to be compatible with more than 1,000 components and devices, and undergo a minimum of 7,000 hours of strict validation. That gives you the peace of mind of knowing that ASUS motherboards are fit for all environments and applications. To build your PC with the best foundations, build it with an ASUS motherboard.
ASUS 5X Protection
Hardware safeguards to ensure long-term durability
Our be-the-best ethos underscores the choice of every single component that goes into your ASUS motherboard. We focus relentlessly on quality to ensure long-term system reliability and performance.

Precise digital power control with ASUS DIGI+ VRM

Voltage regulator modules (VRMs) are among the most essential motherboard components. A good VRM intelligently delivers CPU power based on actual needs at any given time. ASUS was first with digital power design featuring faster sensing and response to deliver precise CPU power on demand. This great accuracy reduces energy waste and of course improves system stability thanks to more consistent delivery.

Enhanced DRAM overcurrent protection

Onboard resettable fuses prevent overcurrent and short-circuit damage. This extends beyond I/O ports to DRAM to safeguard the lifespan of both your system and connected device.
5K-hr solid-state capacitors that last 2.5X longer

Solid-state capacitors are able to withstand extreme temperatures of up to 105°C for as long as 5,000 hours — that's two-and-a-half (2.5X) times longer than traditional capacitors. This exceptional durability means superb real-world endurance to more typical PC operating temperatures, ensuring that ASUS motherboards continue working longer.

Stainless-steel back I/O that lasts 3X longer

ASUS motherboard back I/O panels are made from strong and corrosion-resistant stainless steel, which is bonded with a thin layer of chromium oxide to enhance anti-corrosive properties. Passing 72-hour spray salt endurance tests, ASUS stainless steel back I/O panels have a lifespan that's three times (3X) longer compared to ordinary panels.

ESD Guards for protection from electrostatic discharge

Electrostatic discharge (ESD) can happen suddenly, and its damaging effects are easily underestimated. ASUS ESD Guards are tested to very high standards, capable of up to +/- 10kV for air discharge and +/-6kV for contact discharge. We employ an active protective circuit design to guard your system against electrostatic interference and damage, providing greater component longevity.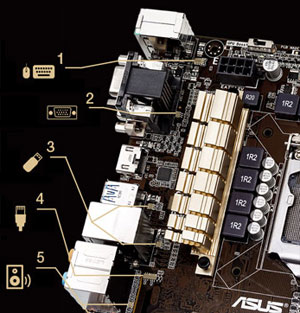 Keyboard and mouse connectors:
Additional on-circuit ESD transient-voltage-suppression (TVS) diodes.
VGA connectors:
Additional on-circuit ESD TVS diodes to protect D-Sub functionality.
USB 3.0/2.0 connectors:
On-circuit TVS diodes for surface-mount and dual-inline packages.
LAN port:
ESD TVS diode protection on the LAN circuit.
Audio connectors:
Varistor protection on back audio-output circuits.
Proven compatibility
Having the freedom to pick and choose the parts that go into your machine is at the heart of PC DIY. Our extensive certification program focuses on providing the very best compatibility with the widest range of components and devices, giving you the freedom to build and upgrade without frustration. Compatible today and compatible far into the future – that's the ASUS way.
Tested - 1,000+ compatible CPUs, memory modules, graphics cards and more

Every 9 Series motherboard is compatible with thousands of devices. Our engineers fit and assess both server and consumer CPUs, hundreds of memory modules, dozens of graphics cards, loads of storage devices, power supplies, network devices, displays, optical drives, peripherals and many more. We do this to give you complete confidence in our products and their superb compatibility.
Complete & Public QVL
View our Qualified Vendor List (QVL) online
We're so confident in our 9 Series motherboards' superior compatibility that we publish our entire QVL for all to see — delivering you more choices for worry-free PC-building experiences. There are no gaps in our QVL: every compatible component is on the list for all to see. To check that a particular component or device is compatible with your motherboard, just reference the QVL for instant reassurance.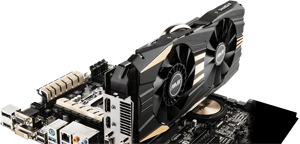 Designed — Great compatibility with ASUS products

When you choose an ASUS motherboard, it's likely you'll also go with ASUS for other components. ASUS designs products from the ground up so that graphics cards, sound cards and optical drives work flawlessly with your motherboard.
Top-to-bottom reliability
Our motherboards have superb endurance. We verify this by subjecting every board to over 7,000 hours of stringent tests. A barrage of burn-in, environmental, compatibility, software and safety tests confirm that our motherboards are exceptionally robust — with reliability that surpasses industry standards.

Extensive testing for extreme reliability, compatibility and safety

Each motherboard is subjected to extended reliability testing under heavy load conditions, from the transportation to daily operations, to make sure they are delivered to you in perfect condition. Trials include temperature and humidity, burn-in, power on/off, power consumption, insertion and thermal-shock testing among many others. Every certified-compatible component puts through an up to 24-hour aging test to ensure trouble-free operation every day – no matter what you fit or attach and no matter what you do!
Games or multimedia — it's always ready!
Flawless audio that makes you part of the game

Crystal Sound 2 makes short work of optimizing audio settings for the way you want to listen, be it gaming, chatting, watching movies or relaxing to your favorite music. Onboard physical shielding, professional engineered design and premium components, including Japanese-made audio capacitors and operational amplifiers (op-amps), result in sound output that has exceptional clarity and fidelity. Discover a whole new dimension of superior audio and get ready to rule!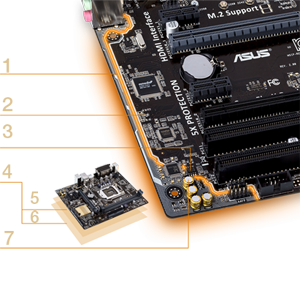 LED-lit audio shielding
Ensures precision analog/digital separation and greatly reduced multi-lateral interference, with a gorgeous illuminated trace path
Unique de-pop circuit
Reduces start-up popping noise to audio outputs
Audio amplifier
Enhances the highest quality sound for headphone and speakers
Special layout design
Separate layers for left and right channels to guard the quality of the sensitive audio
Right track
Left track
Premium japanese-made audio capacitors
Provides warm, natural and immersive sound with exceptional clarity and fidelity
A double win for gaming!

The difference between defeat and victory can be measured in milliseconds. That's why ASUS motherboards are equipped with state-of-the-art networking technology that puts your frags first!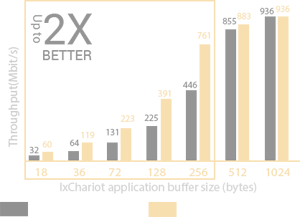 Intel® Gigabit Ethernet —top gaming choice that goes faster with your CPU

Faster, smoother gaming – always. Intel® Gigabit Ethernet has the serious double advantage of communicating directly with CPUs and offering high TCP and UDP throughput. This significantly reduces the processor's workload, so there's more power for your game and your gameplay.

Up to 2X-faster UDP game-data performance

ASUS engineers used IxChariot, an independent network-assessment test tool, to determine just how much quicker Intel Gigabit Ethernet deals with the smaller (sub-256 byte) UDP data packets that are vital for responsive gaming. The results are in — and with Z97 your game-data packets flow up to two times (2X) faster than competing gaming-LAN technologies!
Work with up to 3 displays

Connect up to three independent monitors at once using video outputs such as DisplayPort, Mini DisplayPort, HDMI, DVI, or VGA. Choose your outputs and set displays to either mirror mode or collage mode.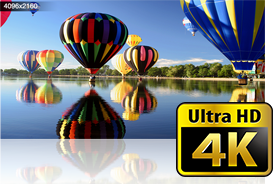 4K/Ultra HD visual excellence

Native support for 4K/UHD (ultra-high-definition) resolutions of up to 4096 x 2160 via HDMI or DisplayPort —that's four times the pixel count of 1080p (1920 x 1080), offering incredible visual clarity, detail, and realism.
Media-acclaimed UEFI BIOS

The smoothest, slickest mouse-controlled graphical BIOS has been improved to make it even more appealing. Whether you're a PC novice or a seasoned overclocker, the EZ and Advanced Modes help you find your way, quickly and easily.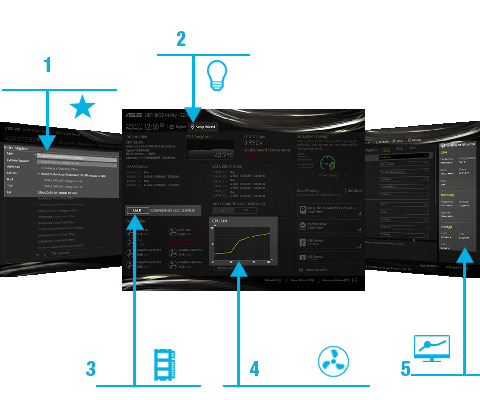 Map to MyFavorite:


Quickly find tuning options and add preferred tools to the MyFavorites list!

EZ Tuning Wizard – OC and RAID:


Select your hardware and use scenarios to tune system performance or streamline your RAID configuration for faster data retrieval and backups!

EZ XMP:


Improve your DRAM performance with a click!

Intuitive graphical fan control:


Fine-tune individual fans simply by dragging a curve with the mouse!

Real-time hardware monitor:


Benefit from instant information from the critical parts of your system!
EZ Mode
Fan Profile:


Detailed CPU and case fan information for instant cooling!

SATA Information:


Displays SATA port details for you to easily recognize devices!

Fast Clock Adjustment:


Use mouse controls to change the time and date!

EZ XMP:


Improve your DRAM performance with a click!
Advanced Mode
GPU POST:


Find more info about your graphics cards and slot bandwidth allocation. Great for 2 or 3-way SLI or CrossFireX

Shortcut:


Press Enter to create shortcuts to favorite settings, or select an existing shortcut and press F4 to go straight there!

Quick Notes:


Make notes and capture BIOS-related ideas, quickly and conveniently!

Last Modified Log:


Track last change and save preferred profiles onto a USB drive!

SATA Port Renaming:


Rename SATA ports for easy identification!
Advanced fan controls for ultimate cooling and quietness with Fan Xpert 3

Fan Xpert 3 is an extremely advanced fan-management tool that puts 4-pin/3-pin CPU and case fan controls in one place. It scans each fan's characteristics and intelligently delivers custom settings for each fan based on the dedicated area temperatures. Make sure every fan achieves the best balance of cooling performance and low noise.

Fan Xpert 3 supports hardware-level PWM/DC combo mode for both the CPU and case fans. It even has the upgraded ability to reduce the CPU fan speed to below the default minimum, for extra-quiet and power saving operation during light loads.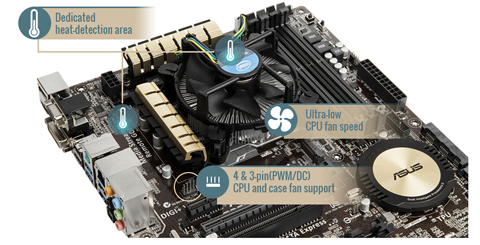 RPM Fixed Mode

Designed for users who wish to reduce noise levels to near 0dB with highly specific fan speed control. It reacts to system loads for greater response.
Auto Tuning Mode

Scans fan parameters through exclusive automatic speed detection to provide custom settings for each fan with a single click. This achieves the best cooling for your components beyond just the mere number of fans in your case.
Informative fan controls

Delivers complete information that allows you to take advanced control over each fan.
10Gb/s USB 3.1 built in to the board

With the latest USB 3.1 connectivity built in and dual Type-A ports for the very fastest USB data transfers, you'll experience data-transfer speeds of up to 10Gbit/s — or twice as fast USB 3.0. The next-generation standard is completely backward-compatible with your existing USB devices, and you'll be all set for USB 3.1's breakneck speeds. And ASUS-exclusive USB 3.1 Boost technology automatically accelerates USB 3.1 performance even further!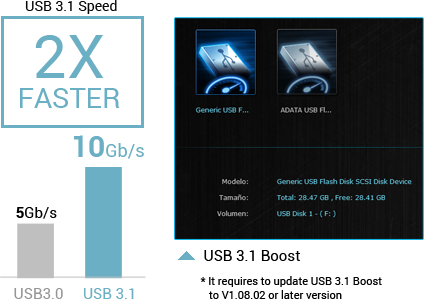 Ultra-fast transfer speed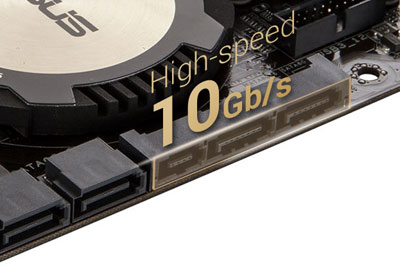 Evolve your storage speed with SATA Express

SATA Express provides up to 10Gbit/s data-transfer speeds from two PCIE 2.0 lanes, resolving the higher bandwidth request in the near future. The current SSDs consume up to 550MB/s, which is close to saturation point for SATA 6Gbit/s connections. Backwardly compatible with up to two SATA drives, SATA Express is the next-generation connectivity standard — and ensures that you and your system won't get left behind.
Speed up your system with M.2

With two native PCI Express 2.0 bandwidth, M.2 supports up to 10Gbit/s data-transfer speeds. It is the perfect choice for an operating system drive, making your whole PC work that much faster. It supports Intel® Rapid Storage Technology to ensure even faster access to data, refresh applications automatically and awake from sleep in just seconds!*

*Refer to model specifications for Intel® Rapid Storage Technology support
Warranty & Returns
Warranty, Returns, And Additional Information
Manufacturer Contact Info
Support Phone: 1-888-678-3688
LOADING...