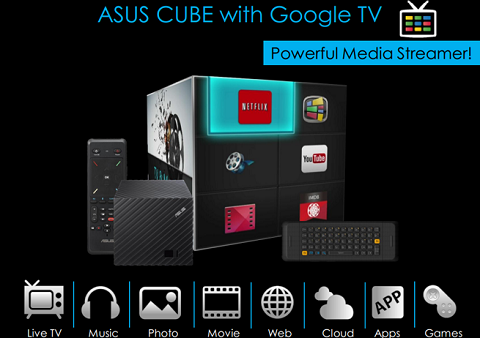 Google TV
Google TV is an Android-based operating system for Smart TVs—TVs that connect to the Internet as well as to standard set-top devices (DVD / Blu-ray players and DVRs). Can be seen as a transitional device, a way to get rid of the cable subscription.
Overview
Expand the horizons of your entertainment from the comfort of your couch with the ASUS CUBE with Google TV. Quickly search with Voice Search, whether it's a show or movie title, channel name, or genre or finding your favorite app or website. Even when you don't know what to watch, get recommendations from PrimeTime. With Chrome, YouTube, Google Play, Netflix, Amazon Instant Video, and more, accessing and finding something entertaining on your big screen has never been easier.
Easily find and access all your apps with the specially designed user interface ASUS CUBE with Google TV. Organize and sort your apps into categories such as TV & Movies, Games, Sports, Music, News and Favorites.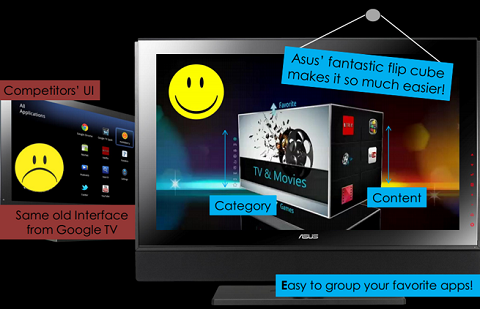 With support for voice search and Google TV search, quickly find what you want on live TV, the web, or on-demand services. Expand the reach of your entertainment with Google Play, Chrome and YouTube.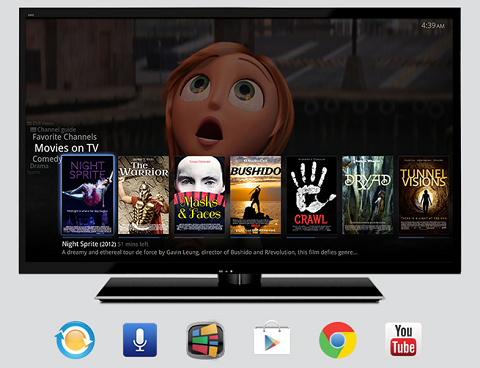 50GB of WebStorage
Get 50GB of WebStorage free to store and share content across devices. Available on the web, PC and mobile devices, access your stored content anywhere.
Voice Search
Whether you are looking a specific show, channel, app or web content, activate the built-in microphone on the included remote and just say what you are looking for to get results instantly.
PrimeTime
PrimeTime offers a single point of access for live TV and on-demand content. It also provides personalized recommendations. Quickly search and browse live TV and the web for the availability of shows and movies.
Google Play
Google Play offers access to thousands of titles and apps so you can bring the entertainment of your choice to your TV.
Chrome
Access your favorite websites and browse the internet on the big screen with Google Chrome.
YouTube
Watch YouTube in full HD right on your TV. Pair it with your phone or tablet, and send YouTube videos with the touch of a button to the big screen.
Search, browse, and game with the universal remote. The two-side remote features a two-in-one touch and directional pad, QWERTY keyboard, built-in microphone, and motion sensors.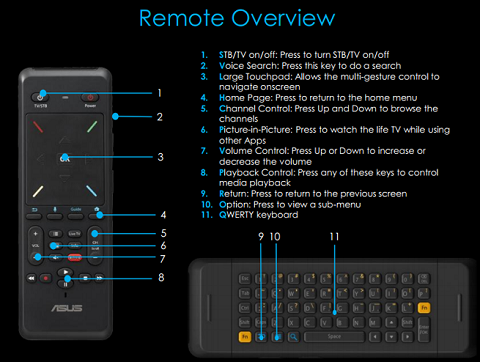 Specifications