Made to Move. Ready for Battle.
A powerful and portable weapon in the hands of any gamer. The GIGABYTE P55W-BW1T gaming laptop is power-packed with the top-of-the-line Core i7 processor and NVIDIA GeForce GTX 970M graphics processor, giving you unstoppable performance to obliterate the opposition. Confidently play the hottest tittles. Outfitted with a FHD 1080p IPS display and premium Dolby digital plus home theater system, you can enjoy greater immersion in your games and videos. Coupled with responsive backlit gaming keyboard and exclusive GIGABYTE Smart technology, it's born to be a great gaming laptop.
Features at a Glance
NVIDIA GeForce GTX 970M
5th Generation Intel Core i7 Processor
128GB SSD; 1TB HDD
1080p Full HD Wide View Matte Display
Dolby Digital Plus Home Theater
High-definition Media Playback: Blu-ray Rewritable Drive
Premium Backlit Gaming Keyboard
Pure Gaming Elements & Passionate Design
Gaming-class GTX 970M Graphics: Unleash Your Gaming Souls
The P55W-BW1T gaming laptop features a speedy NVIDIA GeForce GTX 970M graphics processor. A total package of 3GB VRAM handles higher frame refresh rate with ease, and is capable of rendering more detailed graphics when running resource-demanding titles. Scoring P9000+ in 3DMARK 11, the P55W-BW1T gives you a solid edge over other competitors in gaming.
Unrivaled Gaming Power
Enjoy breakthrough performance like you've never experienced before. The powerful Intel Core i7 5700HQ quad-core processor runs at stock speed of 2.70 GHz, delivering massive computing power. This means you can enjoy smooth, lag-free gameplay – never have slowdown. Up to 8GB high-bandwidth memory further optimizes your system's performance, allowing for snappy system response and extremely smooth multitasking.
Moreover, the massive dual-storage supports up to 128GB mSATA SSD and 1TB HDD huge storage capacity, providing rapid data transmission as well as whopping storage. Now speed and capacity go hand to hand with each other.
Full HD Wide View Display for Crisp & Rich Vision
The 1080p wide view display with great viewing angle realizes premium viewing experience plus startling color accuracy and clear images when screen sharing comes in need. The Full HD matte display panel diffuses light and eliminates reflections, upgrading your viewing experience and creating the most realistic gaming experience.
Dolby Digital Plus: Surround Sound Anywhere, Everywhere
Dolby Digital Plus creates a realistic game-play environment that lets you hear every window smash, feel every explosion, and experience every wipeout as if they're really happening. Surround Virtualizer creates a virtualized surround sound experience of stereo or multichannel content over built-in speakers or over headphones. Whether you're playing games, watching Blu-ray movies, or streaming videos, your P55 is an awesome multi-entertainment hub when it has advanced Dolby Digital Plus.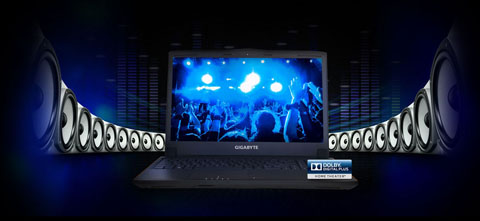 Blu-ray Rewritable: High-definition Playback
The GABYTE P55W-BW1T comes with a Blu-ray Rewritable Drive, supporting Full HD quality video playback. Blu-ray holds more data in a single disc, great for either high-definition gaming, multimedia or massive data backup.
Premium Backlit Keyboard
The full-sized chiclet keyboard creates snappy yet responsive typing experience for long-hour operation. The 2.2mm key travel with outstanding response makes typing as effortless as what users expected on their desktop systems.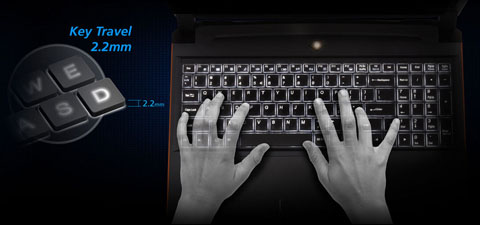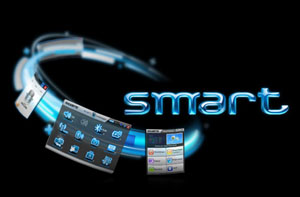 GIGABYTE Smart Technology: Smart Gadgets, Smart Life
GIGABYTE Smart Technology offers one-stop access to most common functions on the laptop including exclusive functions for gamers. The user-friendly interface allows you to make changes with just one click away.
Phenomenal Design: Lead the Pack
The P55W-BW1T features aerodynamic streamlines in quality matte black finish, creating an all new unique design element. Take on the competition with the beast. The P55W-BW1T will definitely distinct you from the crowd either in any gatherings or your next LAN party.