Smart Technology for Maximum Reliability
AiMesh incorporates several technologies to incorporate performance and reliability. A rock-solid data backbone connects all the AiMesh-enabled routers, with AiMesh intelligently choosing either a wired connection or the optimal frequency band.

Self-healing immediately replaces a failed router using the remaining router connections.


AiMesh is incredibly easy to use, but that doesn't mean it's not powerful. With AiMesh, all routers can use all their own features, as well as all the features of the other routers - with easy central control of all settings from the ASUS Router mobile app or ASUSWRT. So great features like AiProtection, Qos and Parental Controls work across the entire network, ensuring that no-one can bypass them by connecting to a different router. Just remember to always connect your highest-specification router to your internet service.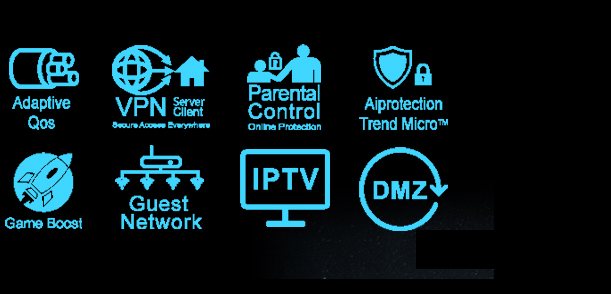 UPDATE THE FIRMWARE
Install the latest firmware on all routers and set extending routers to factory defaults.

Continued firmware updates will enhance features such as stability and security.


SET UP THE PRIMARY ROUTER
Connect the highest specification router to your internet connection as the primary router and create the WiFi network.


SEARCH FOR YOUR OTHER ROUTERS
Turn on the other AiMesh routers, click 'Search' in ASUSWRT or the ASUS Router app to find them.


JOIN THE ROUTER TO AiMesh
Select a router, and click 'Apply' to add it to your AiMesh WiFi system.