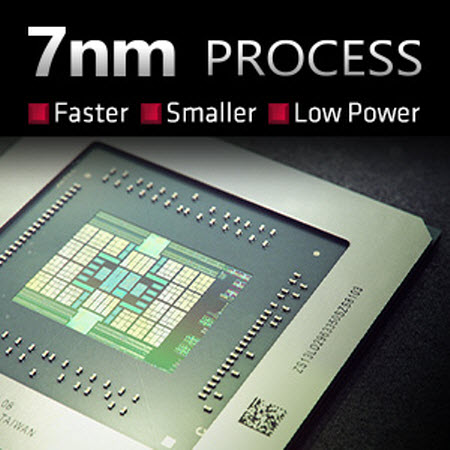 A New Extreme RDNA Architecture
The Radeon RX 5700 Series GPUs are powered by the new RDNA architecture, the heart of AMD's advanced 7nm technology process. RDNA features up to 40 completely redesigned Compute Units delivering incredible performance and up to 4x IPC improvements, new instructions better suited for visual effects such as volumetric lighting, blur effects, and depth of field, and multi-level cache hierarchy for greatly reduced latency and highly responsive gaming. The RDNA architecture enables DisplayPort 1.4 with Display Stream Compression for extreme refresh rates and resolutions on cutting edge displays for insanely immersive gameplay.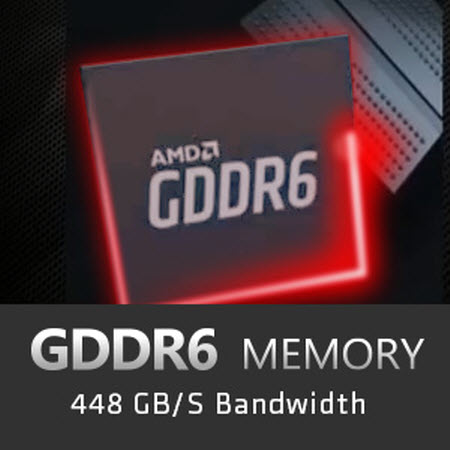 Bend the Rules
The new AMD Radeon RX 5700 Series GPUs, powered by RDNA architecture, are designed from the ground up for superb performance and exceptional power efficiency for high-fidelity gaming. Equipped with AMD's 2nd generation 7nm architecture, 8GB of GDDR6 high-speed memory and PCI Express 4.0 support, these GPUs are engineered to exponentially reduce lag, increase efficiency and surround you in immersive stutter-free gameplay. The Radeon RX 5700 XT GPU bends the rules with a revolutionary metal exoskeleton for heat dissipation, fused with the reimagined contour silhouette, and precision machined accents to perform as good as it looks.
Immersive Gaming Dynamics
Bring home the win with Radeon DNA, Radeon Anti-lag, PCI Express 4.0 support, DisplayPort 1.4, GDDR6 memory, 7nm architecture, and True Audio Next. All built into the Radeon 5700 XT Series GPU. Command your gaming experience. Less lag gets you more victories. Reduce input latency with Radeon Anti-Lag, providing an ultra-fast response time for your favorite games. Take control with Radeon RX 5700 XT and experience powerful accelerated gaming customized for you.
SAPPHIRE COOLTECH
Our superior cooling technology to keep your temperatures low at a high framerate
Intelligent Fan Control
Fan speed is intelligently controlled to keep the GPU, memory, PWM IC and other components as low as possible in temperature to balance performance, and fan noise.
Precision Fan Control
Standard industry fans may have up to 10% difference between fan rotation cycles (RPM). The Fan IC Control on SAPPHIRE graphics cards reduce differential at approximately 3%. This up to 70% improvement on accuracy ensures that cooling and noise performance of every graphics card is up to scratch.
Robust VRM Cooling
The SAPPHIRE graphics cards are designed with robust VRM cooling and have a high thermal conductivity pad on the back-plate to take away the heat efficiently and effectively.
Robust Memory Cooling
One of the hottest parts on a next-gen graphics card is generated from memory. A robust memory cooling solution has been integrated into each SAPPHIRE graphics card to cool down memory with a specially designed independent cooling module.
Dual-X Cooling Technology
SAPPHIRE's acclaimed Dual-X Cooling is powered by two massive yet silent fans and state-of-the-art radiator design. The streamlined form of our 95mm blades mean greater airflow and superior heatsink coverage at lower noise compared to standard cooling designs.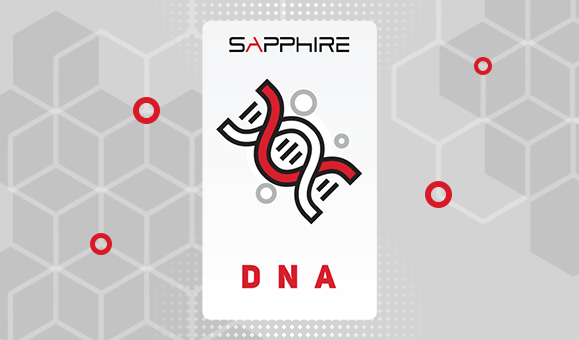 SAPPHIRE DNA
Our core parts that elevate the life of our products through quality, robustness & reliability
Backplate (Tough Metal Backplate)
The all-aluminum backplate provides additional rigidity that guarantees nothing bends and dust stays out. It also helps cool your card by increasing heat dissipation.
Two-Ball Bearing
These feature Dual Ball bearing fans, which have an approximately 85% longer lifespan than sleeve bearings in our tests. The improvements to the fan blades means the solution is up to 10% quieter than the previous generation.
Fan Quick Connect
If there's a fan problem, you don't have to return the entire card. SAPPHIRE or our channel partners will send out a replacement fan directly to you! That means they're easy to remove, clean and replace, with just one screw holding them securely in place.
Fuse Protection
In order to protect your card, the SAPPHIRE cards have fuse protection built into the circuit of the external PCI-E power connector to keep the components safe.
Dual BIOS
Choose between performance mode or silent mode to enhance your gaming experience.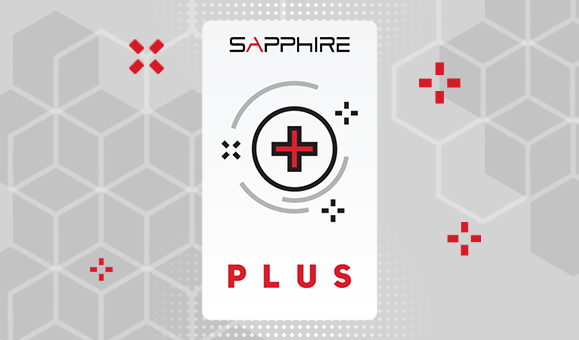 SAPPHIRE PLUS
All of the extra features that make our SAPPHIRE Boards so special and unique
TriXX Supported
Customize your individual style with TriXX Software and heighten your gaming experience!
TriXX Boost
Take gaming to the next level by adjusting your resolution options. Gain FPS by slightly decreasing resolution that is then adjusted through image sharpening for a more immersive gaming experience with much more fine-grained control over the quality vs. performance tradeoff.
Power Design
SAPPHIRE PULSE cards are designed with 7+1+2 Phase Digital Power specifically for GPU and memory to aid in overclocking, balancing current distribution and averaging thermal dissipation for each power phase.
Fan Check
At times fans need service but it can be frustrating to return the entire card and wait for a replacement to be authorized. Fan Check feature allows users to check the cooler's status and immediately contact customer support through Fan Service in case of problems.
Free Flow
The traditional axial fan design system circulates hot air to the fan inlet resulting in higher temperature. We redesigned the airflow so that the hot air is expelled through the system fan instead, rapidly dissipating heat and includes a tunnelled fin with tiny holes which increases the convection airflow.