XFX Radeon RX 480 RX-480P8LFR6 Video Card - Crimson Edition
Get the next level of gaming immersion with the world of VR gaming with the XFX Radeon RX 480 Video Card - Crimson Edition. Whether in graphics performance, overclocking capability, cooling efficiency or future upgrade capabilities, this video card outperforms all other competitors in its class.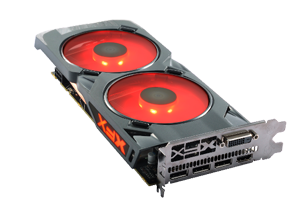 Pre-loaded with Red LED Logo and Fan
Perfect for the red AMD themed PC
It is the only XFX RX 480 that currently comes pre-loaded and ready to go with XFX's Award Winning Red Hard Swap fans.
The First Hard Swap Detachable Fan Design
XFX exclusive fan design lets you change or upgrade fans in a snap.
In the past it was difficult, if not impossible, to replace GPU fans on your own, but now with XFX's Hard Swap technology, you can upgrade your fan in an instant. XFX even offers different upgrade option for higher performance or color LED options for customization.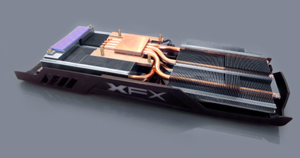 High Performance Unibody Heatsink
Enhances thermal efficiency by 40%
The XFX RX RS series features its all new Unibody VRM Heatsink construction to enable direct transfer to the primary heatsink and heatpipes. This unique combination of material and construction enhances thermal efficiency by a total of 40%.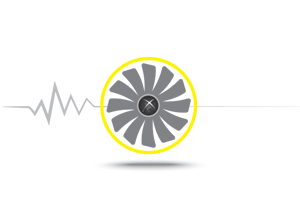 XFX Dual BIOS Capable
You choose your experience.
XFX Radeon RX 480 GTR and RS series graphics cards offer Dual BIOS options. If you want optimal performance and want to keep your card cool as possible then use the Performance BIOS. If you prefer stealth, the Quiet Lower RPM BIOS might be the right option for you.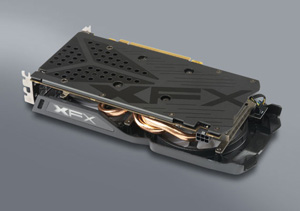 Custom XFX Aluminum Backplate Design
Protects your GPU while providing additional cooling overall
GPUs are one of the most important, complex and delicate pieces of hardware in your computer and as a game, nothing is as important and the slightest bend can drastically affect the performance of your graphics card. But that's a thing of the past because XFX's solid backplate keeps the card strong and secure, eliminating card bend. Graphics cards also emit some heat from the back as well which rises up and affects other components but XFX's cool aluminum backplate can absorb that heat and keep the overall case cooler.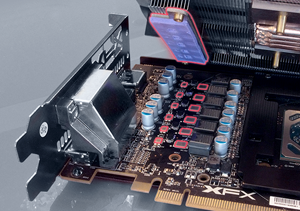 Enhanced VRM and Memory Cooling
Cooling technologies don't stop at just the GPU.
After countless hours of research, development and testing, XFX's engineers have developed all new VRM and Memory cooling technology, reducing VRM temperatures by up to 30' C and GDDR temperatures by 20' C, all while reducing dB noise by an additional 5%. It is best in class for the GPU enthusiasts.
All New Composite Heatpipe Technology
XFX combined technologies to create the first super heatpipe.
The new composite heatpipe design used in the XFX Radeon RX RS combines the technologies of both Liquid and Capillary Action heatpipes into one. Doing so allows you to increase the total heatpipe surface area by 30% which tremendously increases the thermal efficiency.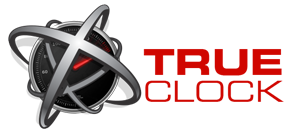 XFX True Clock Technology
Always running at the best speeds
Software controlled clock speed optimizers can be hindered by overall computer performance, heavy loads can cause it to misread the maximum potential clock speed of the graphics card at any given moment. XFX's True Clock however is hardware controlled clock speed performance optimization, so it's always running at peak performance all the time.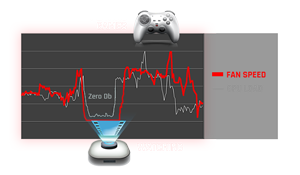 All New Zero Noise Auto Load Sensing Fans
Power when you need it and quiet when you don't
XFX fans are equipped to run at the highest possible performance, while XFX's Zero DB Fan System will also keep your fans running at efficient RPM in order to minimize annoying fan noise by lowering RPM all the way down to Zero RPM. When the heat is on during intense gaming, the fans will speed up as needed.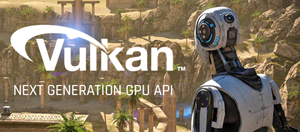 Designed for Vulkan Cross Platform Graphics
The next generation graphics API from Khronos
Vulkan is the new generation, open standard API for high-efficiency access to graphics and compute on modern GPUs. This ground-up design, previously referred to as the Next Generation OpenGL Initiative, provides applications direct control over GPU acceleration for maximized performance and predictability.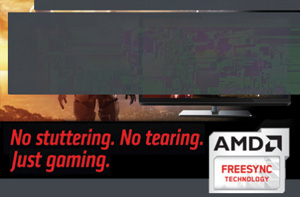 AMD FreeSync Technology
No stuttering. No tearing. Just gaming. Gaming shouldn't be a choice between choppy gameplay and high performance. With XFX Radeon Series graphics and FreeSync technology, it doesn't have to be. Transform the most demanding games into a liquid-smooth, artifact-free, 4K cinematic experience with the highest performance at virtually any frame rate. FreeSync works at the speed of your game for incredible responsiveness and uncompromising smoothness. Every gamer deserves perfectly smooth gameplay and peak performance. Unlike the competing technology, you don't have to choose with FreeSync technology.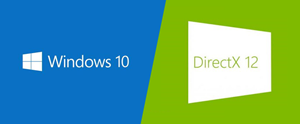 Microsoft Windows 10 and DirectX 12
Optimized for gaming performance
New features and functions bring new computing experiences to life with AMD Radeon graphics on the Windows 10 platform. Take your gaming further with XBOX ONE on Windows. Play and connect with your games and friends. Everywhere.
Microsoft's new technology enables great performance and dramatically improved GPU and CPU multiprocessing and multi-threading performance thanks to Async Shaders and Multi-threaded Command Buffer Recording for more efficient rendering of richer and more complex scenes.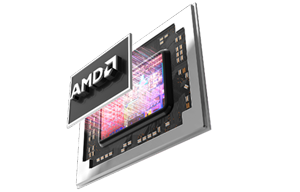 FinFet 14nm Technology
Unprecedented efficiency on next-gen GPUs
Enjoy whisper quiet gaming with the revolutionary Polaris architecture. Combining the latest FinFET 14 process technology and AMD's advanced power, gating and clocking technologies, you'll enjoy dramatically cool and quiet gaming. The FinFet 14 process technology puts more transistors in less space, enabling dramatic increases in processing power and power efficiency helping to provide better processor performance while using less power and enabling better transistor efficiency than previous generation technology.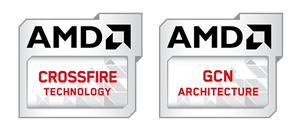 AMD Exclusive GCN & Crossfire Technology
The Ultimate Compute Architecture with Multiple GPU Scaling
Discover the direct-to-the GPU performance advantage of Graphics Core Next (GCN) architecture, enabling stunning detail and dynamic gaming, a richer and more immersive VR experience, with exceptional graphics performance and low power consumption. 4th generation Graphics Core Next (GCN) architecture features asynchronous shaders and an enhanced geometry engine, so you can enjoy exceptionally smooth gameplay on the latest DirectX 12 and Vulkan titles.
AMD CrossFire technology lets you connect multiple graphics cards to amplify your system's graphics processing capability including enhancements that set a new standard of consistent and smooth gameplay.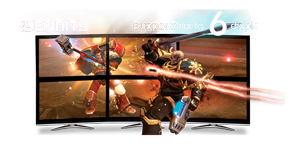 AMD Eyefinity Technology
Multi-display technology for gaming, productivity and entertainment
Expand your territory and customize your field of vision. Connect up to six displays on a single GPU for dynamic, panoramic multi-screen gaming (additional displays may require the use of MST hub). You'll get an expansive experience that's truly out of sight.
Tuned By XFX for Peak Performance
Giving you the performance you have come to expect from XFX
Luckily for you, XFX has factory overclocked the RS at the BIOS level and has fine-tuned it for optimal gaming performance. The state-of-the art equipment and testing labs ensure that your card reaches its maximum performance level safely and optimally.
Future Upgrade Capabilities
Imagine the future upgrade capabilities with HDMI 2.0b and Display Port 1.3/1.4 features that can enable the latest generation of displays to deliver beautiful beyond-HD, HDR, and ultra-smooth FreeSync experiences.