Channels

(3)

(12)

(42)

(8)

(2)

(2)

(5)

(24)

(1)

(8)

(1)

(5)

(10)

Show More
Manufacturer

(38)

(65)

(143)

(92)

(39)

(37)

(22)

(23)

(45)

(22)

(51)

(58)

(69)

(53)

(30)

(29)

(5)

(21)

(30)

(55)

Show More
Condition
Price

(62)

(152)

(272)

(145)

(111)

(332)

(234)

(127)

(105)

(160)

(117)

(52)

(25)

(48)

(26)

(8)

(7)

(6)

(10)

(2)

(3)

Show More
HDMI

(1)

(35)

(8)

(4)

(1)

(18)

Show More
Customer Ratings
Current Promotion
FM/AM Tuner
Satellite Radio Ready

Video Upconversion

Multi Zone

App-Enabled

On Screen Display

Wireless Connectivity

Seller

(28)

(358)

(251)

(246)

(58)

(45)

(40)

(37)

(36)

(36)

(34)

(33)

(29)

(28)

(26)

(21)

(21)

(21)

(21)

(20)

Show More

Useful Links

Ship From Country

(999+)

(1)

(194)

(12)

(1)

(3)
Add To Compare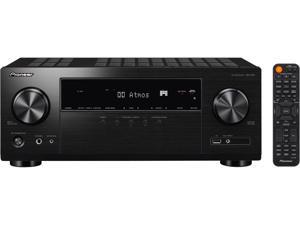 Pioneer VSX-934 7.2-ch Network AV Receiver
Type: Receiver
App-Enabled: Yes
Power Output: 165 W/ch (6 ohms, 1 kHz, THD 10 %, 1ch Driven) 80 W/ch (8 ohms, 20 Hz-20 kHz, THD 0.08 %, 2ch Driven, FTC)
Decoder: Dolby Atmos, Dolby Surround Upmixer DTS:X, DTS Neural:X Upmixer Reflex Optimizer Dolby Atmos Height Virtualizer DTS Virtual:X Dolby TrueHD, Dolby Digital Plus DTS-HD Master Audio, DTS-HD High Resolution Audio, DTS 96/24, DTS-ES, DTS-HD Express
Model #: VSX-934
Item #: N82E16886983072
Return Policy: Standard Return Policy
$479.00

479.00

$319.00

–

Save:

33%

Free Shipping
What Customers Are Saying...
I needed to switch over to Apple computer, phone and ipad because of software changes in my buisness. I was able to purchase a Macbook Air, Iphone 5se, and Ipad Air. These items were either open box or refurbished with a A rating. Fabulous Prices, all worked and looked new. I am a faithful user of a popular on line store that deals in the same items, however I can not get these kind of deals especially at these condition and prices.
See All

12 Months Special Financing** every day on purchases of $499 or more.
Learn More
Home Theater and Stereo Receivers
Home Theater and Stereo Receivers
It may sit just on top of your home theater system, but your stereo receiver is extremely important. This big black box is the epicenter of your home audio experience, the brains behind the nervous system of A/V cables connecting the television to its speakers and your home entertainment center.
The stereo receiver is the main input and output that controls the rest of an audio arrangement. It dictates the number and variety of speakers you can install, the kind of video devices you can connect to it and the amount of power you can expect to get from your outputs. You will want to connect your DVD players, video game consoles, television sets and audio devices to it, so getting a high-end, well-constructed unit is key to optimal audio production and the best video experience. The best receivers will not only hook together CD and DVD players, radio inputs, television and gaming devices, they also bring a level of immersion and entertainment you can't attain with just your TV's speakers alone.
Low-end and mid-range stereo receivers may be perfectly fine for basic DVD and television watching, but if you want a real theater experience, using the right A/V cables, amplifiers and choosing the most powerful speakers will help your stereo receiver perform like a pro.