Instantly Playback videos recorded and stored on USB storage devices with the remote.
Captures 1080p Full HD videos or gameplay from Xbox one, PS4, Nintendo Switch, DV, VCR, etc onto USB flash drive or external hard disk or PC.
Supports HDMI, VGA, AV(composite) and YPbPr(component) input signals. Convert analog video to digital video(MP4).
Schedule Recording.
Capture and live games/videos to YouTube/Twitch/Facebook.
Press one button to take a screenshot and save favorite video moment as a JPG file.
4K input is supported, output and recorded videos are in 1080p.
Bundled software HDML-Cloner Pro Helper can help you record video files of unlimited size. MP4-Cloner can help to edit and burn videos to discs and more.
Record full HD 1080p videos. Playback instantly.
Do you have VHS tapes or video discs need to be converted to MP4 digital files? Or you have too many video files to save on your DVR and need to free its storage space. With HDML-Cloner Box Pro, just one press, all your favorite videos can be stored on your USB storage devices.
Capture/Live Gaming to YouTube/Twitch/Facebook.
With 3rd party software such as OBS, XSplit, etc, it allows you to capture and live HD gaming videos from any gaming devices. Meanwhile, all the recorded videos can be shared to YouTube/Twitch/Facebook instantly. The internal 3.5mm mic jack allows you to add own live commentary.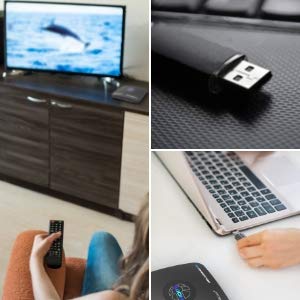 Capture and record videos to USB storage devices from various video devices.
Capture and record full HD 1080P videos or gameplay from Xbox One,PS4, Nintendo Switch, PC, DV, VCR, etc onto USB flash drive or external hard disk/mobile hard drive.
Just press the "PLAYBACK" button on remote, you can enjoy the recorded videos instantly after recording.
OSD menu provides a variety of functions: Picture-Aspect Ratio, Color Temperature, Recording Bitrate, Schedule Recording, Firmware Update, Restore Factory Default, etc.
The recorded MP4 files are compatible with PC, Mobile phone and any other platforms.
Tips:
The video will be recorded as a single file by using NTFS formatted USB storage device.
FAT32 formated USB storage device works more stably. The recorded video will be split into multiple MP4 files.
2TB capacity or below of external hard drives are supported. MBR partition type is required.
Convert Analog Videos to Digital Videos.
Some of your most cherished moments like birthday party or wedding in life may be on VCR or other analog signal devices.
Take your time to backup them now! HDML-Cloner Box Pro enables you to record videos from any device with a VGA, AV(RCA, composite), or YPbPr(component) output and keep them forever.
Schedule recording at your convenience.
You must want to enjoy the latest sporting events and stay up to date with your favorite videos. Set up your video source, select the target channel, schedule recording task. HDML-Cloner Box Pro will do the rest for you.
Note:
Two AAA batteries for the remote control are not included in the packing box.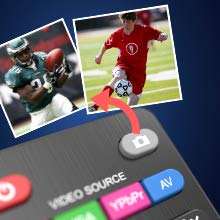 Press one button to take screenshots as JPG files.
Amazing or hilarious moments while watching videos won't wait your camera to capture. Just one press can make it. Stores them into a folder so as to browse them anytime.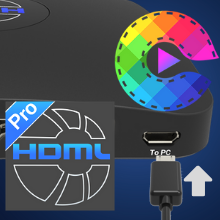 Connecting with PC. Bundled Software provides you with more value-added features.
MP4-Cloner: Edit/trim/combine/burn recorded the MP4 files;
HDML-Cloner Pro Helper: Unlimited recording capacities; Create more schedule tasks; Playback recorded MP4 files on multi-device via LAN; One press to get GIF animation(30 seconds at most). Cool!
And more.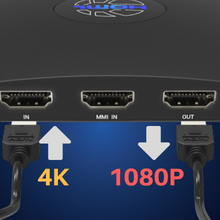 4K Input is supported.
4K UHD resolution 3840*2160 input is supported, real time output and recorded videos are 1080p.