Are you an E-Blast Insider?

Shop without retyping payment details. Secure shopping made faster.
Check out with PayPal.
Harman/Kardon AVR2650 7.1 Channel A/V Receiver
7.1 channel, 95W per channel
5 HDMI/3D passthrough
Network Connectivity
Logic 7 Processing
High Current Design
Ultrawide Amplifier Technology
EzSet/EQ auto calibration
Harman/Kardon AVR2650 7.1 Channel A/V Receiver
If you're looking for a receiver packed with the most sought-after home theater technologies, look no further than the Harman Kardon® AVR 2650. As an ideal starting point for building your dream home theater system, the AVR 2650 is blessed with an impressive list of features. It starts with HDMI® v.1.4a with 3-D, Deep Color and Audio Return Channel, which allows you to experience 3-D entertainment when paired with 3-D TV technology. Then it continues on the audio front where the AVR 2650 commands serious attention with Dolby® TrueHD and DTS-HD Master Audio™ decoding - which delivers high-resolution sound that's ultra-faithful to the filmmakers' intentions.
As an additional bonus, the AVR 2650 integrates Harman Kardon Logic 7® processing - a powerful and proprietary technology that devotes itself to each one of the seven amplified channels of surround sound the receiver is capable of supporting. Ultimately, with five HDMI inputs, extensive video and audio connectivity and its ability to connect with a Harman Kardon The Bridge IIIP (available separately) for playback on your iPod and iPhone devices, the AVR 2650 is a brilliant performer that accommodates virtually any system you pair it up with.
Highlights
HDMI® v.1.4a with 3-D, Deep Color and Audio Return Channel
Powers a 95W, 7.1-channel surround-sound system
Dolby TrueHD and DTS-HD Master Audio™ decoding
Logic 7 processing
The Bridge IIIP connectivity with optional dock
EZSet/EQ™ equalization
Multizone functionality
Five HDMI inputs
Extensive video connectivity
Extensive audio connectivity
FM stereo/FM/AM tuner that works with a SIRIUS Connect™ home tuner (sold separately)
Color-coded binding post-speaker connectors
Graphical User Interface (GUI)
Dot-matrix display and screen-saver function
Multidevice, programmable remote
Headphone jack with HARMAN headphone surround mode
Upgradable firmware via USB port
Key Features
Welcome to the next dimension in home theaters.
The Harman Kardon AVR 3700 utilizes new integrated GreenEdge technology, which uses ultra lightweight digital amplifiers to create powerful and precise amplification. The AVR 3700 uses a custom-designed digital power supply that delivers the amplifier power and superior sound you expect from Harman Kardon without the need for hefty transformers. The result is the same power as conventional designs with a lower overall carbon footprint impact.The GreenEdge technology provides dramatic energy savings without compromising premium performance using digital power supply to improve efficiency without compromising on Harman Kardon legendary sound performance. A smaller, lightweight design also results in a lower carbon footprint.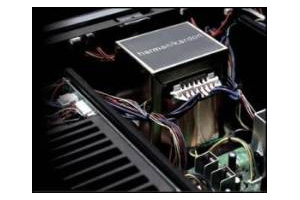 Power yourself to 7.1-channel surround sound.
If you're going to kick-start the home theater system of your dreams, you're probably going to want a little power. That's what the AVR 2650 delivers - offering 95 Watts of power per channel and the capability to power a full 7.1-channel surround-sound system. It also features high-current capability (HCC) and an ultrawide-bandwidth amplifier design for accurate, dynamic sound - so your home system can produce virtually the same effect as traditional movie theater sound systems. And if you use only five channels instead of seven, you can always assign out the two remaining SBL and SBR amplifier channels to another zone in the house. It won't require an extra stereo amplifier and will help you configure your household system exactly as you want it.
Surround yourself with superior Logic 7® processing.
Offering multichannel sound for your movies, music and games, the AVR 2650 employs Harman Kardon® Logic 7® processing, which transforms conventional stereo sources (such as CDs or iPod devices) into 7.1-channel surround sound using algorithms all our own. The result? Optimal audio quality that makes something good into something spectacular - while engulfing you in a 360-degree soundscape. Whether you're listening to HDMI®, analog, component sources or computer-based audio from a USB connection, Logic 7 technology allows you to experience the surrounding ambient sounds that are already in the stereo mixes by converting, or upmixing, two-channel stereo signals into five- or seven-channel signals. This ensures you'll get a superior entertainment experience.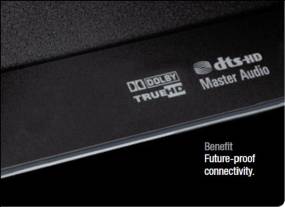 Top-of-the-line audio technologies.
When it comes to getting the cleanest sound and picture imaginable, the AVR 2650 delivers high-resolution sound to match the high-resolution digital video of the Blu-ray Disc™ format. Unlock the full potential of your Blu-ray Disc recordings - or any streamed HD media - with Dolby® TrueHD and DTS-HD Master Audio™ decoding. Additionally, the AVR 2650 has Dolby Pro Logic® IIz, which lets you add front height channels for 3-D sound, providing depth of surround sound to your movies, music or games when paired with a 5.1- or 7.1-channel speaker system. No matter what mode or mood you're in, you'll hear audio the way its creators intended - as you immerse yourself in a 360-degree surround soundscape.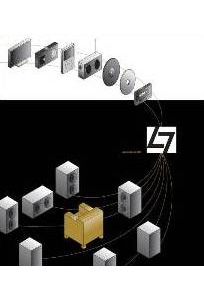 Enjoy extensive connectivity and exhilarating audio - from practically any source.
The AVR 2650 is equipped with five HDMI® inputs - enough to connect your entire system digitally. Highlighted by HDMI v.1.4a with 3-D, Deep Color and Audio Return Channel, the AVR 2650 maximizes your audio/video performance, reducing connection confusion while ensuring the greatest chance for compatibility with whatever A/V equipment you're trying to connect. In addition, the AVR 2650 also has two component and two composite video inputs, which connect to legacy video sources - and even transcode analog video to HDMI video with a single connection to the TV. In other words, it's easier than ever to receive a high-definition signal from whatever video sources you want be connected to.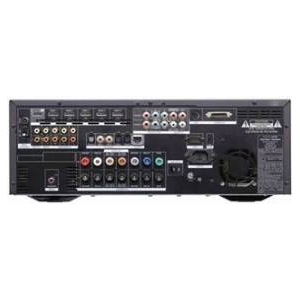 Extensive video and audio connectivity.
With four digital audio inputs and three analog outputs, the AVR 2650 ensures plenty of connections for your digital and analog audio source components. By connecting the AVR 2650 to digital and analog recorders, you can experience a more diverse range of music options than you might have thought possible. You can also connect the AVR 2650 to a powered subwoofer (through the subwoofer pre-out) to generate some serious bass while benefiting from quadruple-crossover bass management.
By integrating color-coded binding-post speaker connectors into its design, the AVR 2650 simplifies installation to just a few quick plug-ins - helping you avoid any frustrating connection errors. In addition, the AVR 2650 provides only the most secure of connections, accepting banana connectors, spade connectors, pin connectors and bare wire - so you have the utmost flexibility when it comes to setting up all kinds of other systems. This way, you can build out your system without experiencing any compatibility issues.
Play your iPod and/or iPhone device through your home theater system.
Over the years, iPod and iPhone devices have redefined how you consume music, allowing you to take your favorite songs with you - wherever you go. And now, thanks to the AVR 2650 and a Harman Kardon® The Bridge IIIP docking station (available separately), you can experience these same digital tracks with better quality than ever - right at home. To do it, simply connect The Bridge IIIP to your iPod or iPhone device and AVR 2650 with a single cable - and, using the provided remote control, navigate your music and video libraries through the high-definition graphical user interface (GUI). Your musical options will increase immediately - and instantly sound like never before.
Comes with FM stereo/AM tuner with a satellite-radio hookup.
In addition to coming with 30 preset FM/AM radio stations, the AVR 2650 lets you add another dimension to your listening experience by working seamlessly with any SIRIUS Connect™ home tuner (sold separately). Get all your favorite radio stations - through one centralized, great-sounding component - and benefit from a single eight-pin DIN connector that makes connecting simple. You can even control your SIRIUS® radio through the graphical user interface (GUI) using the AVR 2650 receiver remote. It makes integration of popular satellite radio more seamless than ever.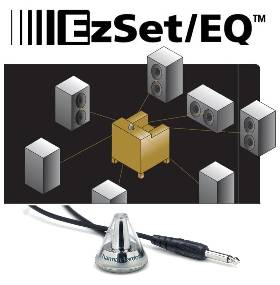 Achieve the best possible audio performance.
As a feature in the AVR 2650, EzSet/EQ™ calibration ensures you'll get the best possible audio performance out of your speakers - in any given listening area. Improve your home theater system's performance with the touch of a button by setting volume, balance and timing for 7.1-channel surround-sound speakers. By automatically measuring the frequency-response peaks and valleys in the listening room using the calibrated microphone (included), EzSet/EQ processing allows for a precise, compensating equalization curve to help your system gain extraordinary sonic accuracy. And even though EzSet/EQ technology may sound complicated to set up, it's not. Just connect the microphone to your AVR 2650 receiver and follow the on-screen instructions. In a few simple steps, the EzSet/EQ system will automatically tailor the AVR 2650's sound to your specific room conditions, sending it directly toward listeners in the most ideal position - ear level for a seated listener.
Set it - and forget it.
Imagine if you could set your AVR volume once and not worry about it again. Well, now you can. Whether you're watching a TV show or a film, Dolby® Volume technology maintains the same volume level no matter what entertainment you might be taking in. Whether you're playing a Blu-ray Disc™ recording or a music file streaming from the Internet, you need set the AVR 2650 volume only once to eliminate unpredictable volume differences among shows, commercials and movies you may be flipping between. No more being jolted out of your seat by a loud commercial - or having to adjust the volume every time you change channels. Dolby Volume offers you an ideal listening environment, maintaining the sound's original balance - at all volumes, just as its creators intended.
Enjoy private listening through a headphone jack.
With 5.1 channels and 95 Watts of power per channel, the AVR 1650 can help fill any room of the house with the spectacular sounds of Hollywood entertainment. But what if you want to have a more intimate, private listening experience? Then you'll want to use the AVR 1650 headphone jack with HARMAN headphone surround mode, which creates a realistic 5.1-channel surround-sound experience - from a single set of stereo headphones. Benefit from one-on-one listening -without sacrificing any precious sound quality - as you experience Hollywood thrills without disturbing others.
Easy-to-navigate, graphical user interface (GUI).
In addition to its long list of features, the AVR 2650 also has a highly-intuitive graphical user interface (GUI) with great visibility, making system setup and receiver usage easy - even for novices. By delivering on-screen menus for all setup functions - and in high-definition resolution- the graphical user interface makes the AVR 2650 simple to use as it helps you get up and running with the greatest of ease.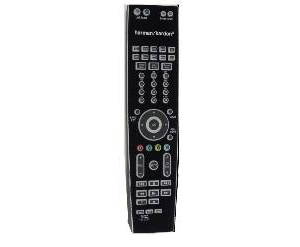 Take control with a multidevice, programmable remote.
There's nothing more frustrating than a coffee table stacked with more remote controls than coffee-table books. That's why the AVR 1650 simplifies your life by including a multi-device programmable IR remote control that's capable of directing your TV, cable boxes, satellite tuners and home theater - from one adept device. With its impressive, ergonomic design, the backlit remote control also works seamlessly with the AVR 1650's multilingual on-screen display to guide you through system setup - to get you up and running with the greatest of ease.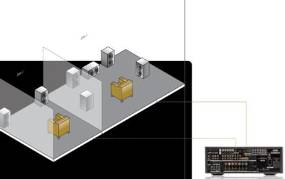 Enjoy music in every room of the house.
Conveniently designed to appease diverse musical tastes throughout the household, the AVR 2650 has multi-room audio functionality - thanks to SBL and SBR amplifiers that can be set to power Zone II speakers. This arrangement saves you money - since you won't have to buy another amplifier for each individual room. By extending your favorite music to rooms you might have thought were previously out of reach, you'll likely hear positive reviews flood in from family and houseguests, as you transform your home into several electrifying entertainment zones.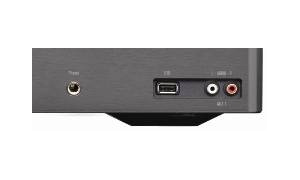 Upgrade your system with ease.
Keep your AVR 2650 up to date by upgrading it through a USB port. This will simplify and improve its operation and ensure your AVR 2650 is consistently running in line with its potential. It's the perfect way to protect your investment, while taking advantage of future technological advances that help your system stay relevant and up to speed.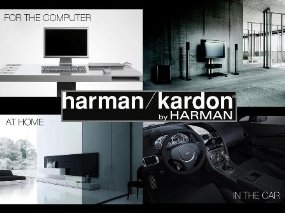 Harman kardon - a legacy of sound achievement
The Harman Kardon AVR 2650 is the perfect home theater component for consumers looking to experience a high-quality A/V receiver with cutting-edge capabilities - including 3-D. Striking the balance among modern design, versatility and audio ingenuity, the AVR 2650 is a true embodiment of the Harman Kardon spirit of innovation - a tradition celebrated by home theater enthusiasts across the world for almost 60 years.
From the world's first stereo receiver (the Festival® TA230) to the multimedia masterpiece that became part of the permanent collection at New York City's Museum of Modern Art (the SoundSticks® desktop audio system), harman kardon engineers have consistently advanced the science of sound, developing magnificent audio products that are dedicated to quality, durability and generating rave reviews from audiophiles.
Warranty & Returns
Warranty, Returns, And Additional Information
Warranty
Limited Warranty period (parts): 2 years
Limited Warranty period (labor): 2 years
Return Policies
Return for refund within: 30 days
Return for replacement within: 30 days
This item is covered by Newegg.com's Standard Return Policy
Manufacturer Contact Info
LOADING...