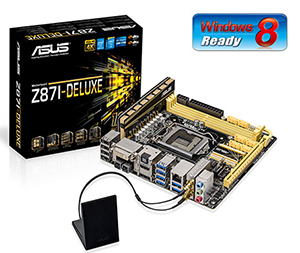 Mini-ITX Size, ATX Performance
Extra-smart board layout design and advanced engineering bring ATX performance to a Mini-ITX motherboard - ASUS Z87I-Deluxe. High-end components such as 12+2 DIGI+ VRM, 802.11ac Wi-Fi GO! module, Intel Z87 chipset, four fan headers with Fan Xpert 2, six SATA 6Gbps ports and more, work side by side for mighty computing and networking power. Also armed with new UEFI BIOS for intuitive system tuning and AI Suite 3 for easy access to innovative ASUS features. 4K and three monitor support level-up an entertaining experience you'd never expect from a Mini-ITX motherboard.
Advanced Features
Extra-Smart Board Layout on Small Form Factor
Extra-smart board layout makes the most of available space for awesome capabilities. It also means great flexibility for expansion, including storage, connectivity, and graphics. Even large components traditionally considered ATX-only fit effortlessly.
12+2 DIGI+ VRM: Placed vertically on the edge of the PCB, clever space-saving engineering allows augmented digital power with more voltage regulators
802.11ac Wi-Fi GO! Module: Space-saving design and vertically placed
4 x Fan headers with Fan Xpert 2 utility: Painstakingly designed with no fewer than four fan headers, each controllable via UEFI or the comprehensive Fan Xpert 2 utility
6 x SATA 6Gbps ports: Offers adequate spacing for better storage expansion and hassle-free SATA device insertion
Power Connectors: Grouped on the edge of the board for easy plug in and out plus neat cable management
Space for bigger CPU coolers: CPU socket location provides ample clearance from the graphics card for larger and more powerful coolers
Customized graphics card Q-Slot: Easy graphics card installation and removal, even of large 2-slot cards.
Your One-Stop Home Entertainment Hub
ASUS Z87I-Deluxe is your one-stop home entertainment hub with a compact design and full of home entertainment capabilities.
Wi-Fi GO! with Superfast 802.11ac
Wi-Fi GO! is a one-stop utility that links your desktop with smart devices, which can be used to remotely control your PC for a truly connected lifestyle. It integrates Wi-Fi connectivity. Quickly gets Wi-Fi access running at up to 867Mbps (actual speed may vary) via new-generation 802.11ac (restricted by countries' regulations) Wi-Fi. Enjoying HD content, music, and photos from PC on your HDTV via Wi-Fi will be easier than before. Cloud Go! allows you to synchronize files across cloud storage accounts with only a click. File and screenshot transfers will also be easy.
4K Ultra HD Ready
Ready for the 4K Ultra HD? The integrated graphics natively support up to 4096 x 2160 via HDMI or DisplayPort. That's four times the pixel count of 1080p (1920 x 1080), offering incredible visual clarity, detail, and realism.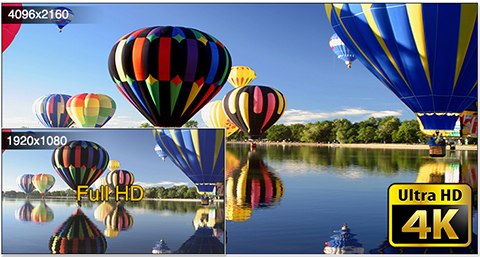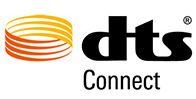 DTS Connect
DTS Connect combines two enabling technologies. DTS Neo:PC upmixes stereo sources (CDs, MP3s, WMAs, internet radio) into as many as 7.1 channels of incredible surround sound. Consumers can then connect their PC to a home theater system.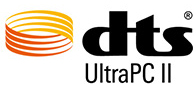 DTS UltraPC II
DTS UltraPC II delivers exceptional 7.1 surround through the most popular PC audio setups - your existing stereo speakers or headphones. In addition to virtual surround, it upgrades original sound to new levels with Audio Restoration, recreating the dynamic range of audio files.
Six SATA Ports
Six SATA ports offer plenty of storage potential available for HD and UltraHD content.
New UEFI BIOS – Friendlier and More Intuitive
More intuitive functions come to the ASUS UEFI BIOS to quickly take you to favorite BIOS pages and frequently-accessed settings through custom shortcuts. You can even write quick notes in BIOS for future reference, view an activity log of setting changes and modifications, and rename SATA ports. EZ Mode has a whole new look, upgraded with extra-friendly capabilities like detailed fan controls, XMP profile settings, SATA information, and fast clock adjustment. Together, these perfect your BIOS experience.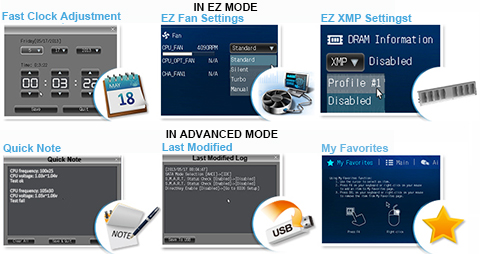 Fan Xpert 2
Get the best balance of cooling performance and low noise with hardware-level ASUS Fan Xpert 2. It sports Fan Auto Tuning, providing a tailored fan speed setting for each 4-pin/3-pin CPU and chassis fan with exclusive automatic fan speed detection. It even provides an RPM Fixed Mode for users who wish to reduce noise levels to near 0dB using a specific fan speed setting.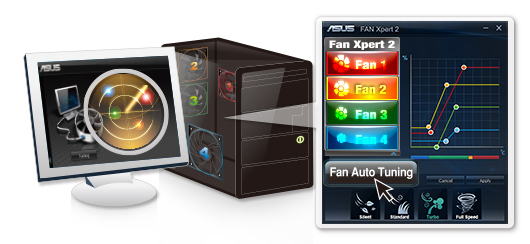 Performance Optimization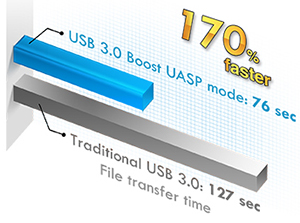 ASUS USB 3.0 Boost Technology supports UASP (USB Attached SCSI Protocol) in Windows 8 and delivers up to 170% higher USB device transmission speed. ASUS software automatically accelerates data rates for compatible USB 3.0 peripherals without any user interaction.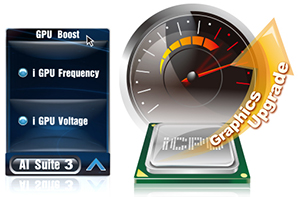 GPU Boost accelerates the integrated GPU for extreme graphics performance. The user-friendly interface facilitates flexible frequency adjustments. It easily delivers stable system-wide upgrades for every use.
Network iControl allows you to prioritize network traffic for applications you're currently using or set up favorite profiles to run at specific times with one click. Avoid network congestion, speed up downloading, and make sure online gaming runs optimized, all through an intuitive user interface.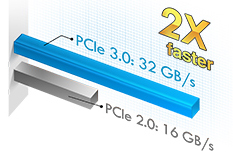 PCI Express 3.0 uses improved encoding that provides twice the performance of PCI Express 2.0. Total bandwidth for an x16 link reaches 32GBps, delivering unprecedented data speeds combined with the convenience and seamless transition offered by complete backward compatibility. This Motherboard also has complete USB 3.0 integration and extra SATA 6Gbps support.
5X Protection
Guard your PC with ASUS 5X Protection. ASUS Z87I-Deluxe comes with 5X Protection with quality components like DIGI+ VRM digital power design for precise CPU power on demand, ESD units tested to strict standards that eliminate electrostatic interference, and resettable fuses around DRAM slots to prevent overcurrent and short-circuit damage. It also has corrosion-resistant back I/O shields - all examples of ASUS providing the best possible reliability and durability.
EZ DIY
Hardware-level USB BIOS Flashbackallows users to update to new UEFI BIOS versions even without a CPU or DRAM installed. Just plug in a USB flash drive containing the BIOS file and press the BIOS Flashback button for 3 seconds with the power supply connected. ASUS CrashFree BIOS 3 also allows users to restore corrupted BIOS data from a USB flash drive or support CD containing a BIOS file.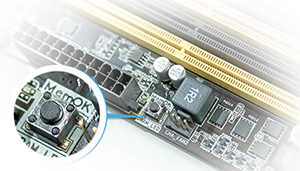 MemOK! can automatically load failsafe settings to enable basic functionality with a simple push of a button on the motherboard when there are memory issues.
The exclusive Q-Shield is soft and pliable to protect your hands from cuts. Ease of install and safety are always first!
Q-Cable is a unique extension cable designed for mini-ITX motherboards that allows you to easily connect or disconnect the chassis front panel cable in a small chassis, making the connection quick and accurate.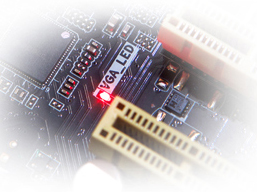 ASUS Q-LEDimmediately indicates when there's a problem with the CPU, memory, graphics card, or boot device by lighting up in the vicinity of that component.
Windows 8 Exclusive Features
Thanks to ASUS Windows 8 hardware optimization, ASUS Boot Setting provides better flexibility in customizing your PC's startup process. You can shorten system boot-up time to 2 seconds* for a smoother user experience under Windows 8, and even previous versions of Windows. Also, you can enter the BIOS directly with one click through a user-friendly interface, and quickly select your preferred system boot up method: either get to the OS in seconds or opt for regular boot up. Whatever your choice, settings are saved and persistent, with no need to choose every time you power on. You can also monitor and adjust your system in real time with ASUS Probe II Sense which is a live tile on the Windows 8 start screen. (*On select models)
AI Suite 3
ASUS AI Suite 3 offers a clearer and more attractive interface with support for larger monitors for a brand new user experience through. It consolidates all exclusive ASUS features into one simple-to-use package, allowing you to supervise overclocking, energy consumption (EPU power saving chip), fan speeds, voltages, mobile devices charging in multi-mode (USB Charger+) and more. This all-in-one app offers diverse and easy to use functionality, with no need to switch back and forth between different utilities.
Intel Z87 Express Chipset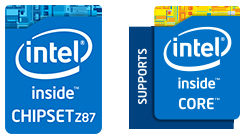 The Intel Z87 Express chipset is a single-chipset design that supports LGA 1150 4th Generation Intel Core i7/i5/i3/Pentium/Celeron processors. It provides improved performance by utilizing serial point-to-point links, allowing increased bandwidth and stability. It natively supports up to six USB 3.0 ports for up to ten times faster transfer rates than USB 2.0. Moreover, the Intel Z87 Express chipset also supports iGPU functionality, letting users enjoy the latest Intel integrated graphics performance.
Green ASUS

ASUS Z87I-DELUXE complies with EU Energy-related Products (ErP) for lower energy consumption. Reduce carbon footprint and mitigate ecological impact with this motherboard.