MP3 Player Accessories Guide
Table of contents
The fun has just begun after you purchase the MP3 player of your choice! There is almost an endless array of MP3 player accessories out there that offer physical protection for your player, hook up the player to your car stereo, turn your MP3 player into a home audio center with extra functions, and even more. In this guide, we will go over a few of the major MP3 player accessory product types together.

Although there usually is an original headphone/earphone set bundled with your MP3 player, the sound quality may not meet your needs - especially for an audiophile. Therefore, an additional set of high-quality headphones can make a huge difference in terms of music-listening pleasure to more demanding users. Although many users may not care about the headphone used, we recommend trying on a high-end pair at least once to find out what a difference in quality it can make.
| | |
| --- | --- |
| | |
| Over-the-ear headphone | In-ear earphone |



There are many different types of headphone available. The in-ear earphone often provides greater sound-isolating ability - it basically seals the ear canal to stop background noise from entering and is perfect for the noisy environments of a plane or subway ride. Please do not use this type of earphone when you are walking on the street, or when doing things that require alertness towards your surroundings.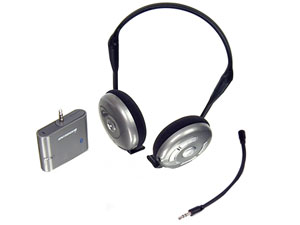 If you dislike the limitations of cables, a wireless headphone can make things much more comfortable and convenient. You can even leave your player on the table and go do whatever you need within a certain distance of say 66ft or 20 meters.
The function of speakers shouldn't be a mystery to anyone. You can share your MP3s with friends and family by turning your MP3 player into a home stereo system with a docking speaker system.



The most important thing here is to make sure the speakers you are going to get are compatible with your MP3 player. There are lots of speakers specifically designed for certain models such as iPod players, so please be sure to check for compatibility first.


Some MP3 players come with a remote control by default, while others don't. Remote controls offer added convenience through simple operation. Some remote controls may also feature an LCD screen, providing track and playback information.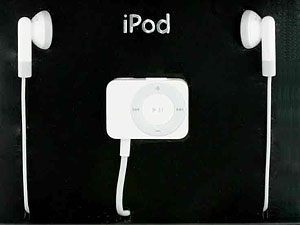 There are even remote controls that add new features to a player. The product in the image above makes FM radio possible on an iPod.

Compatibility is vital when it comes to the remote control, since every remote control is designed for a specific model or models. Please be sure to select one that supports your player.
Notice: Not all MP3 players can support a remote control.

The cassette adapter can make your MP3 player compatible with slot load cassette players. This is especially useful for car owners with cassette player decks installed.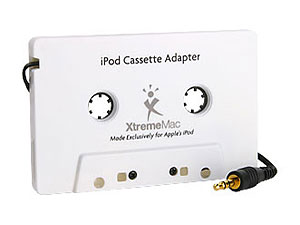 The cassette adapter is extremely easy to use - just insert the cassette adapter into your cassette deck, and then plug the attached connector to your MP3 player's headphone jack to start enjoying the music stored in the player through the stereo's speakers.

The FM transmitter is different from the FM radio function provided by many MP3 players. The FM transmitter turns the audio signal of your MP3 player into an FM radio signal and broadcasts it through the air (of course, the broadcast distance is extremely limited compared to a radio station). You can then listen to your music through your car stereo or home stereo via FM radio.
| | |
| --- | --- |
| | |
| FM transmitter and charger | FM transmitter  |
There are two types of FM transmitter: the basic FM transmitter, which does nothing more than what we've described above; and the FM transmitter and charger product, which is specifically designed for in-car usage and is powered via the cigarette lighter socket and provide power and charge the MP3 player at the same time. The FM transmitter and charger product can make perfect sense if your car does not have an "MP3-enabled" audio system.
Please note that the compatibility of the MP3 player and FM transmitter and charger must be taken into consideration. FM transmitter only products are usually compatible across the board.
Functions and designs vary wildly when is comes to MP3 player docks. Docks can make it easier for you to connect your MP3 player to the computer and/or the power adapter since you can simply place the player in the dock instead of connecting all the cables. Basic functions typically include charging and synchronizing the MP3 player, but there are many incredibly well-designed docks that provide more functions.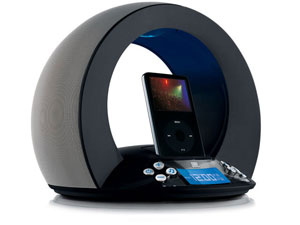 The above dock is designed for the iPod and includes basic charging and synchronization functions. This dock goes a step further by integrating a set of speakers, LCD screen, and time and alarm functions as well. This kind of dock turns your MP3 player into a stylish and useful home electronic device and makes using (charging and synchronizing) the MP3 player all the more convenient.

Note: MP3 player – dock compatibility must be taken into consideration before purchase. The majority of MP3 player docks on the market are designed for iPod series players.


Buy MP3 / MP4 Players at Newegg.com