Intel Desktop Processors Introduction
Table of contents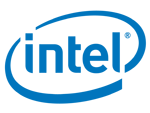 Intel's six high-performance yet economical desktop processor product lines consist of the well-known Atom, Pentium, and Celeron for budget and entry-level users, CoreTM i3 and CoreTM i5 for mainstream applications, as well as CoreTM i7, which is aimed at high-end gamers/enthusiasts. Intel's latest and greatest offerings come in the form of its celebrated dual-core and quad-core Next Generation CoreTM i3, i5, and i7 processors.
Intel processors pack many interesting and powerful features in addition to cutting-edge clock and FSB speeds and cache size. Here are some key features and what they bring to the table.

Intel® Turbo Boost Technology
Intel® Turbo Boost Technology 2.0 automatically speeds up the processor if there is thermal headroom, allowing a task to be completed faster. Available on Core
TM
i5 and Core
TM
i7, next Generation Intel Turbo Boost technology will provide more bins of Turbo, and special performance for responsive operations. Power can exceed TDP for short durations resulting in improved end user responsiveness.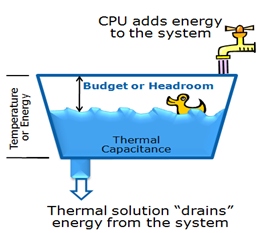 Bathtub Analogy - Flow from the faucet (CPU power) can exceed drain flow (thermal solution capability) if the bathtub (energy or temperature) is not full (at limits) for a short time (depending on capacity, level and flow)
Power Budget Management allows bursts of power for maximum performance when headroom exists.
HT: Hyper-Threading Technology
Hyper-threading enables multi-threaded software applications to execute two software threads in parallel, thereby improving system responsiveness.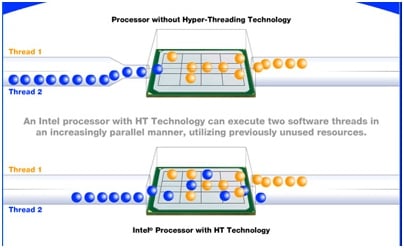 An Intel processor with HT Technology can execute two software threads in an increasingly parallel manner, utilizing previously unused resources.
Intel HT Technology is helpful when running multi-threaded applications or multiple tasks at once – such as running virus scanning software whilst using your everyday software.
Intel® HD Graphics
Graphics engine and media processing in 2nd generation Intel® Core
TM
i3, Core
TM
i5, and Core
TM
i7 processors are integrated on the processor, so no add-in card is necessary. Intel® HD Graphics integrates visuals and performance for immersive gaming. Intel® HD Graphics delivers up to 3X performance over previous-generation Intel® HD Graphics. The graphics engine includes more, redesigned execution units (EUs) and enhanced 3D functionality. Two versions of Intel® HD Graphics are available: Intel® HD Graphics 3000 and Intel® HD Graphics 2000.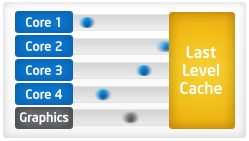 Accelerated graphics processing takes advantage of shared last-level cache between the processor and graphics. Faster 3D rendering and more complex shading create more responsive and realistic 3D gaming.
Intel® Quick Sync Video
PC users now can create and consume more video content than ever, however, working with video content and converting it for different uses can be time-consuming. Intel® Quick Sync Video reduces that time significantly.

Video content is compressed and encoded into a specific format when it is stored on hard drives, DVDs, camcorders, cell phones, or broadcasted.
Encoding formats are complex; they require intensive processing. To play content, burn it on a DVD or Blu-ray disc, or copy to your phone, it might need to be converted to a new format, which takes a lot of time as well as special software or addition hardware. Intel® Quick Sync technology accelerates encoding with built-in hardware and software in 2nd generation Intel CoreTM i3, CoreTM i5, or CoreTM i7 processors.
Advanced Encryption Standard (AES-NI) Acceleration
Intel® AES-NI is a new encryption instruction set that allows for faster, more affordable data protection and greater security. Composed of seven new instructions, it improves on the Advanced Encryption Standard (AES) algorithm and makes encryption feasible in areas where previously it was not.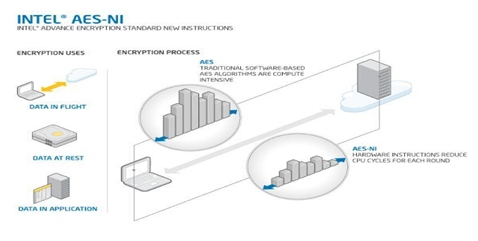 VT: Intel Virtualization Technology
Virtualization Technology allows a platform to run multiple operating systems and applications in independent partitions. With virtualization, one computer system can function as multiple "virtual" systems.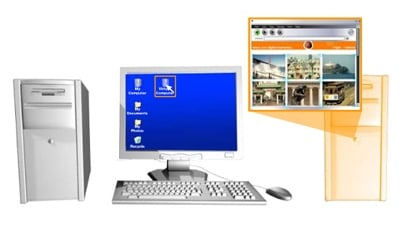 One use of virtualization for the end-user is the separation of tasks so that each task runs on its own isolated "virtual computer". An example of the benefit of virtualization is improved security while surfing the Internet, as surfing carries a greater risk of malicious attacks. Your PC can automatically "dispose" of that isolated "virtual computer" after you have finished surfing to protect your PC's resources.
Virtualization Technology will allow you to take advantage of virtualization when combined with supporting software.
Virtualization Technology from Intel and/or AMD may require a computer system with a processor, chipset, BIOS, virtual machine monitor (VMM) and applications enabled for virtualization technology.
Intel® Trusted Execution Technology
Intel® Trusted Execution Technology (Intel® TXT) is a hardware security solution that protects IT infrastructures against software-based attacks by validating the behavior of key components within a server or PC at startup.
Using an infrastructure based in the Intel Processor and known as the "root of trust," Intel® TXT checks the consistency in behaviors and launch-time configurations against a verified benchmark called a "known good" sequence. The system can then quickly assess and alert against any attempts to alter or tamper with a system's launch-time environment.
Tables below show the key features for the latest Intel desktop processors.
Note: this is not a complete list of Intel desktop processors.

Intel® CoreTM i3 Processor Family

As the first level of Intel's latest processor family with the visual features you want built-in, the 2nd generation Intel® CoreTM i3 processor makes a fast, responsive, and visually stunning PC experience available to everyone.

Intel® CoreTM i5 Processor Family
The 2nd generation Intel® Core
TM
i5 processor delivers more performance automatically and built-in visuals for a better, more responsive PC experience.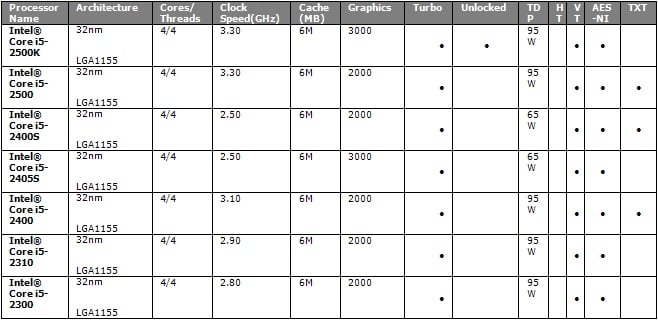 Intel® CoreTM i7 Processor Family

Whether it's HD or 3D, multitasking or multimedia, Core
TM
i7 can handle it all. It's top-of-the-line adaptable speed and responsiveness make the 2nd generation Intel® Core
TM
i7 processor the ideal choice.

Intel® CoreTM i7 Extreme Processor Family

The Core
TM
i7 Extreme processor is the most "extreme" processor in the Core
TM
i7 lineup. It provides unrivaled performance for high-end users.

Intel® CoreTM 2 Duo Processor Family

Core
TM
2 Duo processors are dual-core products utilizing the breath-taking energy-efficient Core microarchitecture that is able to deliver top-of-the-line performance and low power consumption.

Intel® CoreTM 2 Quad Processor Family

The Intel® Core™2 Quad processor for desktop PCs is designed to handle massive compute and visualization workloads enabled by powerful multi-core technology.
With four processing cores, up to 12MB of shared L2 cache, and 1333 MHz Front Side Bus the Intel Core 2 Quad desktop processors deliver amazing performance and power efficiency.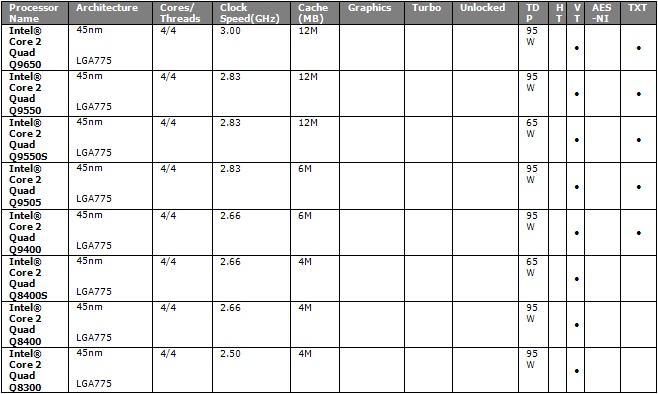 Intel® Pentium® Processor Family

Reliable and energy efficient with solid performance, the Intel® Pentium® processor continues to offer great capabilities at an economical price.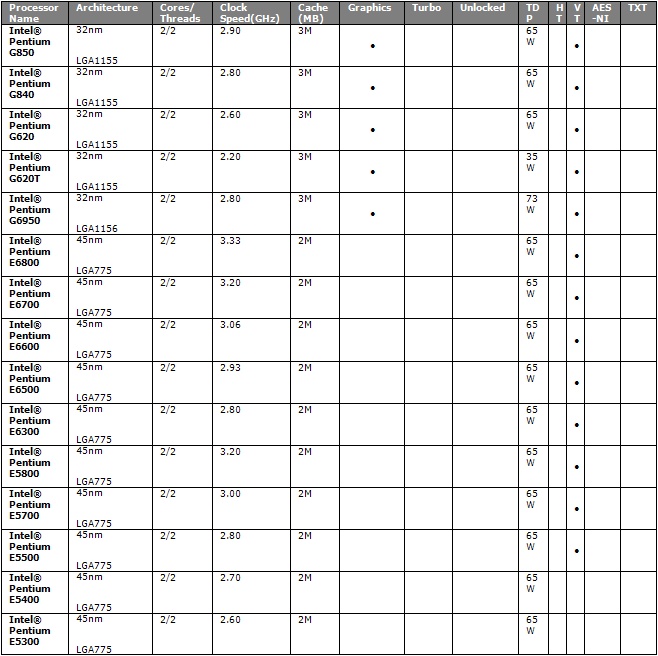 Intel® Celeron® Processor Family

The powerful Celeron series processors are Intel's mainstream products. These entry-level processors are good for basic computing tasks, like email, Internet and creating documents.

Intel® Atom® Processor Family

The Intel® Atom™ processor family is intelligently scalable, with a low power profile, a versatile range of performance characteristics, and small size.


Buy Processors - Desktops at Newegg.com