Thermaltake Toughpower DPS G 650W

New revolutionary Thermaltake Toughpower DPS G Series is an innovative, digitally-controlled power supply with software. The combination of Toughpower DPS G and DPSApp Software creates an intelligent platform that allows you to:

1. Monitor the electricity cost of your PC – thereby helping you to manage your expenses.
2. Record the status of your PC – this helps you monitor and organize your quantitative database.
3. Share data in the cloud – this provides you an impeccable way of sharing with information friends.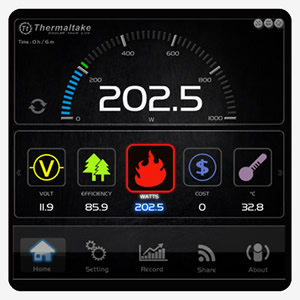 Smart DPSApp Software

DPSApp software enables you to digitally calculate your computer's electricity costs by monitoring the efficiency, wattage and voltage of the power supply using innovative technology. The easy-to-use DPSApp is available for download at www.thermaltakeusa.com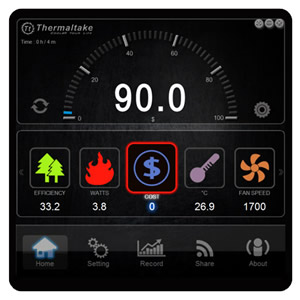 Calculate the Electricity Cost

Because the software digitally calculates your PC's electricity cost, it can be helpful as an expense control and management tool.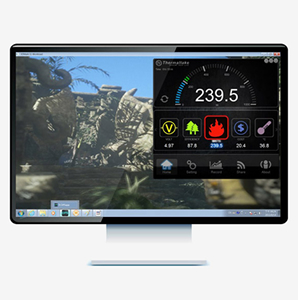 Power Consumption, Efficiency, and Voltage Monitoring

The DPSApp software enables you to monitor how much power the computer is using and the efficiency of the computer as engaging in different activities, such as playing games, browsing the internet, checking email, and so on. In addition, users are able to monitor computer's voltage.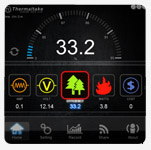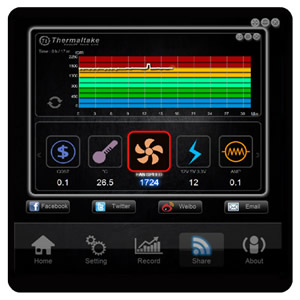 Sharing in the Cloud

With no connecting boundaries, DPSApp also offers users an easy way to share the power usage results with colleagues through social network applications such as Facebook, Twitter, and Weibo, or by sending reports via e-mail.
Quantitative Data Management

You can organize and save a database of your usage pattern in order to review it in detail. Each database can record up to six hours of usage.
Digital Fan Control

The DPSApp software allows users to monitor and adjust the fan speed of the computer's power supply in either silent or performance mode.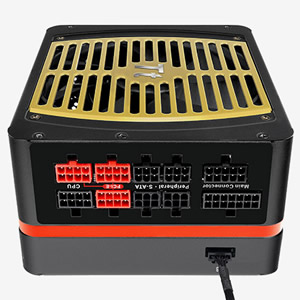 Fully Modular Cable Design

The fully modular cabling design allows you to use only those cables you need, resulting in optimal airflow and reduced system clutter.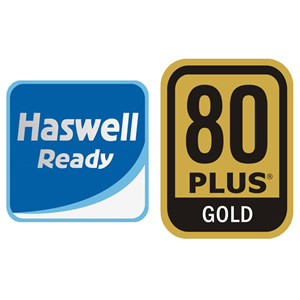 80 PLUS Gold-certified and Haswell-ready

Toughpower DPS Power Supply with DPSApp Software delivers up to 87%-92% efficiency under real-world load conditions, promising the lowest power losses. Additionally, DPS G Series has been optimized to work with Intel's new, fourth-generation Haswell processors to achieve maximum energy savings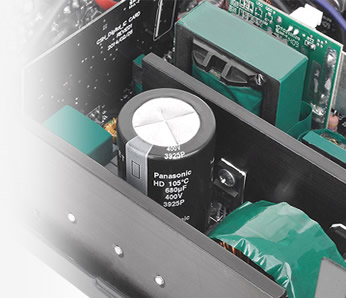 100% 105°C Japanese Electrolytic Capacitors

The Toughpower DPS G series features 105°C/221°F Japanese brand capacitors, which greatly improves the durability and offers the highest stability and reliability.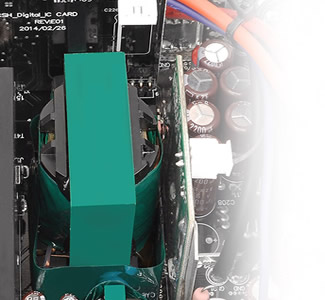 Massive and Dedicated +12V Output

Toughpower DPS G series is equipped with a powerful single +12V rail.
Toughpower DPS G Comparison Chart
This Product
DPS G 450W
DPS G 550W
DPS G 650W
Specification
Wattage
450W
550W
650W
Active PFC
√
√
√
+12V Rail
37A
45.5A
54A
Dimension
180mm(L)x
150mm(W)x
86mm(H)
7"(L) x 6"(W)
x 3.38"(H)
180mm(L)x
150mm(W)x
86mm(H)
7"(L) x 6"(W)
x 3.38"(H)
180mm(L)x
150mm(W)x
86mm(H)
7"(L) x 6"(W)
x 3.38"(H)
Fan Size
140mm
140mm
140mm
SLII/CrossFire Ready
√
√
√
Modular
Full Modular
Full Modular
Full Modular
Haswell Support
√
√
√
Warranty
7 Years
7 Years
7 Years
Efficiency
80 PLUS Certified
GOLD
GOLD
GOLD
Efficiency Rating
90%
90%
90%
Smart DPSApp Software
√
√
√
Connections
ATX
1
1
1
EPS
1
1
1
PCI-E(6+2Pin)
2
2
4
SATA
6
6
8
Peripheral
4
4
8
Floppy
1
1
1
USB
1
1
1