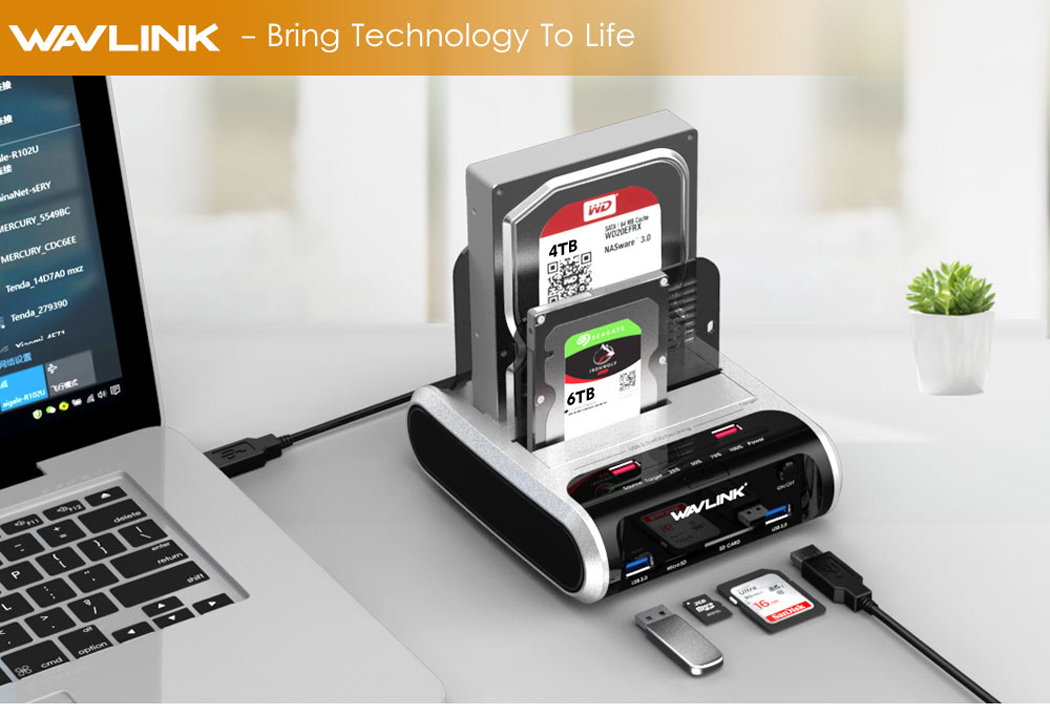 Wavlink latest USB 3.0 to SATA Hard Drive Docking station --- X-MAN is coming !
Wavlink X-MAN is our latest USB 3.0 to SATA Hard Drive Docking station, Once it releases to the market, it became the most powerful product. As the best HDD Duplicator/Docking Station, Wavlink X-MAN can copy your files from one disk to another without having to connect to a PC. It's USB 3.0 interface and UASP function offers faster transfer speed for maximum performance and the One-Touch backup feature makes it easy to protect your data.

In addition, we thought every details for your to create the "HOME BASE WORKSTATION"!
The X-MAN can be worked as a USB charger station -- The two fast charging port in red supports BC1.2 Max. 5V/2.4A, The X-MAN can be works as a USB 3.0 HUB -- The two USB 3.0 Ports in Blue Supports 5Gpbs transfer rate! The X-MAN can be works as a Card reader, The SD and Micro SD Card can supports 104Mbps transfer rate !
Offline Clone / Duplicator / Backup / UASP Functions with 7 LED indicator, all the features make is as the Multi-function one !
We called it as the WL-ST336A X-MAN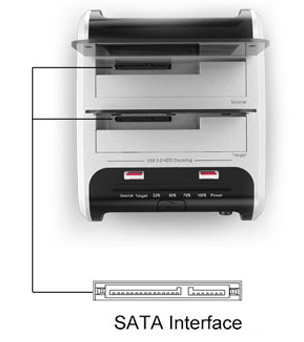 1. Wide Compatibility, No Driver Needed
Support 2x 10TB hard drive;
Equipped with USB3.0, Backwards compatible with USB 2.0, 1.1 and 1.0;
SATA III internal interface , Support SATA I/ II/ III HDD and SSD,
No Driver Needed. This item is compatible with most major operating systems such as Windows XP/ Vista/ 7/ 8 / 8.1 / 10, Mac OS 10.X or more.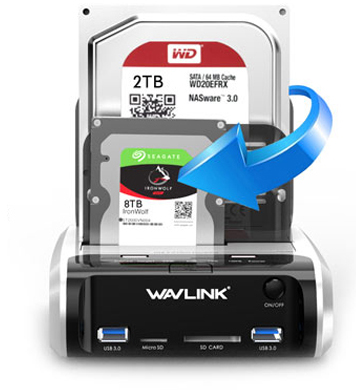 2. Support offline Clone, Even Needn't to be Connected to PC
The X-MAN offer the offline clone/Duplicator Function, You are allowed to clone between disks without a host computer, we called this as "Offline Clone". it's was so easier than traditional date copy method.

Just Insert one hard drive in the Source bay


Insert anther drive in the target bay


Press and hold the offline clone button for 3 seconds, the LED indicator will light up


Press the clone button again, the offline clone operation will start !


3.More Ports, More possibilities -- create your "HOME BASE WORKSTATION"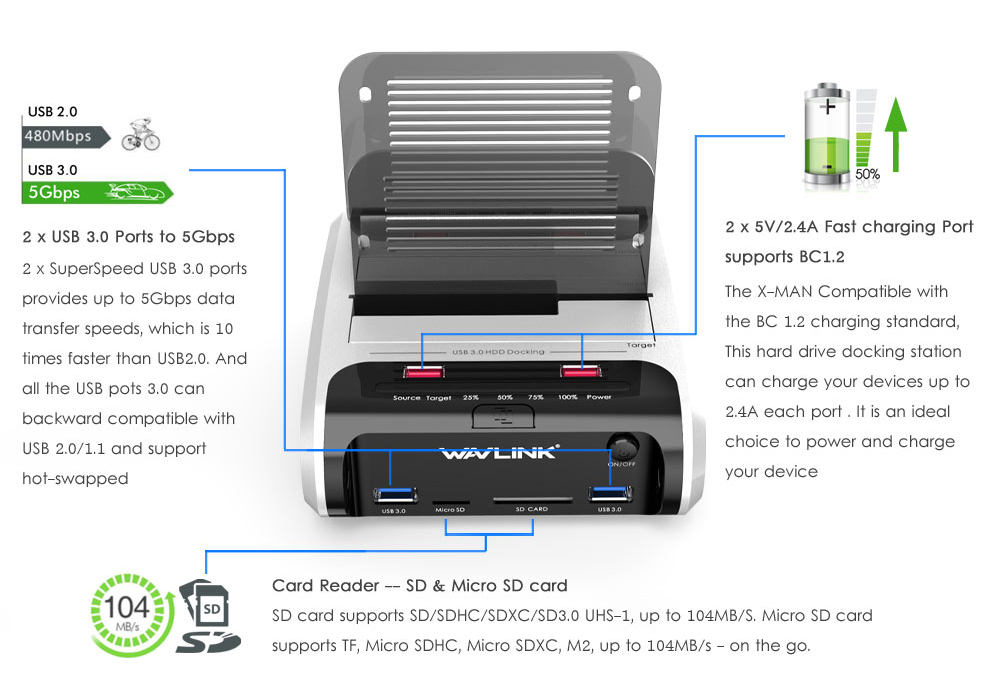 4. Support USAP function,Data Transfer Speed up to 6 Gbps
Transfer files in seconds, not minutes,The X-MAN Support UASP Function, data transfer easily reaches to 300 M/S while reading and writing on hard disk. Data Transfer Speed of up to 6 Gbps (SATA III ), 10 times faster than USB2.0. which improves transmission performance by 20% and reduces CPU capacity.

5 Time control - Smart 7 LED lights
The X-MAN working state real time control, With The 7 led indicator light showing the hard drive docking station working process, you can clearly track your data's progress during offline cloning from 25% to 50%, 75% and finally 100%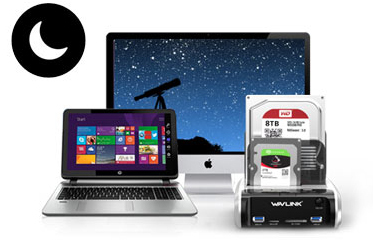 6. Intelligent Dormant,and Stable & Reliable DC Power Source
Different with the average product on the market, The X-MAN come with a 12V 4A Power source ! stable and reliable power source guarantees a steady supply of energy, so it can support 2 x10 TB Hard drive; meanwhile the Hard Drive Docking Station will be automatically entered into intelligent dormant state /sleep mode once no read and write in 30 minutes, to save energy and prolong its life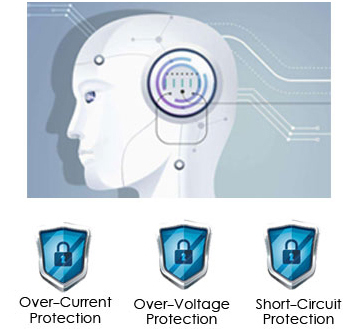 7. Plug and play, Safety & security
It can be external on the desktop, Plug and Play, no driver installation needed, easy to use, Over current and short-circuit protection, avoid damage the hard disk and protect data security.Hot-swap support means you can use multiple hard drives with your computer without having to reboot.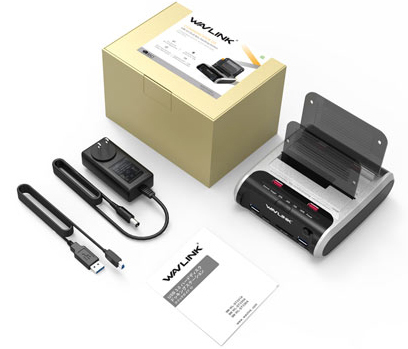 What's in the box?
1 x Dual Bay SATA HDD Docking Station
1 x 12V 3A Power Adapter
1 x USB 3.0 Cable
1 x User's Manual
Our suggestion:
-When cloning, The target disk must be larger (memory capacity) than the source disk.
-Please backup files in the target hard drive before cloning.
-To avoid data loss, do not remove or insert drives when one drive is working in the docking station. Please power off the docking station before removing