Wavlink High Performance USB 3.0 Dual Video Docking Station
Share Stream video, Surf the web, Watch video clips, Data delivery All in one!
A dock turns the USB port of a computer into a docking station connector. With one simple cable connection to your computer, you can have access to large screen displays, stereo speakers, external hard drive, optical disk drive, printers, USB keyboard, mouse and other USB devices.

Exceptional Speed and Reliability
Gigabit Ethernet coming with a RJ-45 port over 10/100/1000Mbps speed, you can quickly download large files, stream movies, and more. Faster and more reliable than most wireless connections. Perfect for laptops without Ethernet sockets when wireless network fails.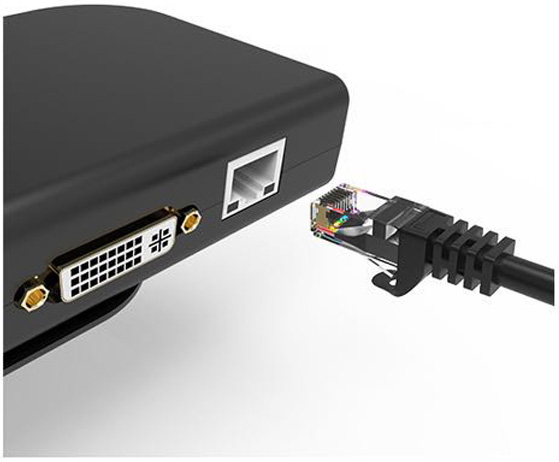 With two USB3.0 and four USB2.0 connection, you can easily achieve 5Gbps transmission speed, and don't need to worry wireless 2.4G devices affecting your wifi signal at all, in addition, one of the USB 3.0 ports supports Smart Sleep Mode of Fast Charging to 1.5A which allows you charge your smart phone.

Super Strong Certified GPU Performance
As the world leader in USB virtual graphices, DisplayLink brings you the highly integrated DL-3900 chipset. Taking advantage of SuperSpeed USB 3.0's bi-directional throughput, it can simultaneously drive up to two Full HD displays, as well as Gigabit Ethernet network data, and multi-channel audio.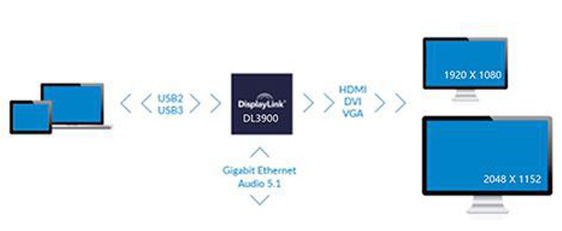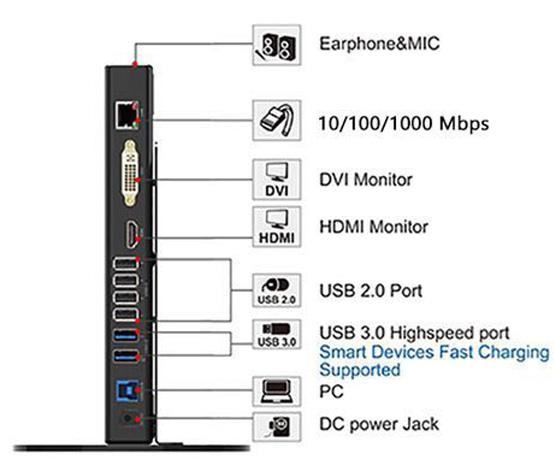 Versatile Universal USB Connectivity
Vertical design provides relatively more space for a limited desk.
DVI, HDMI, DVI to VGA adapter, RJ-45 Gigabit Ethernet Port, DC Power Jack, USB 2.0 Ports x4, USB 3.0 Ports x2, USB 3.0 B Female, 3.5 mm Lineout/Mic input get all the benefit from this multi-port docking station, create the "home base workstation".

Dock supports HDMI and DVI/VGA (DVI to VGA adapters are supplied for added flexibility); provides the ultimate multi-monitor productivity and hot desk expansion.

- HDMI Output: up to 2048x1152@60Hz or 2560x1440p@50Hz
- DVI Output: up to 2048x1152
- VGA Output (through DVI to VGA converter) up to 1920x1080@60Hz.

Attention: 2560x1440@50Hz output only available when using a single HDMI display. If dual displays are connected, each will be limited to a maximum resolution of 1920x1200@60Hz.
External Monitor Settings
1. Expand Mode: The external display is treated as a separate screen so that you can have a different windows open on the projector and desktop.
2. Mirror Mode: The computer monitor duplicates the monitor on the external display so that you see the same picture on both the desktop and projector.
3. Rotation Video Mode (rotate to 90/180/270 degree)

Processor: 1.2 gigahertz (GHz) or faster with support SSE2
RAM: 2 gigabyte (GB) for 1 DisplayLink display. 4 GB or more recommended for 2 or more DisplayLink displays
USB: At least one USB 2.0 or USB 3.0 port.
30 megabytes (MB) of free disk space.
Computer screen for use with the DisplayLink device, if it is not integrated.
Network access for software downloads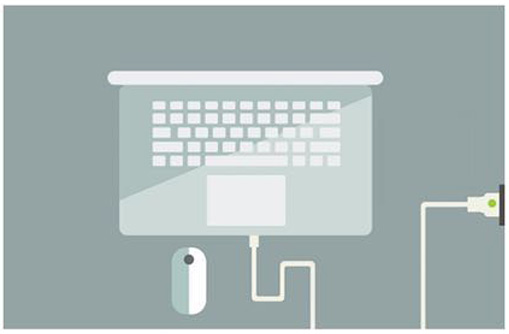 Supported Operating Systems:
Windows: Windows 10, Windows 8, 8.1, Windows 7, Windows Vista 7.7, Windows XP 7.6

MAC OS X:
Big Sur 11.0 Public Beta
MacOS 10.14-Catalina 10.15
MacOS 10.13 up to 10.13.3 (10.13.4 - 10.13.6 has single extended display support with AirPlay)
OS X 10.6- 10.12
Tips (On macOS 10.15):
Some users updating to 10.15 have found their DisplayLink devices have stopped working. 5.2 software is designed to run on Mac OS 10.15, but the OS can disable our kernel extension during the update. Please check the kernel extension is enabled and screen recording is also enable, to ensure DisplayLink enabled devices continue to work when migrating to 10.15.

Android: Available on the Google Play Store. For Android v5.0 (Lollipop) or Later

Chrome: DisplayLink USB devices are supported on Chromebooks.

Ubuntu: The latest download from DisplayLink can be for Ubuntu distributions. Please refer DisplayLink website for more info.

Not Compatible With:
Windows 2000 (SP1 to SP4) or earlier Windows OSes, Windows 2003 Server, Windows XP 64 bit, Windows RT platforms, Windows Embedded 7, Windows POSReady 2009, Windows 10 loT Core, Windows 10 Mobile
Mac OS X 10.5 or earlier
Android v4.4 or earlier
iOS

1 x USB 3.0 Universal Docking Station
1 x DVI to VGA Adapter
1 x USB 3.0 Cable
1 x Horizontal Base Mount
1 x Vertical Aluminum Alloy Stand
1 x DC12V/2A Certified Power Adapter
1 x Quick Start Guide

-2.4Ghz wireless devices such as wireless keyboard/mouse receivers, Bluetooth and WiFi adapter do not work in the USB3.0 ports, please try to connect the USB2.0 ports.

-Does not provide power attached to host laptop or tablet; the host system will still require its power cable/charger.